Posted by: Dave Thompson, follow @phillyfan17 September 16, 2017 The NASCAR playoffs head to Chicagoland Speedway for the first race in the first round. Each week, Motor Racing Digest writers will follow four drivers each during their playoff pursuit of a NASCAR championship. Here is a weekend preview for Denny Hamlin. Hamlin enters the playoffs as the seventh seed and has been strong...
Mike Wheeler is out this weekend as he completes his two-race NASCAR suspension.
Special guest Denny Hamlin joins the show ahead of the playoff opener.
Denny Hamlin: 'I'm fine with taking wins away.'
Interim crew chief says Denny Hamlin is 'motivated' coming into Richmond.
Topics ► Denny Hamlin (02:24 )► Crunching the numbers (05:30)► 14 vs. 22 (08:06)► 48 vs. 78 (19:18)► Dale Earnhardt Jr. (36:50)
Denny Hamlin and crew chief Mike Wheeler recap the strategy that brought them to Victory Lane in the Southern 500 at Darlington Raceway.
Denny Hamlin and crew chief Mike Wheeler recap the strategy that brought them to Victory Lane in the Overton's 301 at New Hampshire Motor Speedway.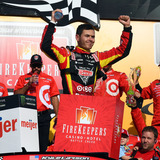 Sunday in Michigan looked like it was going to result in a boring finish for the NASCAR Cup Series. However, a series late cautions changed all of that and the end result was Kyle Larson putting the No. 42 machine into victory lane for the second time this season.Kyle Busch, Kyle Larson and Martin Truex Jr. all dominated Sunday in Michigan at various times during the race. Late in...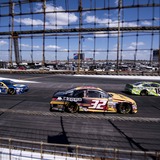 The legend goes that NASCAR was borne out of bootleggers attempting to run alcohol past authorities in souped up coupes and then raced those very cars on small tracks in the southeast. That sounds crazy, but it's not far from the truth and that's embraced by NASCAR and its fans.So it's a bit ironic that in 2012, agents from the Bureau of Alcohol, Tobacco, Firearms and Explosives...
MORE STORIES >>
NASCAR News

Delivered to your inbox

You'll also receive Yardbarker's daily Top 10, featuring the best sports stories from around the web. Customize your newsletter to get articles on your favorite sports and teams. And the best part? It's free!