Found September 18, 2012 on Give Me The Rock:
PLAYERS:
Yao Ming
,
Derrick Rose
,
Dwight Howard
,
Stephen Curry
,
Al Horford
,
Joe Johnson
,
Josh Smith
,
Zach Randolph
,
Brook Lopez
,
Andrew Bogut
,
Eric Gordon
,
Anthony Davis
,
Ricky Rubio
,
David Kahn
,
Anderson Varejao
,
Kyrie Irving
,
Dion Waiters
TEAMS:
Houston Rockets
,
Chicago Bulls
,
Los Angeles Lakers
,
Golden State Warriors
,
Atlanta Hawks
,
Brooklyn Nets
,
Memphis Grizzlies
,
Milwaukee Bucks
,
New Orleans Pelicans
,
Minnesota Timberwolves
,
Cleveland Cavaliers
Injuries are part of what makes the game of fantasy basketball more interesting, more challenging, and at times more frustrating. NBA players coming from a season where they were injured and missed a significant number of games tend to get downgraded in rankings the following year. This is due to both a reflection of their poor production that year and the risk that they may not be able to perform well this season. Players can comeback from injury the following year and end up being a good value pick based on the round they were taken. I won the first GMTR league I participated in on the heels of that one year that Yao Ming managed to stay healthy. He gave me early second-round value for my fifth pick. On the other hand, the player may just be injury prone and can no longer be labeled as dependable. Greg Oden, disappointed fantasy owners every year since he was drafted, up until he was forced to retire. Here are 10 NBA players coming back from injuries, the latest updates on their status, and some guidance on whether to draft them in fantasy basketball or not.
1. Derrick Rose, PG Chicago Bulls - He tore his anterior cruciate ligament (ACL) in his left knee on April 28, 2012. Surgery to repair the injury was done on May 12th. After the surgery, prognosis was that he would be sidelined for eight to 12 months. So far, word is that he's been recovering well – not encountering any setbacks. That's the good news. The bad news is that he'll be out of commission until after the all-star break. Even though we know that he's been working out to keep his core strength up while rehabbing his knee, we should expect some rust in those first few games back. Here's a video of the injury.
Advice: If you're in a daily changes, head to head league, leave him undrafted. If you're in a weekly changes league, don't spend a pick earlier than 10th, but personally I would just wait to draft him next season. There's not enough time to appreciate the value of his comeback upside. If you're playing in a rotisserie league with provisions for an IR slot, you can try to stash him, but only use a very late pick. He has more value for the head to head playoffs than adding value to a team's roto totals.
2. Dwight Howard, C Los Angeles Lakers -  He underwent surgery to repair a herniated disc towards the end of last season. It has already been reported that he will miss camp and will not be participating in the Lakers' pre-season games. As of now, there still is "no timetable for his return," which is something that is definitely not good to hear. This leaves us to just speculate when he will actually play. The Lakers will not risk playing him if he's not at a hundred percent health. They have the depth for his return to not be urgent.
Advice: Monitor news regarding his status regularly for a more definitive projection of when he will play. For now, bump him down your rank sheets. If it comes out that he will miss up to two weeks of the regular season, he should still be worth a late-second to early-third round pick, considering the assumption is that he will be at 100% health by then.
3. Stephen Curry, PG Golden State Warriors - He was hobbled most of last season due to ankle injuries which he then aggravated, and then re-aggravated. He missed 40 games last season due to his ankle problems, but has since learned his lesson and has been more cautious, wanting a complete and full recovery before putting his ankle through the rigors of full-blown practice. He underwent surgery last April 25 to remove debris and scar tissue. Since then Curry "has declared the surgery a relief." If we go back to his 2010-11 numbers as a reference, we can expect curry to average scoring in the high teens to early twenties, dishing a shade under six dimes a night, while knocking down two treys and grabbing a solid number of steals. All of those numbers are supported by solid shooting percentages, both from the field and from the line.
Advice: Curry missed only 10 games between his first two years as a pro. Last season was his first major bout with the injury bug. His ill-advised decision(s) to repeatedly "play through the pain" last season, were hopefully lasting lessons learned. He is a strong candidate for a bounce back season. Nels has him in the exclude column of his pre-rankings. I on the other hand, am excited at the opportunity to take advantage of a Curry comeback. Patrick, who owned Curry last season, is not as excited as I am, but isn't putting him in his "Do Not Draft List" just yet. Take him in the second round, third if you're lucky (this is doable in some leagues).
4. Al Horford, F/C Atlanta Hawks - He tore the pectoral muscle in his shoulder on January 11, 2012 which allowed him to only log 11 games for the Hawks last season. He was expected three to four months due to the injury. He's had the whole summer to get back to full strength and rehabilitate his injured shoulder. So far, so good. He looks ready for camp and should pick up where he left off during the 2010-11 season. He will be a consistent double-double threat, who can add a steal and a block per night to your team's totals. He's a decent shot from the free-throw line, shooting in the high 70s, and is easy on the turnovers consistently averaging only 1.5 TO/G.
Advice: With Joe Johnson now out of the picture in Atlanta, both Al and Josh Smith are expected to get more touches in the offensive end. He looks healthy, so that's actually an upside outlook for him if you can get him in the third or fourth round of your draft. Take note, Horford was producing second-round caliber numbers before going down with his injury.
5. Zach Randolph, F/C Memphis Grizzlies - Randolph suffered a partial tear to his MCL on January 1, 2012. He played in only 28 games for the Grizzlies. He did manage to return to action last season on March 16th and was even averaging upwards of 36 minutes per game against the LA Clippers during the playoffs. He's had a speckled career as far as dealing with injuries are concerned. His poor showing last season has him down in most rankings. We project him to produce around 18 PPG and 9.6 RPG with a steal per game, while shooting generally well.
Advice: Due to his drop in a lot of rankings, Z-Bo will deliver good value as a late, middle-round pick in most drafts. He was picked in the seventh round in a mock draft we're participating in. That's a decent spot to snag him if you can.
"I pity the Foo who drafts an injury-prone playa."
6. Brook Lopez, C Brookly Nets - Due to foot and ankle injuries, Brook played in a dismal five games for the Nets last season. As of August 18, 2012, Lopez said:
"I'm probably around 90-percent okay but I'm pretty sure I'll be back in full shape entering the NBA season."
That statement came during an interview when he visited the Philippines last month. I'm good with 90 percent, considering the time frame, and unless he suffers a setback his prediction to be ready sounds realistic. He disappointed owners in 2010-11 with a drastic drop in rebounds, averaging second lowest among fantasy relevant centers. Last season, his playing just five games was obviously a death sentence for teams that held onto him. It should be noted however, that prior to last season, Lopez did not miss a single game in three years. He therefore shouldn't be considered an injury-prone player, just yet, and last season was an isolated incident.
Advice: The Nets are now stacked with talent after a busy off-season. Consider Lopez part of that package. He can score in the post and is relatively easy on the FT%. He should average anywhere between 1.5 to 1.8 blocks per game. Forget his injury. He should be healthy for opening night. Ask yourself if you can swallow six rebounds per game from your primary center. Take him somewhere between rounds five and six.
7. Andrew Bogut, C Golden State Warriors -  Andrew Bogut is an injury-prone player. There are no ifs or buts about it. His history is riddled with various injuries, "freaky ones," which is unfortunate because this is one hell of a talented seven-footer. He played in only 12 games for the Milwaukee Bucks last season due to a fractured ankle. If healthy, Bogut has the potential to average a double-double plus two blocks per game. Again, when we're talking about Bogut the operative word in that sentence is "IF." Bogut is expected to be ready for action come opening night. Unfortunately, his track record still points to his risk outweighing his reward.
Advice: Draft him late. As late as you can. So late, that you have your team's big-man needs are already covered. That late. If he does happen to have a comeback season, consider it as gravy and leave it at that. If someone else picks him in the middle rounds of your draft, don't be envious, just shrug and move on.
8. Eric Gordon, SG New Orleans Hornets – He played in only nine games last season, and he cost me a fantasy basketball championship. He hasn't missed less than 20 games in the last three seasons. Common sense and sensible practice dictates that he should be labeled as "injury prone." In spite of everything I've said so far, my gut tells me to go against the grain and draft him this season. In fact, I already did in one 9-cat roto league, in the tail end of the sixth round. In the 2010-11 season, through 56 games, Gordon produced second-round value numbers. Think 20 PPG, 2 3PPG, 4.5 APG, and 1.4 SPG with solid FT% and decent FG%.
"He plans to prove that he's not an injury-prone player, score over 20 points per game, and effectively make life easy for rookie Anthony Davis." Hefty words coming from Gordon in a recent interview.
Advice: With a Gordon pick in the middle rounds, you will either win big or lose big. He should have "risk-reward pick" stitched to his jock strap coming into this season. Scared of another 60-game season from him? Stay away, it's okay. No one will think less of you outside of Eric himself. If you've got a shred of gamble in you, Gordon might just be the middle-round steal to whet your appetite for risk.
9. Ricky Rubio, PG Minnesota Timberwolves – He tore his ACL in March 9, 2012. It was a tough break for Rubio to get hurt in his rookie season, after the long wait for him to finally arrive in Minny. What was interesting to observe last season was how good this kid really was. We got a first-hand view of what David Kahn saw in him all these years. In 41 games last season he logged averages that landed him seats in the top 10 of assists and steals lists. Yes his FG% stinks worse than week-old, moist gym socks, but he just got to the NBA and he can still improve on his shooting and shot selection. What you can't teach is his innate knack to see the floor and make awesome passing plays. He hopes to begin running next week and is expected to make his debut this season in December.
Advice: If you're not in a daily changes league, Rubio is definitely worth a stash on draft day. I picked him at 108th in the BMF "un-mock draft" (we've decided to play out the draft in a league). That was a steal considering we have him ranked 61st based GMTR's projections. I'm still worried about his FG%, but I like the assists and dimes I will be getting in exchange.
10. Anderson Varejao, F/C Cleveland Cavaliers - He played 25 games last season due to a fractured wrist, and managed to play in only 31 games the season before that due to a torn ankle tendon. One thing to note though, Varejao was in the midst of a career year before busting his wrist. We're talking Al Horford numbers with better rebounds. He was averaging 10 PPG, 11.5 RPG, 1.4 SPG, and 0.7 BPG, before his season abruptly ended. I have him pegged as a (wait, spoiler alert!), SLEEPER this season. He, Kyrie Irving, and Dion Waiters are going to do big things for Cleveland this season, and their stats will reflect it.
Advice: I got Anderson as my second C, and that's what I think his numbers are best suited for. He lacks blocks, but has good rebounding and FG%. He scores in double figures and has low turnovers. I got him in the seventh round of a draft and was pretty happy with the value I am expecting to get this season. He should complement an elite center very well to cover most of the big man stats quite handily.
So there you have it, 10 players coming back from injuries. Medical and injury research is ever so important in fantasy basketball. Feel free to drop by for an appointment or a consultation in the comments section below, your GMTR, fantasy doctors "are IN."
P.S. It just occurred to me that I drafted THREE players on this list, all in one league. Mental note, I'm either going to win big, or am in store for a world of hurt this season. Ah, but…
"Dans les champs de l'observation le hasard ne favorise que les esprits préparés" ~ Louis Pasteur

Which translates to "In the fields of observation chance favors only the prepared mind."
Want to see your ad in the GMTR RSS feed? Contact: givemetherock@gmail.com
Original Story:
http://feedproxy.google.com/~r/GiveMe...
THE BACKYARD
BEST OF MAXIM
RELATED ARTICLES
HOUSTON No matter how many times you tell Jeremy Lin he is the "face of the franchise" and he's been told that a lot lately he is still that guy crashing on a friends couch. Last week Lin, the Houston Rockets guard who returned to Houston from a trip to Asia, sent a text message to teammate Chandler Parsons. It read: "Sorry to bug u but u think i could crash...
The Houston Rockets more than likely are going to be pretty bad this coming season.  They have too many power forwards masquerading as small forwards, or vice versa, it's unclear.  They also only have one true center, Omer Asik, who has shown promise but also only averaged 13 minutes a game.  Still, they're going to be one of the most talked about teams to start the...
A Harvard education and a $25 million NBA contract apparently doesn't absolve someone from having to sleep on his co-workers' furniture. Jeremy Lin has both of those things but apparently is still in need of somewhere to lay his head at night. Having just signed a monster deal (three years, $25 million) with the Houston Rockets, the logistics of relocating have not gone quite...
Jeremy Lin is finally getting his own bed. The 6-foot-3 point guard who became an international phenomenon with the Knicks last season went through his first workout with the Houston Rockets on Tuesday. Lin was waived by the Rockets last December, then picked up by the Knicks. He was hesitant to buy a home and slept on teammate Landry Fields' couch the night before his breakout...
Even though Houston Rockets point guard Jeremy Lin just signed a multi-year contract worth over 20 million dollars, its good to see that he still likes sleeping on couches.Check out this tweet sent out by teammate Chandler Parsons of a text that Lin sent him:In case you forgot, Lin crashed on former Knicks teammate Landry Fields couch before Linsanity began.
Jeremy Lin is finally getting his own bed. The 6-foot-3 point guard, who became an international phenomenon during one dazzling month with the Knicks last season, went through his first workout with the Houston Rockets on Tuesday. Naturally, he drew a horde of media to the Toyota Center, evidence that Linsanity has plenty of life left in it. ''I don't know if I'...
  Some may believe the Houston Rockets paid too much for Jeremy Lin — I think with marketability factored in, it was just about right — but the fact is, Lin is part of the Rockets future. Value is subjective, and Houston belongs to Lin at this point. Now, he answers the "will he be [...]
Jeremy Lin went from waiver wire fodder to international sensation over a period of a few weeks this past NBA season. Those weeks were extremely valauble for the turnover-troubled point guard: he signed a three-year $25 million free agent deal with the Houston Rockets. Among the top storylines that surrounded Lin was that when he first joined the Knicks he spent several weeks sleeping...
NBA News

Delivered to your inbox

You'll also receive Yardbarker's daily Top 10, featuring the best sports stories from around the web. Customize your newsletter to get articles on your favorite sports and teams. And the best part? It's free!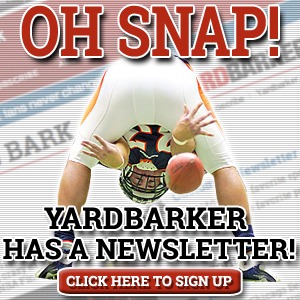 Latest Rumors
The Backyard

Today's Best Stuff

For Bloggers

Join the Yardbarker Network for more promotion, traffic, and money.

Company Info

Help

What is Yardbarker?

Yardbarker is the largest network of sports blogs and pro athlete blogs on the web. This site is the hub of the Yardbarker Network, where our editors and algorithms curate the best sports content from our network and beyond.