25 Most Overpaid NBA Players....
Posted July 29, 2008 on htkrocks's Blog:
This is in no particular order. I put this list together based on what these players are schedule to make in the '08-'09 season and their '07-'08 stats in addition to a few personal observations..... http://hoopshype.com/salaries 25 most overpaid NBA players 1.Samuel Dalembert($10,500,000) He does what he does pretty good, but there are plenty of players of his position willing to do what he does and more for half of what he does. One of those Billy King moves...... 2.Kenny Thomas($7,942,187) Another Billy King special move.....Now he plays 12 min/game averaging 1.4pts and 2.7 rebs/game....WOW!!!! 3.Lamar Odom($14,600,000) Not a bad player, but he's worth about half his salary. He also has a tendency to disappear when Kobe needs him most..... 4.The entire New Knicks roster(current payroll $90,467,471) The highest payroll in the league produced a whopping record of 23-59 last year(151-259 the past 5 years; last above .500 season was '00-'01) 5.Ben Wallace ($14,500,000) When signed by the Bulls he was a high commodity but he has deteriorated into someone worth the veteran's minimum 6.Steve Francis($19,814,480) Highly talented, but spends more time having his contract shopped around then producing on the court. 7.Wally Szcerbiak($13,000,000) Another contract teams try to stay away from. Too injury prone and slow.... 8.Nazr Mohammed ($6,049,400) Gets paid basically to distract opponents from his PF counterpart(Was Tim Duncan, now Emeka Okafor). 9.Larry Hughes ($12,827,676) Not a leader, Not a top notch scorer(only two seasons out of ten leading team in scoring), Not a true PG.....Every time I see this cat, I just see the worst 1st round draft decision the Sixers made in recent memory(This guy was chosen over Paul Pierce!!!...and Dirk Nowitzski!!!) 10.Eric Dampier ($9,550,000) Please explain why this guy's on the same pay scale as Josh Howard when Diop might very well take his spot at starting C. 11.Troy Murphy ($10,126,984) Currently the Pacers highest paid player. Obviously their in transition mode. 12.Tim Thomas ($6,049,400) Very talented, but a prime example of why some players should stay in school and polish their game. 13.Vladimir Radmanovic ($6,049,400) Just check the Finals highlights. The Lakers definitely need a healthy Bynum to succeed because Radmanovic was pretty much worthless. 14.Antoine Walker ($9,320,500) Hasn't been worth more than the minimum since the Celtics traded him in '03. 15.Darko Milicic ($7,000,000) This guy has done NOTHING since he was drafted #2 overall by the Pistons 16.Shawn Marion ($17,000,000) Talented but a lot of money for a 3rd fiddle always shopped around to make room for someone else(First to put Amare at PF, now to make room for Beasley) 17.Dan Gadzuric ($6,246,250) Compared to a lot of players not much, but 3.2 pts and 2.8 rebs/game?? Come on!!! 18.Jason Collins ($6,200,000) Most famous for taking fouls on Shaq in '02 Finals. Hasn't done anything else besides that. 19.Bobby Simmons ($9,920,000) Needs to produce a lot more than 7.6pts and 3.2 rebs/game 20.Rashard Lewis ($17,238,000) The Magic overpaid for someone to be Dwight Howard's sidekick. 21.James Posey (apprx. $8.5 million) Getting paid for his good luck on Eastern Conference Final reps rather than on court production. 22.Reggie Evans ($4.640,000) Anything over the league minimum is overpaying for this cat. 23.Etan Thomas ($6,860,000) To think this cat literally fought Brendan Haywood for the starting C position. 24.Nene ($9,680,000) He'll have plenty of opportunities to earn his money this year, but so far he hasn't produced $2 million worth. 25.Vince Carter ($15,200,000) All money and flash but no heart at all. He sits out when his pinky gets banged up. As a Tarheel fan, he embarasses me!!!
THE BACKYARD
BEST OF MAXIM
NBA News

Delivered to your inbox

You'll also receive Yardbarker's daily Top 10, featuring the best sports stories from around the web. Customize your newsletter to get articles on your favorite sports and teams. And the best part? It's free!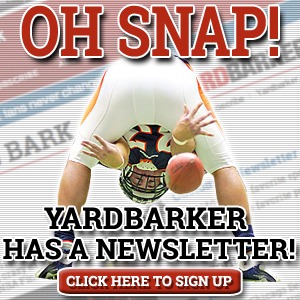 Latest Rumors
Best of Yardbarker

Today's Best Stuff

For Bloggers

Join the Yardbarker Network for more promotion, traffic, and money.

Company Info

Help

What is Yardbarker?

Yardbarker is the largest network of sports blogs and pro athlete blogs on the web. This site is the hub of the Yardbarker Network, where our editors and algorithms curate the best sports content from our network and beyond.