Found May 08, 2013 on Blog So Hard Sports:
Please Adam Silver, don't call any foreign names for the Wizards! The 2013 NBA Draft is not until June 27th, and while we won't know for certain where the Wizards will be selecting in the first round until May 21st, we do know that the Wizards own the 37th and 54th overall picks. More times than not 2nd round draft selections are overlooked and don't have much value in the eyes of the fans. But this year is a little different if your are the Washington Wizards. As it stands now, the Wiz only have nine players under contract entering the 2013-14 season, but those nine players draw a combined $ 57,395,704 in salary. The exact salary cap number for the upcoming season won't be determined until July, but most media outlets are projecting a salary cap number right around $60 million. For those who don't have a calculator handy, that leaves the Wiz Kids with $2,604,296 in cap room. While Washington will have some of the exceptions to use to fill out the roster, its widely speculated around the Wizernet that those exceptions will be used to retain the sweet shooting Martell Webster. With that being said, Washington's second rounders are likely to be on the roster come opening day, so let's take a look at five prospects who should be on the Wizard's radar once Adam Silver starts calling out the selections.   Glen Rice Jr. – 6'6″ SG, Rio Grande Valley (D-League)  Glen Rice has been a bit of a question mark for the last two years. He was kicked off his Georgia Tech team so instead of transferring and sitting out a year, the son of the "Big Dog" took his talents to the D-League this past season. After a rough start that saw him riding the pine a majority of the time, "Big Dog Jr" has had quite the turn around. In his 25 games as a starter Rice Jr has averaged 18 pts, 8 rebs, and 2.5 asts per game with shooting splits of 56/43/76. On top of that, Rice Jr led his team to the D-League Championship and in the final series averaged 29 pts, 11.5 rebs, 4 asts, 3 stls, and 3 blks. This is the type of player that should be high on the Wiz draft board when the 2nd round comes around.   Archie Goodwin – 6'4″ SG, Kentucky Wildcats This is a case of a talent that could use another year in the college ranks to sharpen his game, but Calipari's recruiting classes are just so deep that players are afraid of losing playing time. Archie Goodwin is a freak of an athlete but is still pretty raw when it comes to his basketball skills. Goodwin could easily slide into the 2nd round, and with the Wizards not having a pressing need at SG, they could take their time developing this young man who doesn't turn 19 until August. Goodwin averaged 14.1 pts, 4.6 rebs, and 2.7 asts in his lone season at Kentucky and could be a nice reserve who can run the floor with Wall and Co.   Ryan Kelly – 6'11″ PF, Duke Blue Devils Wizards fans have longed for a "stretch 4″ off the bench and Ryan Kelly could fit that role perfectly. In his senior year at Duke, Kelly averaged 12.9 pts, 5.3 rebs, and 1.6 blks per game while shooting .422 from down-town. RK could thrive in a 15-20 minute role off the bench for the Wizards where he is receiving wide open trey bombs courtesy of beautiful J-Wall dimes. Kelly is also adequate when it comes to the defensive side of the ball, and having Nene and Mek behind him would certainly help matters. Keep an eye on this former Duke Blue Devil with the 54th pick.   Erick Green – 6'3″ PG, Virginia Tech Hokies   Mr Steezy was traded away before the trade deadline, and the Wiz have lacked a decent bench scorer ever since. Enter college basketball's leading scorer Erick Green. Green can put points on the board in a hurry and that is something the Wiz could certainly use to bolster their bench. After averaging 25 pts, 4 rebs, and 3.8 asts per game his senior year at Tech, Green has started inching up team's draft boards. While his play-making ability could use some work, his real value on this Wizards squad would be his scoring. Hopefully this draft product that tore me up in high school is available when the Wizards start drafting in round two.   CJ Leslie – 6'9″ Forward, North Carolina State While the SF/PF position isn't the biggest need for the Wizards, I believe CJ Leslie would be an upgrade over the team's current options. He reminds me of a more offensively diverse Chris Singleton. Leslie has a good combo of size, length, and athleticism to go along with a decent jump shot. Last season at NC State, Leslie averaged 15.1 pts, 7.4 rebs, 1.5 asts, 1.2 blks, and 1 stl per game. Take a look at Chris Singletons stats his final year in college. They are very similar. Except Leslie shoots the ball better, is a more fluid athlete, and can take the ball to the rack. If Leslie is available in round two, the Wiz should take a long hard look at this young man, because he would be an upgrade to our current bench. Or at the very least add some much needed depth.   These five players are all very possible picks for the Wizards in round two. On the surface all seem to be talented players that would bolster our bench and do so on the cheap. Washington will be looking to fill out their roster this off-season with cheap contracts, so hopefully Grunfeld can make some sound draft choices in round two that would actually be wearing a Wizards jersey, instead of drafting more foreign "projects". Even though this draft is considered to be a weak one, all five of the players mentioned above seem to be legit talents who could be around the NBA for quite a while. Let us know in the comment section who you would like to see the Wizards target in round two!     Related posts: Wizards Debut Bradley Beal Today Nationals Division Preview and Top 5 Minor League Prospects Wizards Falling in the Draft Could Be A Blessing In Disguise
Original Story:
http://blogsohardsports.com/wizards-2...
THE BACKYARD
BEST OF MAXIM
RELATED ARTICLES
Ernie, please but that European bait away! The Washington Wizards had a successful second half of the season minus Bradley Beal's injuries which eventually shut him down for the season. A lot of Wizards fans are excited about this team's future, especially the Wizards young backcourt of John Wall and Beal. That being said, Wiz fans are always worried that the front office will...
Normally, I would say this is petty on the woman's part, but considering Jason Collins wasted eight years of her life while out sleeping with other men, I think she is entitled to make as much money as humanly possible off this story. If Jason Collins is going to cash out, so should she.  Here is what she had to say about her upcoming book. "Carolyn will be writing a book as...
Carolyn Moos, the former fiancee of Jason Collins, revealed last week she is planning on freezing her eggs — after she said the basketball star wasted eight years of her life lying to her about his sexuality. Moos said she always thought she would get married to Collins and have his children but these dreams were understandably shattered when he broke up with her in 2009 without...
As Jason Collins continues on a world tour with a mic in his hand, some of his attempts to cash out on his announcement have been leaked to the media. Several publishers have said that Collins or someone in Collins' camp have shopped his memoir, it is something that Collins has denied. Officials at three publishing houses told The Associated Press on Monday that they had been contacted...
In the little more than a week since Jason Collins came out, some of the greatest wisdom on the situation has come from some unlikely sources. Metta World Peace offered one of the most memorable insights, claiming that Collins' announcement had inspired him to wear a Cookie Monster outfit to a news conference. Charles Barkley, who is also known to say some outrageous things, was...
Old Number 98 So a week or so after the Jason Collins announcement, the following thoughts. 1) There's around 2,500 active players in MLB, NBA and the NFL. By the commonly believed numbers for homosexuality, that means there are hundreds of closeted players, and even if you think that number is more like 1%, there's still dozens more. Note that no one else has followed...
Wizards News

Delivered to your inbox

You'll also receive Yardbarker's daily Top 10, featuring the best sports stories from around the web. Customize your newsletter to get articles on your favorite sports and teams. And the best part? It's free!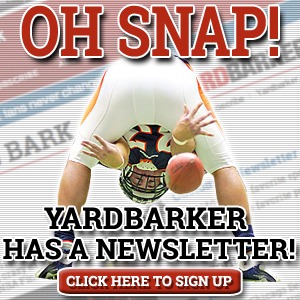 Latest Rumors
Best of Yardbarker

Today's Best Stuff

For Bloggers

Join the Yardbarker Network for more promotion, traffic, and money.

Company Info

Help

What is Yardbarker?

Yardbarker is the largest network of sports blogs and pro athlete blogs on the web. This site is the hub of the Yardbarker Network, where our editors and algorithms curate the best sports content from our network and beyond.