Found September 23, 2012 on Orlando Magic Daily:
Believe it or not, we are less than one month away from the first Magic preseason game. Orlando will open training camp on October 1 and open the preseason in Mexico City against New Orleans on October 7. So how will we get ready? By counting down to the beginning of the season on November 2 against Denver. Let's continue: It is late in the day, and I am more in the mood to just throw some highlights up rather than write anything particularly long. This clip really should need no introduction, but here is one anyway. On May 30, 2009, the Magic had the opportunity to win their second Eastern Conference Championship. To do so, Orlando would need to continue to slow down LeBron James and the heavily favored Cavaliers. After James pretty much single handedly won Game Five to extend the series, there were concerns that James could single handedly win this series. Dwight Howard, in perhaps his finest and biggest performance in a Magic uniform, made sure that did not happen. This wa...
Original Story:
http://www.orlandomagicdaily.com/2012...
THE BACKYARD
BEST OF MAXIM
RELATED ARTICLES
What a catastrophe the NFL has become. Can it be any more evident when you have the world tweeting their dismay for what the NFL has become? Even LeBron James got into the act via Twitter after the debacle that took place at the end of the Seahawks, Green Bay game. Safety has become an issue and now the integrity of the game is being questioned. Rodger Goodell has created a buzz...
LeBron James loves the NFL, but he certainly didn't love the way Monday night's game ended. James joined millions of other Twitter users in tweeting about Monday's debacle, which involved the NFL's replacement referees once again screwing things up. The NBA superstar made it perfectly clear that he can't stand such mistakes, tweeting after the botched call that...
Well Lebron James did win a title. But the better question is does anyone see them beating the LA Lakers and Dwight Howard/Kobe Bryant/Steve Nash trio?
Ever since the days that the Knicks thought they wanted LeBron James as a member of their team, Prokhorov has played mind games with James Dolan and his franchise. He put up billboards covered in Nets propaganda, right outside of Madison Square Garden during the days of LeBron's recruitment. And now, the Russian billionaire is at it again, this time daring Dolan to join him for...
Jaren Sina brought his shooting ability to the LeBron James Skills Academy. Here's a highlight reel of Sina at the event.
In one of the more bizarre finishes in Monday Night Football history, the Seattle Seahawks escaped with a victory over the Green Bay Packers on this hail mary pass.After the game, Miami Heat LeBron James was not pleased with the call from the replacement refs:(Courtesy of LeBron James Twitter)
Over the next couple weeks, we will be projecting who finishes where in the Eastern Conference this season. From last place to first, yesterday was the Charlotte Bobcats, today the Orlando Magic.#14: Orlando Magic The Orlando Magic have officially gone from one of the top teams in the Eastern Conference, to one of the worst. All because of one player: Dwight Howard. Unlike Lebron...
Memphis landed a good one in Kuran Iverson. Here's a highlight reel of Iverson from LeBron James Skills Academy and Boost Mobile Elite 24 scrimmages.
Marquette point guard commit Duane Wilson was impressive at the LeBron James Skills Academy. Here's a highlight reel of Wilson at the event.
waf·fle [wof-uhl] -verb 1: to fail to make up one's mind: Joseph had been waffling over where to go. 2: what Dwight Howard does when forced to make tough decisions. Origin: An unrealistic desire to be loved by all. -Synonyms flip-flop, waver, yo-yo bull·doz·er [bool-doh-zer] -noun 1: a large, powerful tractor having a vertical blade at the front end for moving earth, tree...
NBA News

Delivered to your inbox

You'll also receive Yardbarker's daily Top 10, featuring the best sports stories from around the web. Customize your newsletter to get articles on your favorite sports and teams. And the best part? It's free!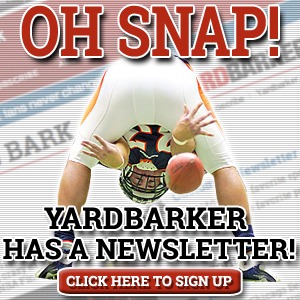 Latest Rumors
Best of Yardbarker

Today's Best Stuff

For Bloggers

Join the Yardbarker Network for more promotion, traffic, and money.

Company Info

Help

What is Yardbarker?

Yardbarker is the largest network of sports blogs and pro athlete blogs on the web. This site is the hub of the Yardbarker Network, where our editors and algorithms curate the best sports content from our network and beyond.