Found June 17, 2013 on Bacon Sports:
Sports fans are unforgiving and terrible bastards. We forget about players as soon as they retire or start sucking at whatever it is they're supposed to be good at. But sometimes stars literally just disappear from the face of the earth. And when they're gone, we don't necessarily miss them, we  just wish we knew what the hell they were up to. Are they working on a comeback? Are they doing low-budget porn just so they can put gas in their planes? Or are they dead? Holy crap, now that I think about it, these people might actually be dead. 5. Allen Iverson Who he was: A 6-foot-tall wisp who had legs like a nerdy school girl with polio but still managed to be completely unstoppable for almost a decade.  In 2001 he averaged 31 points a game, won the MVP and willed a bunch of substandard YMCA castoffs to the NBA Finals. A star hasn't carried such a poor supporting cast since Pamela Anderson's boobs made Baywatch watchable. Where he might be now: If you play over 40 minutes a game your whole career the most likely destination for you when you're over 35 is a wheelchair. But Iverson, with no legs, no athleticism, and no self-respect, was last seen going strong in Turkey in 2010. He was rumored to have returned to the states in January 2011 for calf surgery, which probably means he's getting bionic legs and halfway to becoming a cyborg. Chances he's actually dead: 10%. Iverson is famous enough that if he died, we would have heard about. And I'm pretty sure cyborgs are immortal.   4. Joe Alexander Who he was: The reason that NBA general managers could be replaced with ****-throwing chimpanzees and nobody would know the difference. He had one good year at West Virginia in 2008 and blew up the draft combine with his raw athleticism, then was  taken 8th overall by the Milwaukee Bucks even though he didn't actually know how to play basketball. In three years with three different teams, Alexander played in 67 games and averaged 4.2 points and 1.8 boards. Where he might be now: In July 2011 he signed with a three word Russian team whose name consisted of 15 consonants and a picture of a man hitting a bear in the face with a bottle of vodka. In December of the same year, he left, presumably because he realized he was in freaking Russia. Chances he's actually dead: 25%. I'm not ruling this one out, because a curly-headed American playing basketball in Russia is the second most dangerous career decision you can make right behind playing for the Sacramento Kings.   3. Steve Francis Who he was: A bouncy, shoot-first point guard who took the league by storm in 2000, was broken down and washed up by 2005 and then was gone from the league for good two years later. Poor Stevie Franchise came and went so fast he didn't even have enough time to get the Kleenex ready. Wilt Chamberlain's condoms had a longer shelf life. Where he might be now: My nightmares. The Franchise's career resembles Derrick Rose's to such an alarming degree at this point that, as a Bulls fan, I'm beginning to wonder if Francis hasn't just been wearing a goofy, blank-faced mask the last few years. Holy **** this is what Stevie looks like now? Nope, never mind. Definitely not D-Rose. Chances he's actually dead: 55%. But if Francis's downfall was a harbinger of Rose's, you can up that to 100%, because I'll find him and drown him in Rose's Skittles swimming pool.   2. Adam Morrison Who he was: A mustachioed, crime-solving Marxist whose dazzling 2006 scoring battle with Duke's JJ Redick was white people's greatest sports achievement since Rocky knocked out Apollo Creed. Morrison led the nation with 28.1 points a game that year, then promptly cried all the talent out of his body when Gonzaga lost to UCLA in the NCAA Tournament. Where he might be now: On an operation table somewhere in Geneva getting the lug nuts changed out his neck, because Morrison's body movements are so rigid and unnatural that he might actually be the real life Frankenstein. I've never seen a player almost tear his ACL jumping from the bench to give a teammate a high five, but Morrison did it every freaking time Kobe scored a basket in 2010, which means he's either a bunch of reanimated limbs haphazardly taped together or the most unathletic great basketball player that ever lived. Chances he's actually dead: 90%. The good news is that he's only one lightning bolt strike to the head from coming back.   1. Greg Oden Who he was: The next apex predator. Oden was supposed to be to basketball what the T-Rex was to the Jurassic period. He was so big and scary during high school and his one year at Ohio State that NBA frontcourt players were already starting to update their resumes. Then he got injured. When? What? Where? How? Nobody knows anymore. From 2007 to now, Oden accrued so many injuries that Grey's Anatomy puts him in its writing credits. In six years, he's played exactly one season's worth of games. Where he might be now: Last summer Oden announced he would be sitting out the 2012-2013 season to focus on rehabbing injuries, which is like Kanye West setting up a press conference to tell everyone he's going to be a douche bag. Apparently teams are interested in signing him for next year, a sentiment that will dissipate when they realize Oden is now just a brain in a glass jar. Chances he's actually dead: 99%. Even if Oden's broken body is still functional, his soul died long ago. Seriously, that's not a highlight video up there. It's a eulogy. And it would be hilarious if it wasn't so damn sad.   Erik is interning with us this summer and is the newest addition to the Bacon Sports team. He loves MMA, has actually received a scar in a bar fight, and once partied with the Milwaukee Bucks. You can follow him on Twitter @erikschmidtmu. OTHER ARTICLES YOU MIGHT ALSO LIKE: Ask a Sports Chick: Jeets and Charissa Thompson, Looking at Boobs, and taming Tiger 30 for 30 Episodes we'd like to see made Crazy Blackhawks Craigslist ad goes viral Steroids and Saved by the Bell: Bayside's Dark Secret The post 5 Former Basketball Stars Who Might Actually Be Dead appeared first on Bacon Sports.
Original Story:
http://www.baconsports.com/five-forme...
THE BACKYARD
BEST OF MAXIM
RELATED ARTICLES
SERIOUS ALLEGATIONS
Allen Iverson's ex-wife Tawanna alleged in court documents that the former NBA star has not returned his five children after he took them on a vacation.
Allen Iverson has abducted his own children, the ex-wife of the former basketball star alleges in court papers. Tawanna Iverson, who has sole legal custody of the five children ranging in age from 3 to 16, filed legal documents claiming Allen recently asked for permission to take their kids on a five-day vacation to Charlotte, N.C. late last month, TMZ.com reported. She says Iverson...
Allen Iverson's ex-wife Tawanna Iverson is claiming that the former NBA star has abducted their kids, as she's begging a judge to force him to return the children. According to legal documents filed in court by Tawanna, Allen asked for permission to take their children on a short vacation to Charlotte, NC from May 22nd-May 26th, which Tawanna agreed, but when May 26th came...
The Allen Iverson saga has become full-blown bizarre. On Monday, a TMZ report said that the former Philadelphia 76ers star was essentially on the lam, having kidnapped his five children and living at a Sheraton hotel in the Atlanta area. According to the report, Iverson had failed to get the kids back to his ex-wife, Tawanna Iverson, who wanted him thrown in jail. Since that story...
Allen Iverson's ex-wife accused the former NBA star of kidnapping their five children, keeping them at a hotel in Georgia, it was reported Monday. Iverson is now denying he ever kidnapped his children, who have since been returned to their mother, and the judge agrees, ruling that he doesn't deserve jail time. According to TMZ: Former NBA superstar Allen Iverson has returned...
Things are not going so well for former NBA All-Star Allen Iverson – back in February a judge ruled Iverson an alcoholic unfit parent at a divorce hearing, and now his ex-wife is accusing him of kidnapping their 5 children. According to TMZ: Tawanna Iverson just filed legal docs, claiming Allen recently asked for permission to take their five kids on a short vacation to Charlotte...
On Monday, we shared a report with you about former NBA star Allen Iverson's ex-wife filing court documents claiming he abducted the couple's five children. Tawanna Iverson has full custody of the children, but she allegedly gave Allen permission to take them on a short vacation. She claimed he never returned them to her when [...]
Allen Iverson and his ex wife Tawanna Iverson are still trying to sort through a messy divorce, with a lot of the back-and-forth having to do with the couple's five children. Tawanna recently filed court documents claiming that Allen owes her $40,000 in unpaid child support and has not made a single payment since they [...]
According to TMZ, Allen Iverson's ex-wife is accusing him of abducting their children.  She is now going to take him to court in an attempt to get them back. Tawanna [...]
After last's weeks Chicago Blackhawks Stanley Cup Game 1 ticket contest that we ran went so well (that's right, we gave away two tickets to Game 1 of the Stanley Cup Final) we wanted to keep the party going. Thanks to our good friends over at Wrigleyville Sports we are giving away three of these sweet Chicago Blackhawks Stanley Cup Final hats. These hats are mesh flex fit from...
What is the point of watching interviews with NBA players today? They spend the whole time saying the "politically correct" answer and it's basically like watching an interview with the president. What happened to the days when players like Allen Iverson who would speak their mind no matter how it would affect their image?  Those are the interviews I love to watch, and for...
Click on the photo to read more about LeBron's last stand in the 2013 NBA Championship Has LeBron run out of time? The answer is really no. I'd be shocked if the Heat lost Game 6. To be quite honest, I think that under most circumstances a team down 3-2, despite the fact they're heading home, is a long shot to win, but I don't look at the Heat as a long shot. I'll be bold...
NBA News

Delivered to your inbox

You'll also receive Yardbarker's daily Top 10, featuring the best sports stories from around the web. Customize your newsletter to get articles on your favorite sports and teams. And the best part? It's free!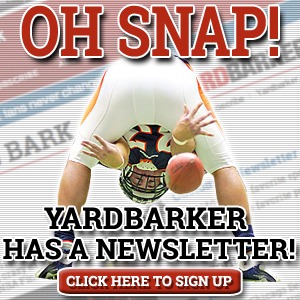 Latest Rumors
The Backyard

Today's Best Stuff

For Bloggers

Join the Yardbarker Network for more promotion, traffic, and money.

Company Info

Help

What is Yardbarker?

Yardbarker is the largest network of sports blogs and pro athlete blogs on the web. This site is the hub of the Yardbarker Network, where our editors and algorithms curate the best sports content from our network and beyond.