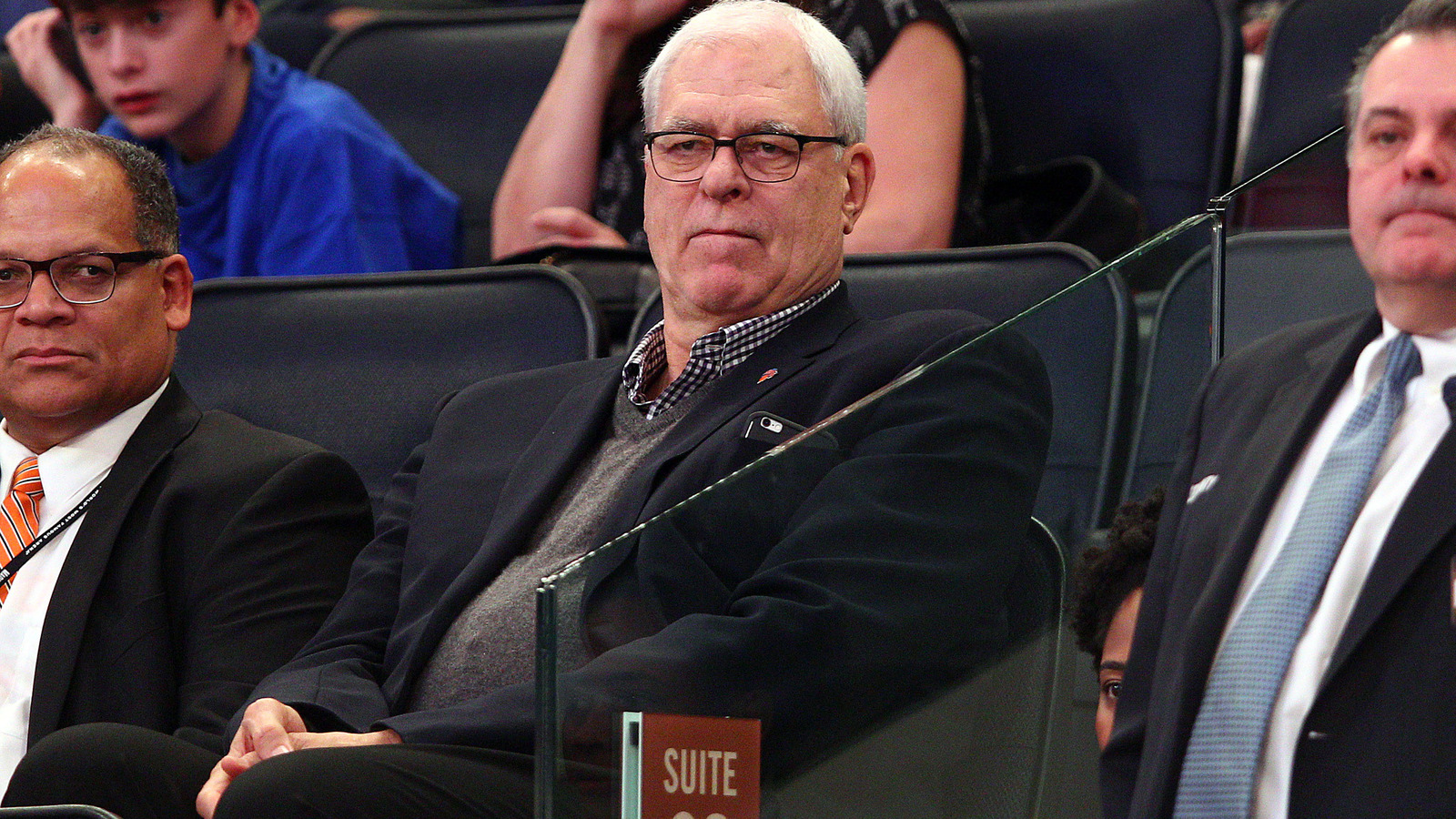 Dec 21, 2015; New York, NY, USA; New York Knicks general manager Phil Jackson watches during the third quarter against the Orlando Magic at Madison Square Garden. 
Brad Penner-USA TODAY Sports
The NBA trade deadline has passed and teams are buying out players in order to let them join contenders. Teams that believed in their championship potential did all they could to secure additional pieces for their run, while teams that knew they were out of the running attempted to clean house.
For some teams, they clearly got better and improved their odds. For others, they dropped large contracts, traded away veteran players, and positioned themselves for a good spot in the NBA draft lottery. For an even a smaller percentage of teams, they did little and now find themselves in a precarious position.
We've gone through all the teams in the NBA and have decided there are five that need to blow things up and hit the reset button.
5. Memphis Grizzlies
The Memphis Grizzlies are very much in contention in the West, but how much longer their competitive window will remain open is anyone's guess. They've lucked out to this point thanks to consistency and stability, but the need for a rebuild may be in the back of their minds.
Vince Carter is 40, Tony Allen and Zach Randolph are 35, Marc Gasol is 32 and Toney Douglas is 30. In fact, the Grizzlies have only four players under the age of 25.
It may all be working for them right now, but Father Time catches up with everyone. So while it's admirable that general manager Chris Wallace stood pat at the trade deadline with a shot in the West at hand, it could come back to haunt the team in 2018 or 2019.
A complete rebuild for the Grizzlies is inevitable. They are likely to continue building around the core of Mike Conley and Marc Gasol, who are signed to long-term deals, for the next few years, so fans should enjoy the current run. It's going to get a lot messier in the very near future.
4. Brooklyn Nets
Like the New York Knicks, whom we'll get to shortly, the Brooklyn Nets appear to be in a constant state of rebuilding. Perhaps it's something in the water in New York, but either way, the two franchises are struggling.
The Nets are still early in their latest attempt to rebuild, but they've attempted to do so on the fly. They brought in players like Jeremy Lin and Trevor Booker, but it has not yielded the sort of positive results general manager Sean Marks had hoped for.
Currently, Brooklyn sports a league-worst record of 9-49 and is allowing a league-worst 114.4 points per game. They are also losing by nearly double-digits on a nightly basis thanks in large part to a league-worst -9.1 point differential.
Ultimately, the on-the-fly rebuild is not panning out early for the Nets, and they failed to land any young talent at the NBA trade deadline. They also failed to trade away Brook Lopez, who has become a constant name of intrigue at the trade deadline who somehow never ends up moving.
Although the team has remained optimistic about their future, much like the Knicks, they need to close their eyes, rip the band-aid off and truly rebuild from the ground up. Unfortunately, their rebuilding process will be difficult due to the first-round picks traded away to Boston as part of the deal that landed them Kevin Garnett and Paul Pierce.
3. Chicago Bulls
For a brief moment early in the season, it appeared as if the Chicago Bulls were going to be a Cinderella story of sorts. Their aging veterans seemed to gel faster than most had anticipated, and they started out somewhat hot.
Since then, it's mostly gone downhill for Chicago.
Not only are the Bulls no longer true contenders in the East despite resting in the No. 7 seed, but they also face a rough road ahead thanks in part to large contracts and oft-injured veterans.
The good news for Chicago? They are poised to enter next season in prime position to complete an expedited rebuild. One thing that would help would be if Dwyane Wade declines his $23.8 million option.
After this season, the only big-money deals Chicago will have on the books are Robin Lopez and Jimmy Butler. Butler should be the focal point around which the team builds. That will allow them to go out and throw some money around, hand out some max contracts and get to work on what should be a bright future.
Of course, none of that works if the team brings back some of these veteran players with hefty deals. Ultimately, they'll have to blow it all up and hit the reset button or risk 1-2 more seasons hovering around .500.
2. Sacramento Kings
The Sacramento Kings have been in a semi-rebuild mode for several years now and pushed further down that road at the NBA trade deadline, sending DeMarcus Cousins to the New Orleans Pelicans in a heavily criticized deal that was later compounded when Vlade Divac revealed the team had a better deal on the table previously.
Ultimately, they walked away with a package of players including Buddy Hield and a guarantee from Divac: if the trade hasn't panned out in two years, he'll step down as the team's vice president of basketball operations and general manager.
That alone shows the turmoil Sacramento currently finds itself in, but it's really just the tip if the iceberg.
The Kings are in potentially rough shape when it comes to the draft as well, having given the Philadelphia 76ers the option of swapping picks in 2017 as part of a trade in 2015. They also owe the Chicago Bulls a top-10 protected pick as part of a 2011 trade which will become two second-rounders if not conveyed this year.
That's not an ideal way to dive head-first into a rebuild, but it's the scenario the Kings have created for themselves. It certainly doesn't help that they waited nearly 60 games to begin breaking things down and tanking.
It's going to be a long climb back to the top for Sacramento, especially when you consider they're not exactly a hot destination when it comes to potential free agents.
1. New York Knicks
Phil Jackson was supposed to be the answer for the New York Knicks. He and superstar Carmelo Anthony were to become the saviors at Madison Square Garden, finally returning the Knickerbockers to prominence.
That has not happened. In fact, very little has happened, including a stalemate at the NBA trade deadline.
Rather than shipping Derrick Rose to the Minnesota Timberwolves in exchange for Ricky Rubio, who would be a much better fit in the triangle offense, Jackson and the Knicks couldn't get anything done. They ultimately sat on their hands, couldn't shed oft-injured veterans, couldn't get anything in return to help their rebuild, and failed to shed even a penny of salary.
In the aftermath of their non-action, they have waived Brandon Jennings and likely lost Joakim Noah for the remainder of the season due to injury.
Although many consider the Knicks to be in the midst of a rebuild now, it's a song and dance fans have become accustomed to in recent years. It's the rebuild that never seems to finish and eventually needs to be blown up again and again.
Unfortunately for the Knicks and their fans, it's deja vu. James Dolan is commanding headlines for all the wrong reasons, the team is on bad terms with some of its legends, Phil Jackson and Carmelo Anthony don't seem to be on the same page, and the whole thing is just a disaster.
It's time for New York to part ways with Phil Jackson, Carmelo Anthony, Derrick Rose, Joakim Noah and start all over from the very bottom. Short of that, there will be plenty more losing seasons in the future.
PLAYERS:
Vince Carter
,
Zach Randolph
,
Marc Gasol
,
Mike Conley
,
Jeremy Lin
,
Sean Marks
,
Dwyane Wade
,
DeMarcus Cousins
,
Carmelo Anthony
,
Ricky Rubio
TEAMS:
Memphis Grizzlies
,
Brooklyn Nets
,
Chicago Bulls
,
New Orleans Pelicans
,
New York Knicks
,
Minnesota Timberwolves
,
Sacramento Kings
MORE FROM YARDBARKER
NBA News

Delivered to your inbox

You'll also receive Yardbarker's daily Top 10, featuring the best sports stories from around the web. Customize your newsletter to get articles on your favorite sports and teams. And the best part? It's free!