Found April 18, 2013 on Bacon Sports:
With the NBA playoffs on the horizon, the San Antonio Spurs went out this week and signed, the one, the only, Tracy McGrady. McGrady was once one of the most popular players in the NBA, leading the league in scoring in 03 and 04 and making multiple all-star teams. He teamed with Yao Ming in Houston, where the two became the most beloved Black/Asian duo since Jackie Chan and Chris Tucker (we are all still patiently waiting for that Ming/McGrady buddy cop movie). So where were the Spurs able to find a perennially All-Star this late into the season? McGrady was the star of the 8-24 Qingdao Double Star Eagles, who may have to be downgraded to a single star after the way they played this season. Though, this bad record may not have been all T-Mac's fault, as he did average 25 points and 7 rebounds. While injuries and ice cream may have slowed McGrady down during the later part of his career, it is good to see him get another shot in the NBA. This begs the question, which other former ballers should get one last chance at NBA glory. Allen Iverson WHY FANS SHOULD WANT HIM BACK: Back in the late 90's/ early 2000's, no one was more fun to watch play basketball than AI. He could dribble circles around anyone, get his shot off from anywhere and would take it to the hole with a reckless abandon that any fan could appreciate. He was also a walking Soundboard, as you never knew what crazy thing would come out of his mouth next, as everyone knows his famous "We Talkin Bout Practice," rant. Although his best days are in the rearview mirror, he could certainly help sell tickets for a team like the Bobcats or at only 37, would be one of the youngest players on the Knicks roster. WHY HE NEEDS TO COME BACK: Money. While some reports say Iverson has a trust fund that he will be able to touch when he is 55, that does him no good in the present. As anyone who has a tattoo can tell you, they are not cheap and Iverson loves himself some tattoos. Also, have you seen the price of gold chains lately? Heck even if AI wants to keep up with 2Chainz, that is still going to cost him a pretty penny. Also,  lets not even get started on his Baby Mama situation. Antoine Walker WHY FANS SHOULD WANT HIM BACK: In his prime, when he was leading the Boston Celtics to first round playoff exits, Toine was one of the more entertaining players to watch. He would launch 3-pointers from anywhere on the court, as if someone told him the further away he shot, the more points the shot was worth. Walker also had his trademark "shimmy shake" he'd do after making a big shot (sadly, the only time he gets to do this shake now is when he finds out the McRib is back at McDonalds). WHY HE NEEDS TO COME BACK: "Broke, Broke, Broke, Phi Broke, he ain't got it." At the height of his NBA career, Walker was estimated to have 110 million dollars in the bank. Today, he would be lucky if he could afford to buy a 2001 Ford Taurus. This has led him in the last few years to play in the NBA D-League and even Puerto Rico. While Allen Iverson needs to come back so he can afford more chains, Walker needs another shot at the NBA just to afford to use the washing machine at the Laundromat. Greg Ostertag WHY FANS SHOULD WANT HIM BACK: Ostertag is a throwback to the 90's when it was a simpler time in basketball. It seemed that if you were a White male who was 7 feet tall, no matter if you had no skill at all, you could make an NBA team. That has to be the reason a guy like Ostertag not only played in the NBA, but somehow lasted over a decade in the league. There are two real reasons that fans should want Ostertag back: 1: To see Blake Griffin posterize him. 2: a Ostertag jersey would be a must buy for fans of whatever team that he ends up on. WHY HE NEEDS TO COME BACK: To prove that he is indeed the greatest white, mediocre, Center of all-time a.k.a. the GWMCOAT. Derrick Rose WHY FANS SHOULD WANT HIM BACK: Just kidding Chicago, I'm sure he will come back soon, probably, maybe, hopefully, ahh who knows. Dikembe Mutombo WHY FANS SHOULD WANT HIM BACK: Mutombo was one of the best shot blockers his generation has ever seen. Not only would you feel the embarrassment of having your shot blocked but also would look up to see the 7'2 behemoth waving his finger at you. It was as if the Soup Nazi from Seinfeld had come to life, but instead of no soup for you, it was no basket for you. At 46, Mutombo could still grab a few rebounds a night and block a shot or two and would no doubt be one of the most popular players on whatever team he was on. WHY HE NEEDS TO COME BACK: While he is second all-time on the blocked shots list and coming back to achieve that goal would make sense, Mutombo has other things on his mind. The last few years have seen a resurgence in the Mutombo brand. From having his own video games, to starring in major commercials, Mutombo is on the cusp of A-List superstardom. Coming back to the NBA could be the final push he needs before Hollywood comes calling. He would be the perfect cast member to add when they make "The Expendables 6" in a few years. Brian Scalabrine WHY THE FANS SHOULD WANT HIM BACK: He's the White Mamba…. enough said. Don't forget to check me out on Twitter @RobLoweSports OTHER ARTICLES YOU MIGHT ALSO LIKE: These 5 random sports videos will make your day better.  Awesome Sports Logos t-shirt company. Going hard in the paint.  How other rappers other than Jay-Z would fare as sports agents. The post Basketball players that should make an NBA comeback appeared first on Bacon Sports.
Original Story:
http://www.baconsports.com/basketball...
THE BACKYARD
BEST OF MAXIM
RELATED ARTICLES
Tracy McGrady once scored 13 points in 30 seconds against the San Antonio Spurs. It was one of the most breath-taking and amazing scoring performances in NBA history. The fact that it happened against the vaunted Spurs defense on national TV made it all the more amazing. Things are perhaps coming full circle now. McGrady will try to get out of the first round for the first time...
The San Antonio Spurs have signed veteran Tracy McGrady for their playoff run, according to Adrian Wojnarowski of Yahoo! Sports.McGrady spent time playing in China this season for Qingdao of the Chinese Basketball Association. He averaged 25 points per game while shooting 56 percent from the field during his time in China.Prior to heading to China to play this season, McGrady worked...
Well thats the confidence we like to hear McGrady… Per ESPN and My San Antonio, Tracy McGrady let them know via text Tuesday morning that the deal was official… He's a new member of the San Antonio Spurs. The question isn't whether Tracy can still play, he's averaged 25 points, 7.2 rebounds and 5.1 assists in 29 games while playing in China, the real question is does HE...
The San Antonio Spurs have signed veteran forward Tracy McGrady, adding depth and experience as the playoffs arrive. The 33-year-old McGrady is a seven-time NBA All-Star drafted ninth overall in 1997. In 938 career NBA games, McGrady has averaged 19.6 points, 5.6 rebounds, 4.4 assists and 1.21 steals per game. In 44 playoff games, he has averaged 25.2 points, 6.3 rebounds, 5.5 assists...
The San Antonio Spurs have signed veteran forward Tracy McGrady, adding depth and experience as the playoffs arrive. The 33-year-old McGrady is a seven-time NBA All-Star drafted ninth overall in 1997. In 938 career NBA games, McGrady has averaged 19.6 points, 5.6 rebounds, 4.4 assists and 1.21 steals per game. In 44 playoff games, he has averaged 25.2 points, 6.3 rebounds, 5.5 assists...
Bang like T-Mac, ski mask air it out...
Tracy McGrady recently signed a contract with the San Antonio Spurs for the playoff run. If you have any discretionary income do not spend it renting a car this weekend like many people in the hood will, rather go right to the sports book and plop down your hard earned dough on the Spurs to lose in the first round of the playoffs. There has never been a bigger kiss of death than...
Skip Bayless is off the San Antonio Spurs bandwagon. They're not "his" Spurs anymore. In fact, he thinks they're out the first round because of the Tracy McGrady signing. Spurs had TMac during camp, now reaching for him in desperation. Averaged 7 a game last 3 NBA seasons. Once again won't get out of 1st rd. (@RealSkipBayless) Bayless may be going...
The San Antonio Spurs (58-23) will close out their regular season with a home game versus the Minnesota Timberwolves (30-51) tonight at the AT&T Center and with the No. 2 seed in the West locked up, expect the Spurs' key players to get minimal time on the court. The Spurs recently added former NBA player Tracy McGrady to the roster. With the team waiving forward Stephen...
With the 2012-13 NBA season wrapping up and the playoffs just days away, the kind folks over at Fox Sports Radio 1037 The Game in Louisiana invited your truly to talk what else... the NBA. From Kobe Bryant's injury affecting the Lakers, the 2013 NBA Draft to the Spurs signing Tracy McGrady, we cover it all during this interview. Crossover would like to thanks the fellas...
As a resident of Austin, Texas, I'm on supreme leader of North Korea Kim Jong-un's "show America what's up by firing missles at them" list. I'm still not 100% sure why. Washington, Los Angeles, Austin. But hey, I haven't been missile attacked since I heard the news, so I assume I got away with my treasonous whatevers or was at least outside of the blast radius.Now...
NBA News

Delivered to your inbox

You'll also receive Yardbarker's daily Top 10, featuring the best sports stories from around the web. Customize your newsletter to get articles on your favorite sports and teams. And the best part? It's free!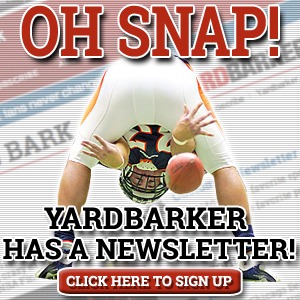 Latest Rumors
The Backyard

Today's Best Stuff

For Bloggers

Join the Yardbarker Network for more promotion, traffic, and money.

Company Info

Help

What is Yardbarker?

Yardbarker is the largest network of sports blogs and pro athlete blogs on the web. This site is the hub of the Yardbarker Network, where our editors and algorithms curate the best sports content from our network and beyond.