Found June 02, 2012 on Waiting For Next Year:
PLAYERS:
Harrison Barnes
,
Ray Allen
,
Antawn Jamison
,
Byron Scott
,
Mickael Pietrus
,
Bill Walker
,
Gerald Green
,
Michael Redd
TEAMS:
Cleveland Cavaliers
,
Charlotte Hornets
,
Boston Celtics
,
New York Knicks
,
Brooklyn Nets
,
Phoenix Suns
,
Miami Heat
,
San Antonio Spurs
,
North Carolina Tar Heels
The NBA is in full steam, and to celebrate the occasion, I brought along my brother Sam Rosen (@sjrosen18) to chat about some of the hot topics going on right now. Hope y'all enjoy our takes on topics ranging from the NBA Draft to the Cavs' offseason and the playoffs.
1. Assuming that Anthony Davis, Michael Kidd-Gilchrist and Bradley Beal are the first three picks in order, what should the Cleveland Cavaliers do with the No. 4 pick?

Sam: Harrison Barnes is the logical pick at 4 assuming these three are off the board. Touted as the next big thing coming out of high school, Barnes never lived up to the ridiculous hype he faced at North Carolina. Hype is one thing, but pure talent is another. His size (6-8, 220 lbs.), his age (19 as of this writing), and his overall raw talent warrant a selection in the top 5 of any draft class. Barnes has all the tools to become an elite SF at the NBA level, and with proper coaching and a few years of seasoning, he could end up being the best player in this draft.
Jacob: I'm digging the new momentum surrounding UCONN's Jeremy Lamb. Unfortunately, I didn't see him in action more than once or twice this season, but just watching his play recently, and his ridiculous seven-foot wingspan, I'm starting to think he could be a more projectable player for the team's future. Similar to WFNY's Andrew, I'm not down with Barnes. I think there are way too many question marks there, and this pick here in 2012 needs to be someone we can rely upon immediately to A) score, and then B) provide clutch defense on the wing. Lamb was a more prolific college scorer and has the make-up to be a better all-around team player.
Sam: The obvious big name we didn't mention here is Andre Drummond. While his size and potential are both huge, the bust factor looms too large in my mind to make him the 4th overall pick. If he figures it all out, he can be great, but I don't think I'd go all in on a kid that seems to have no clue how to play offense at any level, let alone the NBA.
2. Then, should the Cavaliers try to trade up? What is a logical move the team should make overall?
Jacob: I don't really think it's worth it this time around. I want to get this pick right, but I think similar to the constant comments about the Charlotte Bobcats simply needing talented, warm bodies, so do we. Outside of Anderson, Tristan, Gee and Kyrie, there are hardly any other pieces that should be around in Cleveland for the long-haul. I want to make sure we use No. 4 and No. 24 wisely, then maintain our two first-rounders for next year. It's too early to mortgage anything for a particular player, as we haven't even come close to playoff competition yet.
Sam: If the Bobcats are listening, then Chris Grant should have them on speed dial. I believe Michael Kidd-Gilchrist is going to be star in the NBA, and anytime you have the opportunity to add a star, you do it. The Cavs were not fortunate enough to land in the top 2 in this year's lottery, but that doesn't mean they shouldn't try to place themselves there. If the Bobcats are interested in adding another first round selection this year, the Cavaliers should offer #24 and a future lottery protected first round pick to swap #4 and #2. MKG has it all; defense, size, hustle, intangibles, and yes, even scoring. If the opportunity is there to grab him, you take it and don't look back.
Jacob: The Bobcats are historically incompetent when it comes to the draft, so I wouldn't put that out of the question, Sam. That's just a big load to give away just for the ability to swap Lamb/Barnes for MKG. Yeah, this draft is shaping up to be much more of an Anthony Davis and everyone else collection than everyone else previously anticipated, but I still think we can find value, much like we surprisingly did with Tristan at No. 4 last year. Of course we need to listen, but I don't want to give up next year's valuable first-rounder if that's the turning point.
3. What are some other offseason moves the team should make?

Sam: The Cavaliers should not chase after any of the big names in free agency as boring as that may sound. The plan is to build through the draft, and by throwing a large contract at someone such as Eric Gordon, O.J. Mayo, or Ray Allen, it will make the Cavaliers better this year, but will drastically handicap any flexibility they have going forward. I believe it's too early in the rebuilding process to start giving away big money contracts to free agents. The key to Chris Grant's rebuilding process is to draft well, develop talent, and then add some veterans once the young guys are ready. The Cavaliers should fill the gaps this offseason with value veterans and short term deals to meet the new salary floor, but any thoughts of chasing the available all-stars should be put to bed.
Jacob: Sam hit the hammer on the head pretty good there. It's quite obvious in my mind that the Cavaliers will not be a big player in free agency, something Tom Reed mentioned not too long ago. Of course, the team will have to spend close to $20 million to reach the new 85% salary floor in the CBA, but I could see us filling that gap mostly through the draft and a couple of cheap veterans. If you're starting five is Anderson, Tristan, No. 4 pick, Gee and Kyrie, the obvious need is a backup big man to possibly complement No. 24, along with some more scorers to keep replacing the loss of Antawn Jamison.
Sam: I agree with your point that losing Jamison will leave a scoring void on the Cavaliers roster, but that doesn't mean you have to spend big to find it. There should be plenty of value free agents as the market pans out that can come in and fill that role off the bench while helping educate Byron Scott's young roster on how to play the game.
Jacob: Speaking of those role players off the bench, a few names I like of unrestricted free agents are the following: Mickael Pietrus, Chase Budinger, Bill Walker, Gerald Green, Michael Redd, Jordan Hill and Aaron Gray. Sure, some of those guys likely won't be that available or that cheap, but we're gonna need more warm bodies that aren't just D-Leaguers soon. And that frontcourt is going to be a mess offensively.
4. Switching topics to the playoffs, what is the percentage chance that the Miami Heat wins the NBA Finals?

Jacob: Regrettably, even after last night's abysmal performance, I'm still at about 40%. There's no doubt in my mind that the Heat will crush the Celtics eventually, most likely in 5 games. So, if my mind's made up at about 95% that Miami advances to the Finals, there's no way my odds can be much less than 50-50 for whoever matches up against them from the West. Sure, the Spurs and Thunder have looked incredibly more dominant, but there's always going to be that looming star factor hanging over everyone's heads that maybe, at some point, LeBron and Wade will just take over. They're going to win a title soon, and I'd honestly be a bit surprised if it's not this year.
Sam: This is a very tough question to answer, and while trying to be unbiased because I may be the biggest Heat/LeBron hater there is, I still can't put this at any higher than 25%. A lot of people say defense wins championships at this level, but I disagree. I believe offensive execution is far more important when the game slows down as it will in the Finals (assuming the Heat polish off Boston). From watching nearly every minute of the NBA playoffs I possibly can thus far, I can honestly say the Heat have no where near the offensive firepower the Thunder and the Spurs possess. Sure LeBron and Wade look great at times driving the paint and getting to the hoop at will, but in a 7-game series, when your opponent will be able to pick you apart on the opposite end (something the over-their-head Pacers and too old-and-slow Celtics haven't come close to doing) like the Spurs or Thunder can do better than anyone in the NBA, I just can't see the Heat winning more than a game or two.
Jacob: A game or two?? When was the last time LeBron only won a game or two in an entire NBA series? Yeah, you can point to Dallas in 2011, Boston in 2010 and of course San Antonio in 2007, but you have to say that at least one game this year he will just dominate. I can't imagine a Finals going less than six games if the Heat are involved. No way. It's going to be close, and whenever a game or a series is close, you can't discredit star power like LeBron and Wade, no matter how much flack they get for their closing abilities all the time.
Sam: The Heat have star power for sure, but don't forget games 1, 2, 6, and 7 will all be out West, as the Spurs and Thunder both own home court. And I think there is something more to LeBron's lack of "closing abilities". I genuinely feel he just doesn't have it in him to step up and kill when the stage is the biggest, and that will aid the demise of the Miami Heat yet again in this year's Finals.
5. So, who wins it all this year?
Sam: The San Antonio Spurs! Just what the general NBA public wants I'm sure (sarcasm). The Spurs and Thunder series is going to be epic, and I could easily see it going all 7, but at the end of the day I believe the Spurs will prevail and move on the face the East winner (even though I would have picked about 5 or 6 Western Conference teams to win the East had they played on that side of the bracket). This Spurs team is just too well coached, too smooth offensively, and has too many weapons to be beat 4 times out of 7. The Thunder will be their biggest test, but if they can get past them, I see no reason the Finals won't be simply a formality.
Jacob: As I mentioned above, I have a hard time picking against the Heat. Of course I don't want them to win, but I just continue to have a bad feeling about their ability to just turn it on at any moment. From there, I do like the Thunder to defeat the Spurs, although my odds on that are likely at about 60-40. So since I'm very confident the Heat will move on to the Finals, they are my odds-on favorites for now, if ever so slightly since the Spurs-Thunder are more closely packed together.
–
(NBAE Photo via David Liam Kyle/Getty Images)
Original Story:
http://www.waitingfornextyear.com/201...
THE BACKYARD
BEST OF MAXIM
RELATED ARTICLES
The very respectable Lakers Nation blog is reporting that Mitch Kupchak and the LA Lakers are interesting in Ray Allen for the 2012-13 season. Despite Ray Allen's loyalty to the Celtics and desire to finish his career as a Boston Celtics, it's been noted, on and off, that Ray is not very comfortable playing 18-20 [...]
  With less than a minute to go in the OT, the Celtics had a shot to cut the Miami lead to 3 or even 2.  The Celtics drew up a play for Ray Allen. He inbounds, goes to the baseline and then circles back between 2 picks in hopes of getting a 3.  Looked like a pretty nice wrinkle to plays Boston has run before, but Miami defended it well.  At the :05 mark...
 I don't think I've ever seen fans complain so much about the officiating when they are the team that shot more free throws.  Like I said before, they are so used to getting EVERY call, they can't stand it when the officiating is somewhat even.  They missed a ton of calls but they missed them on both sides.   I love how they call Celtics fans crybabies and then cry...
Executing eight "knuckle" pushups on a parquetfloor really shouldn't be much of a challenge for a professional athlete. But for Kevin Garnett, this exercise interlude certainly seemed a bit moredifficult than dominating the low post in Game 3 of the Eastern Conferencefinals. KG, now working at center for the Boston Celtics, executed the aforementionedFriday night...
Kevin Garnett had one of his most energetic and aggressive games of the season Friday night. He was fueled by the crowd, or as he put it, "The Jungle was ******' rockin' tonight!" Rajon Rondo talked with some swag to CLNS at the 3:42 mark about going for the Celtics first winning streak Sunday since [...]
The Big Four can only take the Celtics so far. Kevin Garnett, Paul Pierce and Ray Allen aren't getting any younger, and Game 2 proved that even when Rajon Rondo takes over, a Celtics win is not guaranteed. In order to take down the Miami Heat and advance to the NBA Finals, the Celtics need to get contributions off the bench. In Game 3, Marquis Daniels stepped up, providing energy...
40) Ray Allen showed veteran savvy by playing horribly for much of the year, then turning it on tonight39) I didn't think that a team could make Rajon Rondo look better than the Sixers did, but I was wrong38) Someone needs to tell Dwyane Wade that the game starts in the first half37) When Keyon Dooling is hitting three pointers, plural, you know something weird is going on36...
It was by far their most devastating loss of the season, yet the Boston Celtics were every bit the champions they had been in winning the 2008 title. They were pesky and courageous and they desperately attempted to defy defeat. They were outmatched and on the road and down to one player with enough gas and skill to make a difference, and yes, they were a little inconsistent, yet...
Miami has such bandwagon fans.  They go from Chalmers being their 3rd best player to hating him and calling him garbage.  Wade goes from the greatest ever to having low BBIQ.  I love all the complaints about the refs.  They are so used to getting EVERY call that they can't recognize it when the refs are actually  calling it mostly even.  The foul count was even, unlike...
NBA News

Delivered to your inbox

You'll also receive Yardbarker's daily Top 10, featuring the best sports stories from around the web. Customize your newsletter to get articles on your favorite sports and teams. And the best part? It's free!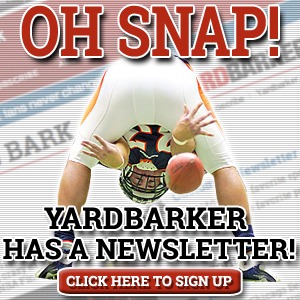 Latest Rumors
Best of Yardbarker

Today's Best Stuff

For Bloggers

Join the Yardbarker Network for more promotion, traffic, and money.

Company Info

Help

What is Yardbarker?

Yardbarker is the largest network of sports blogs and pro athlete blogs on the web. This site is the hub of the Yardbarker Network, where our editors and algorithms curate the best sports content from our network and beyond.