Found May 07, 2012 on Fox Sports Florida:
MIAMI Mike Miller is eyeing two things. One, obviously, is a first NBA title. The other? When the Miami Heat season ends, his daughter will be old enough for Miller to make another trip to the tattoo parlor. It was nearly one year ago May 19, 2011 that Jaelyn Miller was born with a ventricular septal defect, having five holes in her heart. For 10 days, she was hospitalized in the neonatal intensive care unit at a South Florida hospital, and it was two months before doctors were very confident she wouldnt need heart surgery. For nearly a month after Jaelyns birth, Miller, a sharpshooting Heat swingman, played in the postseason with his daughters health on his mind. He also had a ruptured tendon on his left thumb (non-shooting hand) he had suffered just before the start of the playoffs. The Heat ended up losing to Dallas in the Finals, with Miller finishing off a forgettable postseason. But a year later, Jaelyn is healthy. And her hand is now big enough for something her father has in mind. He wants to get her handprint tattooed (on his chest), said Millers wife, Jennifer Miller, who said Jaelyn is doing wonderful now. He wanted to get it (last year), but her hand was so small he decided to wait. So after the season, Jaelyns name will be inked on her fathers chest alongside tattoos honoring her brothers, Mason, 9, and Mavrick, 7. Masons reads Ace for his middle name and the tattoo includes a playing card. Mavericks reads Mayz, his middle name, and it is written on a cross. It remains to be seen whether Miller also will consider a tattoo of the Larry OBrien Trophy if the Heat win it all. Regardless, the Heat having Miller more healthy and with more peace of mind during these playoffs sure helps their chances. Im a little more fresh in the mind and fresh in the body, which makes a difference, Miller said of these playoffs compared with last season, when he shot just 29.7 percent on 3-pointers and averaged a meager 2.6 points in the postseason. After shooting 6 of 14 from 3-point range and averaging 10.0 points in the first two games of an East first-round series against New York, Miller is just 2 of 9 from long range in the past two while averaging 3.5 points. But coach Erik Spoelstra wants Miller to keep shooting, and it would be no surprise if hes hot again in Wednesdays Game 5 at AmericanAirlines Arena. After all, he shot 45.3 percent on 3-pointers during the regular season to tie for fourth in the NBA. The Heat had a day off Monday from practice. So that gave Miller more time at his Pompano Beach, Fla., beach home to spend with his daughter, whom he calls his little princess. Its a huge difference between when the boys were babies, Jennifer Miller said about how her husband treats Jaelyn as opposed to the couples first two children. He definitely babies her. He loves her and dotes on her. With the boys, he was rougher and did more boy things. He just thinks shes so cute. He holds her and gives her kisses. I told him, Get ready when shes old enough for the tea parties. No doubt Miller wont have any problem with those. Hes delighted with the progress Jaelyn has made in the past year. It was scary, Miller said of what he went through last year. But everything is good now, knock on wood. Shes getting better every day, and hopefully everything will be taken care of. Shes down to one hole (in her heart, with the other four having naturally closed), which is great. Everybody seems to think shes improved. Jaelyn last went to the doctor in January, and Jennifer Miller said the family was told theres a 99 percent chance she wont need surgery. Theyre not scheduled to take her in for another checkup until next January. But there were some anxious times last May. In addition to being born with the ventricular septal defect, Jaelyn had fluid in her lungs due to the umbilical cord having wrapped around her neck during birth. Jennifer Miller went into a labor shortly before 4 a.m. on May 19, when Miller had arrived at the hospital after playing in the May 18 Eastern Conference semifinals Game 2 at Chicago. Miller was up all night and day awaiting the birth of the baby, which came at 4 p.m. After the complications surfaced, Miller barely slept while remaining at the hospital. There was doubt whether he would be available for Game 3 on May 22 in Miami. Miller did play, and he went scoreless in nearly 13 minutes of playing time. It was tough going (to the game) and leaving the family during the time when they needed you, Miller said. But they (other family members) wanted me to play, and I wanted to play, but it was difficult when theyre doing what theyre doing and Im out there trying to do what Im doing. It was a difficult decision, but, at the end of the day, it was being part of (the playoffs) and there wasnt much I could up there (at the Fort Lauderdale hospital). The doctors had it pretty much under control. For Game 4 on May 24 in Miami, Miller donned pink shoelaces in Jaeylns honor in addition to writing her name on his shoes. He had his best game of the playoffs, totaling 12 points and nine rebounds. I dont know how he did it, Heat forward Chris Bosh said of Miller then playing those games. He showed up and played. He had every excuse to not even be in the arena. The Heat eventually dispatched the Bulls in five games to advance to the Finals against Dallas. But Miller struggled throughout that series, not playing in one game and averaging just 3.0 points in the other five. Injuries played a key role in his difficulties. In addition to the left thumb problem, Miller had suffered a fracture and ligament damage in his right thumb earlier in the season and he also had a shoulder problem during the playoffs. With Jaelyn, while the fluid in her lungs was no longer an issue, it wasnt until July that doctors felt very good the holes in Jaelyns heart would heal on their own. It was then determined there was an 80 percent chance she wouldnt need surgery. We were at ease, said Jennifer Miller. The family was even more at ease when the doctors gave the revised figure Jan. 6 of 99 percent. Miller was out then, having missed the first 12 games of this season due to hernia surgery. But when he played his first game, Jan. 17 against San Antonio, he shot 6 of 6, all of them 3-pointers, for 18 points. Miller was hurt again March 10, suffering a sprained left ankle that would keep him out three weeks. Overall, though, his scoring went up from 5.6 last season to 6.1, and his 3-point percentage soared from last years 36.4. I went through some difficulties health-wise this year, but at least it wasnt anything with my hands, which was frustrating, said Miller, who is still limping a bit on his ankle. Miller now uses his healthy hands to fire jumpers and to show off photos of Jaelyn in the locker room. I see pictures of his little girl every now and then and just to see how much of a fighter she his, to see her these days, its a wonderful, beautiful thing, said Bosh, whose wife, Andrienne, gave birth last Thursday to a boy, Jackson. Jaelyn has been to about 10 games this season at AmericanAirlines Arena. While her mother says it will be at least another year before she has any idea her father is on the court playing, Jennifer Miller says Jaelyn has a great time. She enjoys the crowd, she said. She is starting to learn to clap. When she does that, she smiles at everybody sitting around her. Unless the Heat stunningly blow a 3-1 lead over the Knicks, theyll be playing in an East semifinal when May 19 arrives. Miller knows it will be special. Its going to be a happy day, a very, very happy day, he said. (Jaelyns) come a long way, and were so excited about it. Chris Tomasson can be reached at christomasson@hotmail.com or on Twitter @christomasson
Original Story:
http://www.foxsportsflorida.com/05/07...
THE BACKYARD
BEST OF MAXIM
RELATED ARTICLES
The 2012 NBA Playoffs are off to an interesting start! Among other things, it is quite apparent that the Miami Heat are getting the benefit of the whistle from the officials. The on-court dramatic moves, such as the incessant flopping from James and Wade, seem to be working! The officials are cueing off of the [...]
LeBron James gets a lot of heat and most of the time it is deserved but now Reggie Miller is calling him out for a silly reason. TNT analyst Reggie Miller thinks James should not seek advice from NBA hall of famers about what it takes to win a championship. Sure you can criticize James for his horrible play in the NBA finals and in clutch moments but calling him out...
This video is CLASSIC! Hilarious compilation of the best of LeBron James flops from the 2012 NBA Playoffs, first round series. Late yesterday, Tim Donaghy submitted his latest blog post to CLNS Radio. Of course, the former NBA official honed in on the ugly officiating in these 2012 playoffs, particularly the Miami Heat vs New [...]
Lebron James doesn't believe that the next NBA champions -- for the shorten 2011-2012 NBA season -- should receive an asterisk next to their name. The season was shorten due to the 2011 NBA lockout, as the season was shorten by 3 months and 3/4 of the games being kept on the schedule. James says that a championship is a championship and that there shouldn't be an asterisk...
MIAMI -- Here's an ideal way for the Heat to put a stop to all these questions about last-second situations. Blow out the Knicks in Wednesday's Game 5. Ever since Sunday's 89-87 loss at New York, there's been plenty of talk about why Shane Battier, not LeBron James, was guarding Knicks sharpshooter Carmelo Anthony down the stretch. Anthony hit a key three-pointer...
Chris Bosh may not be killing it on the basketball court, but with his team up 3-1 in its first round series against the Knicks, nobody is too concerned about the Heat right now. That allows Bosh to fly under the radar with his game, and fine-tune his troll impression, which he shows off nicely during LeBron's postgame interview after Game 3.
Dwyane Wade may not be fully recovered enough to play in the London Olympics.
Yahoo! Sports' Adrian Wojnarowski wrote a spectacular column on Rajon Rondo and the threat he poses to the Miami Heat: Rondo's rising again, on a tear for months, and he's still the biggest potential barrier between Miami and a return to the NBA Finals. He was his genius passing and playmaking self – 16 assists, one turnover – in the Celtics' 101-79 victory...
With the Miami HEAT on their way home to face the New York Knicks, a Game 5 rivalry renewed will air on Wednesday, May 9, 2012, on Sun Sports. Game 5 coverage begins Wednesday night on Sun Sports (NBA HEAT Territory) at 6:30 pm with the HEAT LIVE pre-game show from the AmericanAirlines Arena. Jason Jackson will preview Game 5 and take fans right up to tip-off at 7 pm with Eric Reid...
GREENBURGH, N.Y. (AP) -- Those Heat-Knicks series of the late 1990s always went the distance, momentum seemingly turning with every game. This chapter appears headed toward a much different conclusion. The Heat have a 3-0 lead, and any momentum the Knicks have enjoyed lasts mere minutes. Miami will go for the sweep Sunday, with the Knicks trying to force a Game 5 and end the...
If Miami guard Dwyane Wade is having concerns this summer about whether he will be healthy enough to play in the Olympics, an extended deadline for team selection could help him make the most informed decision possible. USA Basketball chairman Jerry Colangelo had told Fox Sports Florida last week he expected the date the 12-man team must be selected to be pushed back from June 18...
NEW YORK For at least one game, and for the first time in a long time, the New York Knicks finally played like a team that belongs in the playoffs, thrusting themselves to an 89-87 win over the Miami Heat and snapping what had been a 13-game playoff losing streak, the longest in NBA history. "It's about time," Knicks head coach Mike Woodson said after Sunday's...
Heat News

Delivered to your inbox

You'll also receive Yardbarker's daily Top 10, featuring the best sports stories from around the web. Customize your newsletter to get articles on your favorite sports and teams. And the best part? It's free!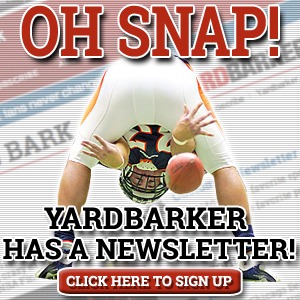 Latest Rumors
The Backyard

Today's Best Stuff

For Bloggers

Join the Yardbarker Network for more promotion, traffic, and money.

Company Info

Help

What is Yardbarker?

Yardbarker is the largest network of sports blogs and pro athlete blogs on the web. This site is the hub of the Yardbarker Network, where our editors and algorithms curate the best sports content from our network and beyond.