Found February 26, 2013 on Fox Sports Wisconsin:
Troy Kinunen's heart rate spiked as the minutes ticked away on Saturday. He stared at his phone and dialed from Milwaukee to New York City repeatedly, test calls to make sure the voice on the other end of the auction would answer when it mattered most. For a Milwaukee sports memorabilia collector chasing one of the biggest scores in the city's sports history, this moment brought the highest levels of stress. "I had two phones, two extra batteries," said Kinunen, who runs the Milwaukee memorabilia evaluation and research company MEARS. "I was a nervous wreck for like three hours. I didn't want to miss it. I kept calling my contact. I had a backup phone. I took it real serious. I didn't want anything to go wrong." In the end, Kinunen's agonizing made way for elation. He placed the winning bid of 80,000 on a home white Milwaukee Bucks jersey worn by Lew Alcindor from 1969-71. The jersey, Alcindor's last before he became Kareem Abdul-Jabbar, was the only one available to the public. The other home white jersey is in the Basketball Hall of Fame. Even when the 19.5 percent buyer's premium from the auction house was added, bringing Kinunen's total payout to 95,600, his happiness couldn't be dimmed. The jersey, sold as part of Heritage Auctions' Platinum Night Sports event, could have been purchased by anyone in the world. Kinunen recognized the significance of bringing it back to Milwaukee, the town where Alcindor began his professional basketball career. "Being in Milwaukee, what's a better piece that epitomizes early Bucks basketball than Lew Alcindor's rookie jersey and his championship season?" Kinunen said. "That was our city's only championship. It was something that I really decided to be aggressive about. From a business standpoint, too, I think it was a good price what I paid for it when compared to other historic jerseys." Heritage Auction consignment director Chris Nerat had estimated the Alcindor jersey could sell for anywhere from 150,000 to 250,000. And Kinunen said he was willing to pay 150,000 or more if necessary. Fortunately for him, it didn't come to that. The jersey had belonged to Patrick McBride, a former Bucks ballboy who became the youngest equipment manager in professional sports history at age 17 in the early 1970s. He had held on to Alcindor's jersey for more than 40 years before deciding to auction it off. McBride sold Oscar Robertson's 1970-71 Bucks championship season jersey for 55,000 at the same auction. He also sold Abdul-Jabbar's first pair of game-worn goggles from 1974 for 6,500. McBride snatched them out of the trash in the locker room after Abdul-Jabbar discarded them because the goggles were scratched. All told, McBride said his Bucks items sold for 148,000 at the auction, and he'll likely see about half that money after taxes and auction fees. McBride, who went to the auction in New York with his 26-year-old son and 23-year-old daughter, said the auctioneer called on him to speak about his experience as a Bucks ballboy before the items went up for their final bid. He discussed how critical Robertson was to the championship team and shared his belief that Robertson and Alcindor were the best guard-center combination in the NBA. "Those jerseys carry a lot of memories and a lot of magic and a lot of meaning," said McBride, now the dean of students at the University of Wisconsin medical school. "For me, that was a really special moment. I'm so glad that jersey ended up back in Milwaukee." Other items up for bid at the auction apart from McBride's collection included Mike Eruzione's game-worn jersey from the 1980 "Miracle on Ice" Olympics semifinal against the Soviet Union. The jersey sold for 657,250 including the buyer's premium. His hockey stick from the same game went for 262,900. A 1927-28 Lou Gehrig game-worn New York Yankees jersey sold for 717,000, and Curt Schilling's bloody sock from the 2004 World Series was purchased for 92,612. Kinunen said he first became aware of the Alcindor jersey's existence a few months earlier when his company was asked to authenticate it. When he realized its significance, he knew he had to own it. "I had a very positive feeling about it right away," Kinunen said. "I've handled other period Bucks jerseys of common players, or not of Alcindor's caliber. By handling the contents, you get a feel for the material and the way the lettering, the number was applied and the tagging. It was consistent with the other things I had seen." This is not the first piece of Milwaukee sports history that Kinunen has owned. He also owns Robin Yount's 1982 World Series bat and Paul Molitor's bat from the same Series in which he smacked five hits in Game 1 still a World Series record. Kinunen said he would be willing to loan the Alcindor jersey to the Bucks to showcase it in the team's arena, although he has yet to hear from them. At the very least, one of the biggest scores in Kinunen's collecting career will be on display somewhere soon. "We're going to have an unveiling of it," Kinunen said, "and maybe just have a party for any interested Bucks fans that would like to come check it out." Follow Jesse Temple on Twitter.
Original Story:
http://www.foxsportswisconsin.com/02/...
THE BACKYARD
BEST OF MAXIM
RELATED ARTICLES
The Milwaukee Bucks have suspended center Samuel Dalembert for one game without pay due to a violation of team policy, general manager John Hammond announced Tuesday. Dalembert, 31, will serve his suspension Tuesday night when the Bucks play in Dallas. After rejoining the Bucks rotation in late January, Dalembert has averaged 9.8 points, 7.3 rebounds and 1.5 blocks per game in Milwaukee...
The Milwaukee Bucks were tired of losing close games. They just needed somebody to step up and slam the door. Tuesday night in Dallas, Monta Ellis did just that. Playing point guard down the stretch, Ellis put together one of his best performances of the season on both ends of the court. Scoring 11 of his 22 points in the fourth quarter, Ellis added nine assists and six steals...
Monta Ellis just ran. He didn't even see the fortuitous bounce that sunk his buzzer beating 3-pointer to give the Bucks a 110-107 victory in Houston on Wednesday night. With Brandon Jennings stuck near the sideline and cut off by Jeremy Lin, Ellis popped up to bail him out. Catching the ball while twisting around and elevating over the 6-foot-9 Chandler Parsons, Ellis sunk...
Brandon Jennings didn't deny the report that speculated he hopes to land in Dallas this summer when he will be a restricted free agent.  Instead, Jennings raved about the Mavs and their winning philosophy prior to his team's matchup with the aformentioned later that night. According to ESPN Dallas: "Who wouldn't want to play in an environment like this every night?" Jennings...
Monta Ellis had a night for the ages by going for 27 points, 13 assists, and a nifty game-winner. Check out how Monta threw up a prayer and somehow it was answered to lead the Bucks to a 110-107 win over the Houston Rockets. Ellis received the ball with only a couple seconds left on the clock with his back to the rim and he somehow did a 180 degree spin and made the long three...
The Milwaukee Bucks have suspended Samuel Dalembert for one game without pay due to a "violation of team policy." The center, averaging 7 points and 5.8 rebounds in 16.7 minutes per game this season, will miss Tuesday's game against the Dallas Mavericks.
Monta Ellis sank an off-balance 3-pointer just before the final buzzer to give the Milwaukee Bucks a 110-107 victory over the Houston Rockets on Wednesday night. Ellis scored 27 points and handed out 13 assists, Ersan Ilyasova added 20 points and the Bucks won in Houston for the second straight season. The Bucks went down to the wire again after beating Dallas 95-90 on Tuesday...
Monta Ellis throws up a three-point prayer at the buzzer to give the Bucks a 110-107 win over the Rockets Tuesday night:  
The Milwaukee Bucks and the Houston Rockets squared off in a tied game with just seconds remaining on Wednesday night, and of course, it would be Monta Ellis who gets off a shot on one foot as time expired to seal the game for the Bucks.  Watch as the ball rattles around the rim before it goes [...]The post Monta Ellis' Incredible Game-Winner (Video) appeared first on The NBA Mistress.
Clinging to the Western Conference's final playoff spot, the Houston Rockets know they must capitalize on prime opportunities to pick up victories. Houston seeks a sixth straight home win while avoiding a second consecutive loss to a sub-.500 opponent as it hosts the Milwaukee Bucks on Wednesday night. The Rockets (31-27) lead the ninth-place Los Angeles Lakers by three games...
  As stated earlier tonight, buzzer beaters are the pinnacle of moments for a basketball game and for broadcasters. This impressive and awkward turn around game winning 3-pointer by Monta Ellis to put the Milwaukee Bucks over the Houston Rockets was excellent. Not so excellent, the possibly confused and uninterested call from the booth. Like I said, take a lesson from the call guys...
The D-Fenders have acquired Jerome Jordan from the Reno Bighorns in exchange for Ronald Dupree and Orien Greene.
NBA News

Delivered to your inbox

You'll also receive Yardbarker's daily Top 10, featuring the best sports stories from around the web. Customize your newsletter to get articles on your favorite sports and teams. And the best part? It's free!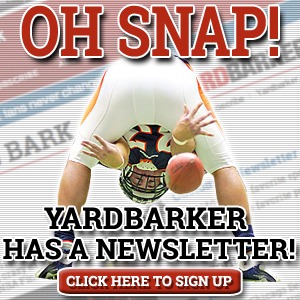 Latest Rumors
The Backyard

Today's Best Stuff

For Bloggers

Join the Yardbarker Network for more promotion, traffic, and money.

Company Info

Help

What is Yardbarker?

Yardbarker is the largest network of sports blogs and pro athlete blogs on the web. This site is the hub of the Yardbarker Network, where our editors and algorithms curate the best sports content from our network and beyond.