Found March 05, 2013 on Fox Sports Wisconsin:
MILWAUKEE The results-oriented nature of sports can lead fans and reporters even players and coaches -- to jump to conclusions, regardless of sample size. Just five games after the trade deadline deal that brought Magic shooting guard J.J. Redick to Milwaukee, it's way too early to tell how successful it was, simply because there have been too few of those results. But the early returns on the Bucks' three-guard rotation are positive. Not only has Milwaukee gone 4-1 since the trade, but point guard Brandon Jennings and shooting guard Monta Ellis have adapted and improved with Redick in the fold. Nobody knows how rest the season is going to play out, but Milwaukee has shown in these five games that the next 24 are going to be exciting and meaningful. "The team is playing well together right now," Bucks coach Jim Boylan said. "They are sharing the ball with each other, staying active. And the bigs are finding openings and our guys (are) delivering the ball to them. It's a good thing to see. Kind of another stage in our development as a team." Boylan was thrown into the fire in just the second game after the deal was made. With Jennings struggling and the duo of Ellis and Redick thriving against Dallas, the coach made the tough decision to sit his starting point guard for the final three minutes of the game. It worked, and the Bucks won. The next night Boylan sat Jennings for an extended period again but went back to him and took out Redick during the final minutes. Sometimes down the stretch he's going to have to make these types of decisions, and thus far he's shown the ability to stick with the combination that's working the best -- even if it means ruffling a few feathers. "I'm putting guys out there who are playing well," Boylan said. "When the guys are clicking together, I'm going to play them. I have a three-guard rotation right now and I divvy up the minutes as the game progresses. We're in the middle of a race right here, so we have to go after it." It appears as if the trade has awoken both Ellis and Jennings. Maybe the pressure of the possibility of a being dealt themselves is off their shoulders, or maybe Redick's presence is opening things up, but both are playing at a high level of late. In the five games since the trade, Ellis is averaging 24.0 points, 4.4 rebounds, 8.0 assists and 4.2 steals. He's getting better shots and making them, shooting 50.5 percent from the field. Playing more minutes at point guard when Jennings is out of the game, Ellis has shown he can be dangerous with the ball in his hands. "Now he can create off the dribble," Toronto coach Dwane Casey said of Ellis. "He's a guy that can create his own shot. He's sharing the basketball right now and that makes him more lethal." Boylan has had conversations with Jennings since his minutes slipped a bit on a 2-0 trip to Texas. The coach is trying to get Jennings to understand he can impact the game in a variety of ways, using Clippers point guard Chris Paul as an example. One night Paul might carry his team's scoring load, the next he may be his team's best player and score just 10 points because he's the facilitator. Jennings has responded by looking to distribute, putting up 19 and 17 assists in his last two games, while still averaging 15.5 points. "We're just playing," Jennings said. "We're just hooping right now, and we're not worrying about anything but the second half of the season." Then there's Redick, who has been exactly what the Bucks expected he'd be when they acquired him. In five games with Milwaukee, he is averaging 15.4 points and 2.6 assists while shooting 50.0 percent from the field and 37.0 percent from beyond the arc. He's been a steady contributor while not even having one of the red-hot shooting nights he's capable of. When he's open, he shoots it, and keeps the ball moving when he's not. "It sounds pretty basic, but there are a lot of guys who catch it, hold it and massage it, and everything comes to a dead stop," Boylan said. "A guy like J.J. doesn't mess around with the ball." Combine the three guards playing at a high level with the steady play of forwards Mike Dunleavy and Ersan Ilyasova and the continued improvement of center Larry Sanders, and the Bucks have a variety of offensive and defensive weapons. "They're fun to watch," Casey said. "Just because how they pass the ball, move the ball and how they can shoot the ball. "They present a lot of ballhandling problems, a lot of one-on-one problems." Milwaukee's four wins since the trade have all come by five points or fewer, and the last two have been overtime grinders against teams missing their best players. But what has been proven in these five games is this version of the Bucks will be fun to watch and is going to make the playoffs. Seven games ahead of the East's No. 9 team with 24 left, Milwaukee is one game behind Boston for the seventh spot, 2-12 games behind Atlanta for sixth and just three games behind Brooklyn and Chicago for the fourth seed. "We're coming into our own right now, and I think we've got it together," Ellis said. "The biggest thing is continuing to play this way. We're going to have a (stretch) where we lose one or two, but we can't get down and just have to continue to play hard for all 48 minutes." Finally, the question isn't whether the Bucks will be in the playoffs but where they'll land. Starting with a three-game trip to the West Coast beginning Wednesday against the Clippers, Milwaukee has a tough schedule ahead. "Our main goal is to get to the playoffs," said Jennings, who led the Bucks to the playoffs in 2010, igniting Milwaukee's fanbase. "Once we get to the playoffs, we already know what the atmosphere of the city is going to be about." Follow Andrew Gruman on Twitter.
Original Story:
http://www.foxsportswisconsin.com/03/...
THE BACKYARD
BEST OF MAXIM
RELATED ARTICLES
Kareem Abdul-Jabbar has always wanted to be a head coach in the NBA. But according to some, the way he treated others during his playing days has hindered him from getting coaching jobs. Abdul-Jabbar kept to himself, refused to do interviews, and just basically rubbed people the wrong way. And because of that, Abdul-Jabbar has only been able to secure special assistant and scout...
After the Milwaukee Bucks and Scott Skiles agreed to part ways back in January, veteran assistant Jim Boylan took over as interim head coach. Milwaukee could be in the market for a new head coach this summer, and Kareem Abdul-Jabbar, who led the franchise to a championship in 1971, says he would be interested in the job. According to Dave Begel, OnMilwaukee: I asked [Kareem Abdul...
MILWAUKEE It's not hard to find the strengths of the Milwaukee Bucks and the Utah Jazz. Utah is a big, physical frontcourt-based team that's goal is to beat up opponents inside, while the Bucks are now built around a three-guard rotation. Monday's game was going to be decided by the team that limited its opponent's strength just enough to win. Outscoring Utah...
Monta Ellis was awarded NBA Player of the Week Monday after averaging 24 points, 4 rebounds, 9 assists and 5 steals per game, and leading the Bucks to a 3-0 week, and it looks like the Milwaukee guard is already making a case for this week. Aside from posting 34 points, 4 rebounds, 4 steals, and 3 assists while leading his team to a 109-108 overtime win vs the Jazz, Ellis pulled...
Why do deer like salt licks?  It's one of the longest pondered mysteries in the world.  Ok, that's not true at all after I asked Jeeves.  According to Wikipedia (I know Mrs. Hanson, I can't use it as a source but this isn't a research paper, *****) "A mineral [salt] lick is natural mineral deposit where animals in nutrient-poor ecosystems can obtain essential mineral...
Monta Ellis and Ty Lawson have been named the NBA's Players of the Week.
The Los Angeles Clippers had been rolling along before coming up short against one of the NBA's best teams over the weekend. While they might normally like their chances of getting back on track with a visit from Milwaukee, the Bucks are starting to hit their stride. The Clippers aim for a 12th home win in 13 matchups against the Bucks, who look to extend their winning streak...
Kareem Abdul-Jabbar played for the Milwaukee Bucks from 1969-75, leading the franchise to a championship in 1971.
Bucks 109 Jazz 108   Monta Ellis scored a game-high 34 points on Monday night, as the Milwaukee Bucks crept past the Utah Jazz in their second overtime game in as many nights to win their fourth straight. The Bucks were outscored by ten in the fourth quarter mainly because of early foul trouble. Consequently, every foul on the Bucks put the Jazz at the stripe for easy points without...
Dwight Howard attempted to improve his public image by sitting down for a recent interview with KCAL/CBSLA, but the Los Angeles Lakers center may have actually done the opposite. Howard has angered a lot of his former teammates by saying the Orlando Magic was a team "full of people nobody wanted" and that he led it with a smile on his face. JJ Redick is one of those former teammates...
Monta Ellis has shined in the clutch in each of the Milwaukee Bucks' three consecutive victories, but he's also crediting the recently acquired J.J. Redick for playing a part in the team's success. Ellis and Redick will try to help the Bucks match their longest win streak of the season Monday night when they face the potentially short-handed Utah Jazz. Ellis scored...
NBA News

Delivered to your inbox

You'll also receive Yardbarker's daily Top 10, featuring the best sports stories from around the web. Customize your newsletter to get articles on your favorite sports and teams. And the best part? It's free!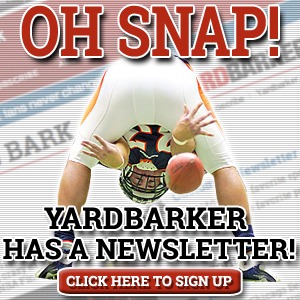 Latest Rumors
The Backyard

Today's Best Stuff

For Bloggers

Join the Yardbarker Network for more promotion, traffic, and money.

Company Info

Help

What is Yardbarker?

Yardbarker is the largest network of sports blogs and pro athlete blogs on the web. This site is the hub of the Yardbarker Network, where our editors and algorithms curate the best sports content from our network and beyond.