Found April 24, 2012 on Fox Sports North:
MINNEAPOLIS After Sunday's 93-88 Timberwolves' loss to Golden State one that saw the Timberwolves up 55-34 at the end of the second quarter J.J. Barea was frustrated. Just 10 months removed from a championship in Dallas, perhaps Barea's unfamiliarity with consistent losing pushed him to say what he said. Or maybe he's just independently competitive; maybe it takes less to push him to the point at which he's desperate enough to air out his concerns. No matter the motivation, Barea was ready to say his piece on Sunday. No one pushed him or asked him. It was his speech, and he made it. "We got problems here," Barea said. "We've got a lot of guys that don't care. When on a basketball team you've got a lot of players that don't care, it's tough to win games. What's going to happen, we're just going to keep getting (losses) until we get players here that care, care about winning care about the team, care about the fans." It was a vague set of accusations at first, but eventually, he clarified. "We just come in here after the game like nothing happened," Barea said. "That's what happens to a losing team. "After a game like this, you've got to have problems. You've got to argue with your teammates, but nobody really cares. We've got to change that." That's the part his teammates would be wise to listen to. The first bit that's finger-pointing without direct targets. It's somewhat irresponsible, but that's not Barea's message. He was frustrated. His head was likely spinning after playing 48 minutes in such a frustrating loss. It took him a bit to get to the point, but when he did, it made sense. The locker room around him was nearly empty, the players who'd shouldered the majority of the game's minutes long gone. That was the problem. But in the immediate aftermath, the players who remained were hesitant to agree with the second-hand message. It was a problem of repeating, of reporters parroting as quickly as possible the gist of a more complicated argument: "J.J. said guys don't care. What do you think?" It's hard to ask any better in that situation or even to synthesize all that he'd said so quickly, but that wasn't his message. And so Michael Beasley disagreed. Anthony Tolliver disagreed. Nikola Pekovic disagreed. Two days later, Kevin Love disagreed, likely for the same reasons. There were parts of Barea's argument that anyone would call into question, just as other points were hard to ignore. "I just think J.J. was upset, and a guy coming from a championship team, he kind of saw it a little different the past few years at the end of the season," Love said. But that's the crux of it. He was upset, and he was showing it. That's what Barea called his teammates to do in a louder, more vocal way, and perhaps the only person who truly understood what the point guard was trying to get across was his coach, Rick Adelman. By Tuesday, Adelman had heard what Barea said two days before. Maybe he'd been told, or perhaps he read the quotes on his own, but regardless, he didn't have much to contest. Adelman said that when a team is losing like the Timberwolves are 12 of their past 13 players have to care. They have to feel the pain of playing so poorly, and sometimes that means that frustration takes over. It did for Barea, and Adelman was just as upset, he said. "People should get mad," Adelman said. "People should not accept that. I think young players, sometimes they have to learn that. The game is, you don't get dressed in 10 minutes and leave." Words like Barea's are the kind that creep around a locker room. They can get distorted, and they don't always have the intended effect. People hang on them for their most salacious points, the accusations rather than the suggestions and advice. There's no way to tell how the team feels about what the point guard said now, but those words were no cause to get upset. Everyone deals with frustration in his own way, and for Barea, talking may have been cathartic. Barea talks. Someone else or maybe it was him, as well knocked over a metal sign in the hallway outside the locker room. Other players, though, were silent, quick to leave the arena and put it all out of their minds. And in criticizing that attitude, Adelman and Barea were justified. No matter how fast players dressed and left on Sunday, they have to take the court one last time on Thursday, and there's no use running away from what happened. To run away is to give up. To get mad is to make a statement that losses like Sunday's are never OK. Follow Joan Niesen on Twitter.
Original Story:
http://www.foxsportsnorth.com/04/24/1...
THE BACKYARD
BEST OF MAXIM
RELATED ARTICLES
Rick Adelman says he did not have a problem with J.J. Barea's comments that some Minnesota Timberwolves didn't care enough after a recent loss. Without naming names, Barea blistered some teammates after the Wolves blew a 21-point lead and lost to the Golden State Warriors on Sunday. The veteran guard said there weren't enough players in the locker room who cared about...
MINNEAPOLIS Nikola Pekovic is Rick Adelman's best student. Adelman says it, Adelman needs it, Pekovic does it. That's become the theme of the Timberwolves' big man's breakout season this year, as he's been the only player to truly capitalize on the opportunities he was given. And, as Adelman pointed out Sunday, he's also one of few players on the team who...
MINNEAPOLIS In Minnesota, he's known for plaid shirts and flat-brimmed hats, for the plastic bags of soda and water he totes out of the Target Center after most games. He's imposing in his silence, and when he laughs, it's hard not to wonder what joke you've missed. Brad Miller might seem like an enigma, but he's not. He's a personality. After 14 seasons...
Minnesota Timberwolves star Kevin Love has switched up his look several times this season. From goatee to scruffy mountain man beard and now his fresh faced college freshman look, one could argue that when Kevin tweeted he was looking for a Gillette sponsorship he was serious. Check out the transformation of Love's facial hair this [...]
MINNEAPOLIS The NBA lockout stole Derrick Williams' rookie season. There were a lot of ways he could have reclaimed it: better shooting, more attentive defense, even a vague hint of consistency. Williams is certainly to blame for at least part of his struggles this season, but there's no getting around what the lockout took from him. The second overall pick in the 2011...
Team lose games they shouldn't all the time.  It's the nature of the NBA schedule.  There's too many games to be laser focused on each one.  Still, there are games where you really shouldn't lose.  For the Minnesota Timberwolves, that game came last night.  Up 21 points, the T'Wolves lost to the Golden State Warriors Monday night, but they didn't just...
Prior to his head injury (concussion), Minnesota Timberwolves forward Kevin Love was making a strong case for league MVP. He averaged 26 points, 13.3 rebounds, 2.0 assists per game, shot 37 percent from the three-point line in 55 games for the Timberwolves. But with two games left for Minnesota and its injury-riddled season, Minnesota has decided to shut down Love for the rest of...
In comparison with the past couple of seasons, the Timberwolves have actually taken a step forward this year. In 2010 and 2011 (both 82-game seasons), they won less than 20 games. This season with the shortened schedule, Minnesota has won 26 games with one left to play. However, they have been atrocious since March when Ricky Rubio was lost for the season with a torn ACL. The Wolves...
Nikola Pekovic will undergo surgery on May 15th to remove bone spurs from his right ankle.
David Kahn will return for the 12-13 season as Minnesota's general manager.
I know the last few years have been down-right dreadful for fans of the Minnesota Timberwolves. Our last few draft picks (Wes Johnson and Derrick Williams) haven't panned-out, so far or yet. But, Ricky Rubio brought a spark this season before his ACL injury. He lit-up Target Center with his maestro passing skills and non-matador-esque defensive ability that most of his teammates...
NBA News

Delivered to your inbox

You'll also receive Yardbarker's daily Top 10, featuring the best sports stories from around the web. Customize your newsletter to get articles on your favorite sports and teams. And the best part? It's free!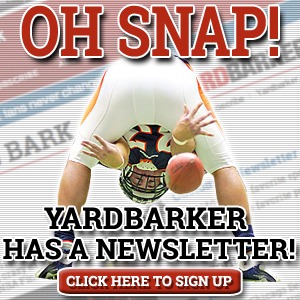 Latest Rumors
The Backyard

Today's Best Stuff

For Bloggers

Join the Yardbarker Network for more promotion, traffic, and money.

Company Info

Help

What is Yardbarker?

Yardbarker is the largest network of sports blogs and pro athlete blogs on the web. This site is the hub of the Yardbarker Network, where our editors and algorithms curate the best sports content from our network and beyond.