Found February 11, 2013 on NBA 24/7 365:
Adidas has been doing horrible, horrible things to NBA uniforms since they acquired Reebok, the NBA's previous apparel supplier, in 2006.  But what they've done to the Golden State Warriors' latest alternate jersey trumps all their previous crimes of on-court fashion.  On February 22nd, in a nationally-televised game against the Spurs, the Warriors will debut the outfit modeled above by the shoulder of rookie Harrison Barnes.  In doing so, they'll become the first team ever to wear sleeved shirts in a modern NBA game.  Unfortunately, they probably won't be the last.  According to Adidas, athlete feedback on these newfangled tops has been mostly positive, and as long as it continues to be they plan to expand the use of the "adizero short sleeve uniform system." Adizero short sleeve uniform system?  Looks like an ugly-ass t-shirt to me, and an expensive one at that.  Though Marcus Thompson of the Mercury News states that the adizero short sleeve uniform system was "designed with the fan in mind," the retail prices of $110 for a replica and $300 for an authentic beg to differ (that's $20 and $40 more than the regular sleeveless jerseys).  According to Thompson, "the rationale is having a full shirt as the team's jersey allows people to represent their team in more settings. Unlike soccer, baseball and football, basketball uniforms are limited, from a fashion perspective, because they are sleeveless." So, apparently, the idea here is that a skin-tight jersey-shirt made of compression material is more versatile than a regular basketball jersey in the sense that sleeveless shirts are considered inappropriate attire for many situations.  While I certainly agree that a tank top alone is not to be worn in most public places, I'm not exactly sure why one who'd like to support his team can't simply wear a traditional jersey with a t-shirt underneath.  It's an informal look, granted, but is a compression shirt plastered with logos, names, numbers, and in the future probably advertisements really any less "limited from a fashion perspective" than a t-shirt/jersey combo?  I certainly think not, especially considering the tight fit.  Sure, it's a style that accentuates the sculpted features of a professional athlete, but how's it going to look on a 50-year-old accountant?  Remember, more than a third of U.S. adults (including plenty of NBA fans) are obese, and most of the two thirds who aren't still won't appear overly presentable in this: Even Harrison Barnes looks borderline ridiculous, though that's mostly because he's supposed to be in uniform yet his shorts don't match his top. Official –Swag-O-Meter– Rating: -5/5 I mean really, Adidas?  Pinstripes on the bottoms only?  This is so, so bad.  It's disgraceful, really.  Not only is tradition being disregarded, but fans are being fleeced.  It's truly a shame that Adidas has taken so much control in the basketball apparel market.  They weren't founded as a basketball brand, and their offerings have never captured the essence of sport like those of Nike, Reebok, or even And1. **** Adidas.
Original Story:
http://nba247365.com/?p=10325
THE BACKYARD
BEST OF MAXIM
RELATED ARTICLES
RIGHT TO BARE ARMS
I'm not sure what possessed Adidas to put short sleeves on these jerseys, but they look terrible.  The design of the jerseys looks great, but they would be much better without sleeves.  Apparently, this is not the last that people will see of these type of jerseys, as Adidas is going to roll them out in the college game and more will be in the NBA next year.Warriors will be only...
image via Adidas No, Harrison Barnes isn't wearing a skin-tight Under-Armour-like compression shirt under his jersey.  That is his jersey.  Yes, believe it or not, the Golden State Warriors will debut a jersey with sleeves on February 22, 2013.  How come no one told me the Warriors were a women's basketball team? I promise I'm not trying to be sexist, but I've only seen...
On the bright side, the Miami Heat's awful all-white uniforms won't be the ugliest ones in the NBA anymore. The Golden State Warriors announced Monday that they will introduce a new, sleeved alternate jersey for their Feb. 22 game against the Spurs. The all-yellow uniforms are being called "revolutionary" by apparel maker Adidas for innovations like breathable mesh material...
Is it a rugby uniform? Is it a wetsuit rash-guard?Or is it the Golden State Warriors' new, short-sleeved game jersey?Ding-Ding-Ding, that's right.........Touted by apparel designer Adidas as "the next phase in the evolution of basketball apparel"and set to be debuted on the Warriors' 2/22 match-up against the Spurs, these bright-yellow unis have reportedly...
In one of the odder stories which actually looks to be turning into a reality the Golden State Warriors will possibly debut a new jersey which has sleeves in the upcoming weeks. According to Mercury News, Warriors' co-owner Peter Guber was blown away during Adidas' pitch meeting regarding the new jerseys. The Warriors will debut the new unis for their Feb. 22 home game against...
The Golden State Warriors will debut an alternate jersey with sleeves later this month.  On February 22, the Warriors will be the first NBA team to wear a sleeved jersey and will be the only team to do so this year.  Dubbed the "adizero NBA short sleeve uniform system", the jersey is 26% lighter than the traditional NBA jersey, and according to adidas research, weight is the...
The Golden State Warriors introduced an alternate jerseys with sleeves today. The new jerseys will be first worn in a game on February 22. The Adidas alt-jerseys will be the first in the league that aren't tanktops, the Mercury News reported. The jerseys look like soccer uniforms to me. Roll call: Who like 'em and who hates 'em? Vote after the jump. ...
According to the Bay Area's Mercury News, the Golden State Warriors will debut jerseys with sleeves.  Yes, you heard that right.  NBA jerseys with sleeves.  Just imagine a tight-fitting compression [...]
So, the Warriors have now lost a season-high five games in a row after another clunker Tuesday night. But while Tuesday's game against the Rockets was in far greater reach than last Tuesday's debacle in Houston, the theme remained unchanged—the Warriors could not find a way to stop James Harden and friends when they needed to the most. Zero consistency on the defensive end...
adidas and the Golden State Warriors unveiled the adizero short sleeve NBA uniform systerm on Monday. Is the public ready for such a bold and modern statement?The post Wearing It On Your Sleeve: adidas, Golden State Warriors Unveil First-Ever Modern Short Sleeve NBA Uniforms appeared first on The Sports Fan Journal.
For the first time in NBA history, a team will wear jerseys with sleeves. The Golden State Warriors will rock the jerseys you see above. What do you think of the look? It will take some getting used to.
Scope out Golden State's new uniform, Adizero NBA Short Sleeve Uniform System. We're still not too sure about these jerseys. What do you think?
Warriors News

Delivered to your inbox

You'll also receive Yardbarker's daily Top 10, featuring the best sports stories from around the web. Customize your newsletter to get articles on your favorite sports and teams. And the best part? It's free!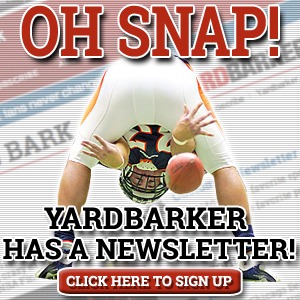 Latest Rumors
Best of Yardbarker

Today's Best Stuff

For Bloggers

Join the Yardbarker Network for more promotion, traffic, and money.

Company Info

Help

What is Yardbarker?

Yardbarker is the largest network of sports blogs and pro athlete blogs on the web. This site is the hub of the Yardbarker Network, where our editors and algorithms curate the best sports content from our network and beyond.