Found August 16, 2012 on Fox Sports Florida:
PLAYERS:
Arron Afflalo
,
Dwight Howard
,
Al Harrington
,
Moe Harkless
,
Nikola Vucevic
,
Josh McRoberts
,
Christian Eyenga
,
Jameer Nelson
,
J.J. Redick
,
Jordan Farmar
,
Carmelo Anthony
,
Chauncey Billups
TEAMS:
Orlando Magic
,
Los Angeles Lakers
,
Atlanta Hawks
,
New York Knicks
,
Los Angeles Clippers
ORLANDO, Fla. (AP) -- When Arron Afflalo first heard he was being included in the latest blockbuster trade to shake-up the NBA, it was through a computer screen in Barcelona. Afflalo was in Spain working with the league on a promotional youth 3-on-3 event and decided to surf the web. "I just so happened to be on the Internet, actually," Afflalo said Thursday. "I saw a few little rumors out there. Part of the business." The business included Afflalo becoming part of a four-team, multi-player deal that sent All-Star Dwight Howard to the Los Angeles Lakers and Afflalo and five other players dealt to the Magic last week. Now part of a rebuilding process for a franchise that has a new general manager, a first-time head coach and now an overhauled roster, the sixth-year shooting guard said he looks at joining his third NBA team as an opportunity. "Change always brings mystery," Afflalo said. "It always brings doubt. But on the positive side it brings a lot of opportunity...It's a good time to really come together and build something special." That's the same way rookie Magic GM Rob Hennigan described the compensation Orlando received after giving Howard his desired exit. "Are we taking a step back? Absolutely we are," Hennigan said. "But we're taking a step back with a vision and some ingredients that we're really comfortable with and encouraged by." Along with five future draft picks the Magic acquired Afflalo and forward Al Harrington from Denver, forward Moe Harkless and center Nikola Vucevic from Philadelphia and forwards Josh McRoberts and swingman Christian Eyenga from the Lakers. Those additions, coupled with the re-signing of point guard Ish Smith on Wednesday, means the Magic currently have 16 players under contract heading into next season. Only three of those players -- Jameer Nelson, J.J. Redick and Hedo Turkoglu -- were on Orlando's 2009 NBA finals' team. Afflalo said playing on a team in the shadow of Howard's exit is the furthest thing from his mind. "You deal with the situation, you can't harp on it," Afflalo said. "Once a player's gone, he's gone. All you can do is build day-by-day." There are a pair of past experiences that Afflalo can lean on to help entering this latest unknown, however. The California native was one of the first players UCLA coach Ben Howland recruited and, along with fellow future NBA player Jordan Farmar, to help bring the Bruins storied college program back into relevancy. Afflalo also was called on in Denver the past two seasons following the exit of Carmelo Anthony and Chauncey Billups. Afflalo was one of the main offensive cogs for the Nuggets last season, averaging a career-best 15.2 points per game. "My fourth year playing with Chauncey and Melo and Nene and Kenyon (Martin) for the second year straight, I kind of developed some confidence, (and) hit some big shots," Afflalo said. "Then, obviously once Melo was traded, it was just an opportunity there for me to continue to grow. I just tried to put my foot forward and step on that opportunity." Afflalo, 26, will now be one of the older players on the Magic's roster next season, joining eight-year veteran Jameer Nelson and six-year vet J.J. Redick. "The idea is to kind of set the tone a little bit for what it means to have the right approach to the game," Afflalo said. "Working hard. I kind of take pride in having my career mirror that type of an example. On how to come from the bottom to the top a little bit and continue to push forward." While he is expected to compete with Redick to start at shooting guard next season with Jason Richardson now gone, Afflalo said continuing to get back to his calling card as a defender will be more paramount. That and just keeping in mind that word that first began to resonate in his mind sitting behind that computer screen in Spain: Opportunity. He said his expectations are simple. "Just to compete," he said. "Pretty much how I look at it is those things pretty much take care of themselves. Predictions are fun. They're entertaining. But at the end of the day, the game has to be played. "The idea is to get better. You never know what can happen...We all know nothing is impossible. So, in time."
Original Story:
http://www.foxsportsflorida.com/08/16...
THE BACKYARD
BEST OF MAXIM
RELATED ARTICLES
Arron Afflalo says he's excited about what he calls a ''great opportunity'' to be part of the rebuilding project in Orlando following the Dwight Howard trade. The UCLA product said Thursday that though he was surprised to be included in the multi-team, multi-player deal that saw Howard dealt to the Los Angeles Lakers, he feels there is a chance ''build...
Arron Afflalo was in Barcelona for an NBA clinic last week when the phone call came. Well, phone call might be metaphorical. It was more like a crawl going across the screen or an update going up on ESPN. Afflalo was on the Internet when ESPN reported he had been traded to Orlando as part of the Dwight Howard deal. Before that, he had not even followed the Howard rumors and trade...
There is still aftermath coming out of the Dwight Howard trade. Orlando is still picking up the pieces, introducing Arron Afflalo to the media Thursday as their rollout of the post-Dwight Howard team begins to take a murky shape. The one guy many people wanted to hear from is the former coach, Stan Van Gundy. Generally, people want to hear from Van Gundy all the time because...
The Orlando Magic organization is not good at many things. The Magic will not likely be visiting the NBA Finals anytime soon, and any luck that the organization will get a draft pick or a contract situation right also looks dire. Hiring a great coach? Also a tall task, although the problem with the last coach was not that the Magic missed out on hiring him, but that they sent basketball...
Stan Van Gundy and Dwight Howardcredit: sports.cbsimg.net Former Orlando Magic head coach Stan Van Gundy is never at a loss of words; actually, it seems like sometimes he is looking for something to say. We all remember that terribly awkward press conference last season where he told reporters that Dwight Howard wanted him fired, only to have Dwight walk in on the media session....
Everyone is still deconstructing and figuring out exactly what the Magic got in the Dwight Howard trade. As just about everyone who is trying to defend the trade will point out, this was not a move made to keep the competitive this year. That would have been extremely shortsighted as, quite simply, there is no replacing Dwight Howard. Not even close. Sorry, Andrew Bynum. The Magic...
Rob Murphy will remain as head coach of Eastern Michigan, passing up an opportunity to join the Orlando Magic.
Ish Smith will assume the role of backup point guard behind Jameer Nelson.
NBA News

Delivered to your inbox

You'll also receive Yardbarker's daily Top 10, featuring the best sports stories from around the web. Customize your newsletter to get articles on your favorite sports and teams. And the best part? It's free!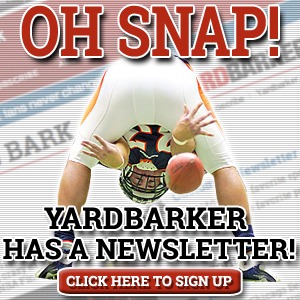 Latest Rumors
The Backyard

Today's Best Stuff

For Bloggers

Join the Yardbarker Network for more promotion, traffic, and money.

Company Info

Help

What is Yardbarker?

Yardbarker is the largest network of sports blogs and pro athlete blogs on the web. This site is the hub of the Yardbarker Network, where our editors and algorithms curate the best sports content from our network and beyond.