Found March 13, 2013 on Fox Sports Wisconsin:
MILWAUKEE -- Vince Carter may not be able to elevate like he used to, but he still knows how to hit a big shot. Each time the Bucks made a push to close the gap, Carter hit a long 3-pointer or beat his man on a drive to the basket. On a night Mavericks coach Rick Carlisle talked at length about the youth on his team pregame, the 36-year-old Carter scored 13 of his 23 points in the fourth quarter to lead Dallas to a 115-108 victory over the Bucks. "I've been coaching in this league for almost 20 years now and the last time we played Dallas was the first time and the only time I've ever seen Vince have a bad game," Bucks coach Jim Boylan said. "I was coming into this game with a little concern because he takes big shots and makes big shots. "Last game we were able to contain him, but tonight he was the difference maker." Carter finished 6 of 10 from the field and hit four of his six 3-pointers. Laughing and smiling with fans and opponents, the veteran looked like he was just out there having fun. "I felt in a groove tonight," Carter said. "The basket just seemed huge, and I was playing with a lot of confidence out there. I felt comfortable with my shot all night, and I was prepared for a battle. "We are fighting for a playoff spot and I know that our guys are all locked in. When it came to the fourth quarter it came down to who wanted it more." With both Atlanta and Boston losing Tuesday night, the Bucks had a golden opportunity to move within a half game of the sixth seed in the Eastern Conference. Milwaukee stayed 1-12 games back instead mainly due to a lackluster effort on the defensive end. The Bucks have put an emphasis on defending walk-up three-pointers and transition defense in general the last few weeks, and Boylan had been seeing progress. But the Mavericks got going during a stretch where they outscored the Bucks 39-12 to turn a nine point deficit into a 75-57 lead and never looked back. "Tonight we were just a little bit lackadaisical and they got a nice rhythm going," Boylan said. "They are in a position right now where they are kind of clinging to life and as they are coming down the stretch these games are really important." Milwaukee battled back to cut it to 98-91 with 6:08 left and had three cracks at cutting further into the deficit before Carter hit the first of his three, three-pointers in the fourth quarter, this one a 25-footer. A J.J. Redick jumper made it 101-96, but Carter had an answer. Again with a defender in his face, Carter stepped back and drilled a 26-footer, putting the Mavericks up by eight. Not going away, the Bucks cut it to 106-100 before Carter all but iced the game with another three-pointer and a drive to the basket for a layup with 1:40 left. He looked like the Vince Carter of old, except his total elevation might have only added up to what he used to get on one of his dunks. "We had some big shots go in all night but Vince got hot at the perfect moment," Carlisle said. "We had Dirk (Nowitzki) out of the game because he need a break in the third quarter, and Vince came in and hit some hellacious shots. He has that capability and tonight was a great example of it. Vince was fearless." With time running out on the season, every opportunity to gain ground in the standings is valuable. While the Bucks didn't lose ground with Tuesday's loss, they could have pulled within a tie of the loss column for the sixth seed with fifth place in sight. The schedule is not kind to Milwaukee, as the Bucks just returned home from playing a back-to-back in the Bay Area with only Monday off before starting another back-to-back. After Wednesday's game against the Wizards, the Bucks will have played in Oakland, Sacramento, Milwaukee and Washington D.C. in a span of five days. Then they get a day off before hosting the Miami Heat on Friday. All losses sting, but losing at home Tuesday stung hard because the Bucks could have gained a game on two teams ahead of them. "We just have to continue to play basketball," Bucks guard Monta Ellis said. "We have 20 games left. I'm not even worried about that. It's one game. We have another one tomorrow. We have to stay together as a team and get back to playing our game." Follow Andrew Gruman on Twitter.
Original Story:
http://www.foxsportswisconsin.com/03/...
THE BACKYARD
BEST OF MAXIM
RELATED ARTICLES
Milwaukee Bucks center Larry Sanders was letting the officials know what he thought of their job performance. Unfortunately, they didn't see the humor in it. After being called for a charge with 2:45 left in Thursday's loss to the Washington Wizards, Sanders turned to each member of the officiating crew -- Bennie Adams, Kevin Cutler and Bennett Salvatore -- and gave them...
Larry Sanders may have gotten ejected against the Wizards, but he thinks the refs are doing a great job with three thumbs up.
THUMBS UP!
During the Milwaukee Bucks vs. Washington Wizards game Wednesday night, Bucks' center Larry Sander was ejected from the game as he picked up his 2nd technical foul. Upon receiving the 2nd tech and being tossed from the game, his reaction is one of the best I have ever seen. It is so good, it can not really be put into words. So just enjoy this GIF from Wiz_Spurtin on Twitter. ...
The Milwaukee Bucks lost to the Washington Wizards Wednesday night, and it was in the fourth quarter that the league's leader in blocked shots, Larry Sanders, was ejected for arguing with refs (two technicals), but didn't leave until he gave the officials an appropriate gesture.  He gives each ref a thumbs up before heading to the locker [...]The post Larry Sanders Gives A...
Bucks' Larry Sanders was called for an offensive foul late in the fourth quarter of Thursday's game against the Wizards and did not agree with the call. He was quickly ejected after receiving two technicals fouls for arguing with the refs, but wouldn't leave without an appropriate sendoff. The league's leading shot blocker sarcastically gave a thumbs up to each referee before...
After release Dominique Jones, the Dallas Mavericks are expected to sign PG Chris Wright to a 10-day contract.  Wright was diagnosed with multiple sclerosis in March of last year after losing control and falling during sprints at practice and continues to play through the disease that attacks the Central Nervous System. Wright says that since doctors caught the MS in the early...
MILWAUKEE -- As the Milwaukee Bucks get three back from injury Tuesday night, starting small forward Luc Richard Mbah a Moute will sit out the game against the Mavericks with turf toe. Power forward Ersan Ilyasova, center Larry Sanders and guard J.J. Redick all will be available against Dallas, with Ilyasova and Sanders returning to the starting lineup. Mike Dunleavy will start...
The Milwaukee Bucks have been playing much better on the road lately. The Washington Wizards have definitely been a much more dangerous team in the nation's capital. Milwaukee goes for its fifth road win in six tries on Wednesday night while the Wizards look for a 13th victory in their last 17 home games. Back from a 2-1 Western road trip, the Bucks (32-30) lost for just the...
The Dallas Mavericks have signed free agent guard Chris Wright to a 10-day contract. Wright was playing in the NBA Development League for Iowa, where the 6-foot-1 guard averaged 15.5 points and 7.0 assists in his 38 games. He was a D-League All-Star. The Mavericks announced the deal Wednesday. They have a full 15-player roster. Wright is expected to join the Mavericks in San Antonio...
The Milwaukee Bucks have been playing much better on the road lately. The Washington Wizards have definitely been a much more dangerous team in the nation's capital. Milwaukee goes for its fifth road win in six tries on Wednesday night while the Wizards look for a 13th victory in their last 17 home games. Back from a 2-1 Western road trip, the Bucks (32-30) lost for just the...
The Nets drafted Ryan Anderson 21st overall in the 2008 NBA Draft out of California. The 6-10 sharpshooter spent one year with New Jersey before being shipped to Orlando in the Vince Carter trade. Now, after signing a big deal this offseason with the Hornets, he's in New Orleans, coming off the bench and draining threes left and right    When: 7:30 pm; Tuesday...
NBA News

Delivered to your inbox

You'll also receive Yardbarker's daily Top 10, featuring the best sports stories from around the web. Customize your newsletter to get articles on your favorite sports and teams. And the best part? It's free!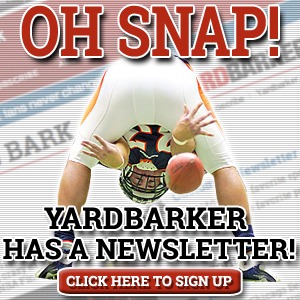 Latest Rumors
The Backyard

Today's Best Stuff

For Bloggers

Join the Yardbarker Network for more promotion, traffic, and money.

Company Info

Help

What is Yardbarker?

Yardbarker is the largest network of sports blogs and pro athlete blogs on the web. This site is the hub of the Yardbarker Network, where our editors and algorithms curate the best sports content from our network and beyond.