As we head into the challenge round of our All Time NBA Mock Draft we have learned a couple of things about people's views on the history of the NBA. A great big man will always influence the game more than a great guard, defense may win championships, but some offensive forces just can't be stopped, and most of all never count out what type of scheme someone is playing in, because as little as coaching matters, with all this hypothetical talent together, putting those players in the best position to win is more important than just collecting talent. So we start out pool play 2 with a look at two of the better SFs to ever step on the hardwood in the All Time NBA Mock Draft- Elgin Baylor v Lebron James. Game Thread. Jerry West – 36 min
Reggie Miller – 36 min
Elgin Baylor – 36 min
Karl Malone – 36 mn
David Robinson – 36 min Tim Hardaway – 12 min
Mitch Richmond – 12 min
Chris Mullin – 12 min
Cliff Robinson – 12 min
Yao Ming – 12 min
Black Santa – dnp
George Mikan – dnp Offense: 1st unit we will be running a flex style offense. Based out of the 3-2 zone format, but with a lot of moving parts. This will be a down screen/cross screen type of offense. What we are looking for is match ups that favor us, which is a lot of them. This also allows Reggie and Jerry to run off a lot of screens in this format, creating a lot of open looks. It also cause confusion on the defense, and sometimes leads to easy slips and cuts off screens. Jerry will be setting it up at the top. He is in attack mode all day. He will look to also swing the ball and work down and back up off these multiple screens we will be setting in the flex offense. Once the ball is swung to Reggie, who is working on the same side as Admiral, we will then look to run a 2 man game and all screens are away from the ball for Elgin, Jerry and Mailman. Reggie dumps in to Admiral, who will go to work on Zo/Hayes. Either one favors us in the post. If they double, the kick out to one of the most clutch 3 point shooters ever is an easy 3. Now if the ball is swung to Elgin, Karl clears up to elbow, and clears a path for Elgin to go to work. I fully expect LeBron to start on Elgin, but with the flex offense, again LeBron will be run through a gauntlet of picks. Elgin attacks on anyone but LeBron. If somehow we cant shake LeBron off Elgin. He will swing back up top for Logo. Now we are in a pick and roll with a great shooter, and the best PnR big to ever lace them up. Either way its poison. Now they just have to pick the lesser of two evils. BUCKETS! We will always look to break on a missed bucket. With Admiral and Elgin running with Logo on the break is a scary thought personally. This leaves Mailman and Reggie trailing. If Karl is the open trailer, its a bounce pass to the middle for the trademark Mail Delivery dunk. I don't need to tell you what happens if Reggie gets the trail pass. Open 3…. LET IT RAIN! 2nd Unit This will be a uptempo, fast break offense no matter what. We run all day and cause Mass confusion all over the court. Quantity is the key here. We maximize the amount of possessions we get, because we put the pedal to the medal. Yao of course will be the trailer in this offense. The few times they stuff the break, we set up in a 4-1 around Yao. We work from the post out. Timmy and Mullin work the top, while Rock and Cliff work the short corner. Again we always dump to Yao. Dude was 7'6. He gets his shot all day over anyone they put on him. When the double comes, Yao kicks to the open shooter. Simple as that. Defense: 3-2 match up zone 1st unit I know what you are thinking… Is this man really gonna run a zone. I will politely ask you to look at the shooters he has on his roster. Sam Jones. That's it. He has very nice mid range guys, but only one deep threat. This is what a zone was made for. We go Logo up top. Reggie and Elgin on the wings and Karl and Admiral working the blocks. Now this is a match up zone. Its not like we don't stick near a guy, cause we do. We just don't follow them. We pass them off to the guy in that zone, and pick right back up where we left off. Of course we want to clog the middle to FT line and 18 ft wings. This defense does that, and wipes out any mid range game. We also implore a gang rebounding technique on the defensive glass out of the zone. You box out your area, and build a wall around the bucket, essentially wiping out any offensive rebounds from his team. And when they miss and we board, we break all day! 2nd unit This unit will stay in the same zone. We actually put Mullin up top with his reach, quick hands and underrated defensive prowess. Rock and June Bug work the wings, while Cliff and Yao work the blocks. Again we sag, and lightly contest the long ball. We really want to keep them out of the middle again and off that mid range game. We always play heavy to the FT line, and force to the sideline baseline. Its still a match up zone, so again we stay close to a guy, but never follow them. This time we will actually send 4 to the glass, and let Mullin release on all shots. 4 guys to the glass will do plenty. We get the ball out quick and the long release outlet pass to Mullin gets him in the open court wide open, or maybe against a guard that leaks with him. This is a victory for Mullin all day In the end we want to get the following going: 1. Push the tempo
2. Lots of screens for the 1st unit
3. MOTION all day
4. Keep them on the outside
5. Gang Rebound
6. Oh yeah… AND PUSH THE TEMPO! PG – Lebron James – 40 minutes (24 PG, 16 SF)
SG – Clyde Drexler – 36 SG
SF – Bobby Jones – 32 SF
PF – Elvin Hayes – 38 minutes PF
C – Alonzo Mourning – 28 minutes C BE – Dr Rounds – 10 minutes PF
BE – Bob Cousy – 24 PG
BE – Marques "Bird Stopper" Johnson – Is Bird in the house? Nope, time for a night off
BE – Sam Jones – 12 SG
BE – Robert Parish – 10 minutes C
BE – Alvin Robertson – This is showtime baby, the defense rests
BE – Artis Gilmore – 10 minutes C Defense – PnR/PnP – His team has shooters, we wont go under, fight through when big's screen, starting lineup can switch on small/small action. Soft hedge to prevent explosion to basket. Dont worry about Mikan's jumper at all if its beyond 5-8′. West – BJ for all his minutes. We'll play half step off to take advantage of great reach to contest. Play hard ball denial when off ball. Push away from the lane on drives, force long passes. Shadow up the court. Cousy and his solid defense (1st or 2nd in Defensive-Win-Shares on every Celtic champion he was a part of). Cousy will body up and play physical, blinding with the bling and poise of the 'ships. Keep a hand up and challenge every shot Baylor – Lebron for all his minutes. Lebron is bigger/faster/stronger/better. We want him to turn into an isolation chunker a-la Kobe, massaging the ball without any motion for 5+ seconds. Push baseline on drives, keep him away from the lane, play half a step off above the 3pt line, always stay in between him and basket to prevent offensive boards, where he got a ton of points. Reggie – Clyde/Jones. Play tight, contest 3s, make him put the ball on the floor to beat us. No open looks. They're sure to run him through hundreds of screens, go over/through them to prevent him from popping off. BlackSanta – Clyde/Jones/Cousy(if no West) Encourage those long off balance pullup 3s, soft shadow up the court. Encourage dangerous flashy passes that he thinks are awesome. Keep away from the lane and force the long pass RUNTMC – Cousy/Jones/Bron will be in for all of Jones minutes, and matchup by position if they play more. They want to run, we'll run back, but defensively keep in their face, force drivers to corners and focus on denying the short pass. Don't leave open on the perimeter, force Hardaway to beat us with the jumper, Rich/Mullin with the drive. Bron will play hard ball denial on Mullin. Malone – Hayes and Rounds. All Rounds minutes will be here. Malone liked to think he was tough, the man was a faker who could be intimidated. Physical play down low, force him from his spot. He got almost all points off the PnR, cutoff the drive to the lane and stay honest on the jumper. Rounds exceptional defense and legit toughness will leave Malone crying for Mommy. Robinson – Mourning/Parish – Play him nice and physical, the Admiral was supremely athletic/skilled, but our rough and tumble dudes are up for it. Deny the drive into the lane, force him to the baseline extended where he has to pop the jumper, don't let him get comfortable in the post, deny the easy kickout pass. Backup bigs – Dunkmore on C, Hayes on PF. Don't leave Cliff open to pop the 3, make him drive to beat us, Dunkmore beatdown and intimidate the twig Yao and Mikan who only scored by lane camping. Be honest with Yao's jumper, make them both beat us by putting the ball down on PnR/PnP. Dunkmore gets all minutes on Non-Admiral C's. Offense – 3-1-1/Run – Outlet to PG, SF slashes for oop then curls on opposite wing. SG runs to wing or baseline jumper. PF goes for putback/secondary break jam, C for kickout jumper. PG can shoot the midrange if drive overcommitted, finish, or kick, shots only on open looks. If no look reset to 3-1-1, where we will have constant motion and attacking of open space on the court. PG/SG/SF up top spread out, PF in the high post, C in opposite low post. He has one defender out there of any competence, and for most of the game he'll be manned up on someone far bigger/stronger. Attack in space, pop the easy jumpers, attack Malone's weak D, marginalize the Admiral. When Cousy is in, Lebron looks to dominate with scoring. Clyde will look to use size/speed/strength/skill to crash offensive boards (4 of top 7 guard seasons, including top 2) Constant motion/ball movement like the Spurs, constant attack. Cousy/Jones/Bron will counter the bench push of RUNTMC, each is a superior version of the man on Cain's squad. If they help off Bobby, the man led the league in FG% multiple times as a kickout/bailout option, he will roast them with his jumper from a flipback pass. Potential plays in the 3-1-1 include: 1) Ball with Drex/Bron, dribble handoff above(natural screen) with Bron/Drex, who attacks. If open, pull it. Bron/Drex gets screen from SF, curls up at wing opposite PF for kickout. If no shot, Drex/Bron PnR/PnP with PF, can drive/dish/shoot. If Bron/Drex open, kick for jumper, also can kick for reset. Bron/Drex can iso or PnR/PnP/Hi-Lo with C
2) Ball with PG. Double staggered screen uptop, begin drive. Wings flair opposite corners for kickout. C goes to screen for PF, who crashes for oop. If not there PF resets to high-post. PF and C set double screen for PG, can pullup off those, drive in, kickout.
3) Flex C baseline, Lebron cuts off screen from PF for oop. If oop not there, Lebron begins postup. Iso postup against any of his wings. Can go Hi-Lo with PF, run PnR/PnP with either wing. If double comes, C is opposite baseline, PF high post, SG goes short corner, Cousy/BJ up high for reset
4) Any non-BJ perimeter run PnR/PnP with PF, both Hayes and Rounds can pop the midrange effectively, Hayes was Dirk before Dirk on offense, with a post game to boot. C flexes baseline for kickout jumper, one wing to short corner, other up high for kickout jumper/reset.
5) Cousy running the show attacking. Dude was great at scoring and dishing. Up tempo quick hitting. 1/2 and 1/3 PnPs up top to start, pullup if midrange there, kick for open jumpers. If not, PF comes up to screen for SG, who curls around the screen for a pullup. SF goes opposite baseline extended, C comes to run PnR with PG. PG can drive/shoot/dish on PnR, kick SF for jumper if defense collapses, kick to SG for popped jumper. SG can pull it or run PnR/PnP with PF.
6) PG gets ball in dribble handoff from SF uptop. SG cuts off double screen from PF/C for oop/dish for layup, if not there runs baseline to corner. Ball sent to SG, PF comes over to screen as SG goes for pullup J or attacks the hole. Can kick to PG who resets into a PnR/PnP with C.
7) PF flexes baseline opposite C, Lebron goes to high-post off screen from SG. Lebron can take it all the way or pull up if open. If not, Hi-Lo action with C. Kickout to PF for jumper if contested. SG cuts off screen from other non-Bron wing to C-side corner. Can kickout up high to Cousy/BJ for reset, or to SG for jumper or PnR/PnP with C.
8) SG gets ball with hi-dribble handoff from PG, SF goes short corner, C flexes opposite baseline. SG drives in getting hard screen from PF. Looking to take it in and layup if Drex, get a sweet open J if Jones. If not there, can kick either baseline if help comes from there, back up to PF for jumper/drive for dunk, or chain back to PG who will run PnR/PnP with either big, SG runs off a baseline screen from SF to get a curl jumper.
9) Attack with Dunkmore vs pathetic defense of backup Cs. Straight postups, PnR, Hi-Lo. Take 60% avg FG% vs that weakness all game long.
10) Sam Jones showing Reggie who the real clutch shooter is here. Jones runs off high screen from SF to corner. PG begins PnP with PF. If Jones is open off screen, kick to him for automatic jumper. If not, Jones runs baseline and curls up off screen from C. PG can run PnR, dish to C, kick to Jones for midrange.
11) Enter ball to Hayes in the high post. He can iso, begin post, pop the turnaround, or Hi-Lo with C. PG runs off double screen from SG/SF up top to curl opposite Hayes, can get kickout for easy jumper or cut all the way to lane.
12) Double staggered screen for SG/SF, drive to PnP with PF. Center extends baseline for kickout. PG cuts off quickscreen from SF/SG, sets above C on wing. SF/SG cuts behind PF to corner. If ball is kicked to PG for reset, PF comes to give screen for run to curl jumper or oop-cut for SF/SG B100d FTW
1) No defense outside West at the 1-4.
2) Frontline full of notorious big game collapses, I counter with a backcourt of steely champions
3) Run-TMC is a cute fast offense, Cousy/Jones/Bron are superior at every position and offers superior defense, this crushes his bench offensive explosion nicely.
4) I am b100d, he is not  
Original Story:
http://feedproxy.google.com/~r/TheSpo...
PLAYERS:
Elgin Baylor
,
LeBron James
,
Jerry West
,
Reggie Miller
,
Karl Malone
,
Tim Hardaway
,
Yao Ming
,
Alonzo Mourning
,
Bob Cousy
,
Robert Parish
TEAMS:
Miami Heat
,
Houston Rockets
MORE FROM YARDBARKER
NBA News

Delivered to your inbox

You'll also receive Yardbarker's daily Top 10, featuring the best sports stories from around the web. Customize your newsletter to get articles on your favorite sports and teams. And the best part? It's free!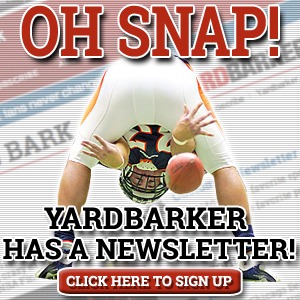 Latest Rumors
Best of Yardbarker

Today's Best Stuff

For Bloggers

Join the Yardbarker Network for more promotion, traffic, and money.

Company Info

Help

What is Yardbarker?

Yardbarker is the largest network of sports blogs and pro athlete blogs on the web. This site is the hub of the Yardbarker Network, where our editors and algorithms curate the best sports content from our network and beyond.