Found November 10, 2012 on Bacon Sports:
Yesterday Los Angeles Lakers head coach Mike Brown was fired.  This got us to thinking what exactly do we know about Mike Brown, how did he get fired from two teams (LA Lakers/Cleveland Cavaliers) while having arguably the best two players of our current generation? Mike Brown was a defensive minded blue collar coach who spent stints with the San Antonio Spurs and Indiana Pacers learning the ropes.  He then won the Golden Ticket to coach Lebron James in Cleveland.  After leading the Cavs to the NBA finals and the best record in the league, he was named coach of the year, and then promptly fired when Lebron took the NBA hostage during his free agency disaster.  After a year off he was struck by lightning twice when he landed the Los Angeles Lakers coaching gig.  Tough to follow Phil Jackson, but he guided them to the playoffs.  Then after 5 games, BAM!  Jerry Buss came in and gave him the Brett Meyers and dropped a "Boom, outta here". Let's dissect why. His teams were markedly improved and turned into top tier defensive teams.  Defense wins championships, right?  Not when you run a Princeton offense that belonged in a rural Kentucky high school team's playbook.  The guy had Lebron freaking James at a time when the Eastern Conference was void of any powerhouse minus the Celtics.  Nope.  He had Kobe Bean Bryant, the Black F'ing Mamba, yet layed an egg the size of a log Najeh Davenport left in a dorm room laundry basket.  Even Nick Nolte thinks you have no excuse. His relationships with the superstar are about as good as my relationship with Erin Andrews, to say politely there is none.  In Cleveland, he often made passes that he was "lucky" and "just glad" that Lebron let him coach him.  Come on Mike.  You have to go hard like Lou Brown did to Roger Dorn and lay down the law.  Lebron and his posse owned Brown and the locker room, a culture Brown let go.  Despite coming off 3 consecutive seasons of the best seasons in Cavaliers history, he was canned.  What does he do for an encore?  Goes to coach the Los Angeles Lakers and Kobe Bryant.  After years of championships and the triangle offense, he installs the aforementioned grade school Princeton offense.  The whole entire season there were always questions, and Bryant was unhappy.  Kobe was essentially the coach and superstar at the same time.  Solution: continue the same culture and bring in over the hill Steve Nash and softest man in the NBA in Dwight Howard.  After a 1-4 start to the campaign, and the almighty Chris Broussard and sources applying more pressure than a defense to the Philadelphia Eagles offensive line, Jerry Buss gave him the dreaded kiss of death saying he was safe.  Next day, fired! Despite his defensive prowess he was noted for his 3rd quarter adjustments.  Adjustments meaning whatever he was doing in the first half to be successful do the exact opposite.  He was more focused on his monster Grizzlie wintergreen lipper he would spit into his green gatorade cup.  During the oppositions typical 14-0 run he would stare blankly with hands on his hips, mouth wide open as if he was Cousin Eddie in Vegas Vacation meeting Wayne Newton.  Not going to cut it Mike, call a TO. Lastly, his biggest problem was failure to communicate.  He had difficulty spitting out thoughts or sentences.  Case in point: Mo Williams, all 6 foot 1 inches, throws the hammer down in Paul Pierce's face during a playoff game.  Can't fault Pierce though, his half pube stache slowed him down a half step.  Asked his thoughts on Mo being able to dunk, and this dunk, he splashs the canvas with this piece of art. Mike, speak to us?  No wonder Kobe gave him the death stare.  How can you respect your coach who can not even speak to his players.  Jerry Buss honestly was going to keep Mike Brown until he came across this.  He had no choice. Mike Brown, we hardly knew ya. This was written by Tom Hamm. He is currently trying to purchase a Travis Prentice Cleveland Browns jersey.  The post An Ode to Mike Brown appeared first on Bacon Sports.
Original Story:
http://www.baconsports.com/an-ode-to-...
THE BACKYARD
BEST OF MAXIM
RELATED ARTICLES
TOO OLD FOR THIS %@
Los Angeles Lakers guard Kobe Bryant was asked about his "Death Stare" towards Mike Brown that happened as the Lakers were losing in Utah against the Jazz for the team's fourth loss of the season. Bryant tells the reporters that he's to old for all this and that he's been Brown's biggest supporter. "I don't give a [expletive] how it's interpreted....
DON'T LET THE DOOR HIT YA
Following a disappointing 1-4 start and much speculation regarding his job security, the Lakers reportedly have fired head coach Mike Brown.
Los Angeles Lakers coach Mike Brown has been fired after a 1-4 start to the season, according to ESPNLosAngeles.com's Ramona Shelburne. From ESPNLosAngeles.com: It is not known yet who will take over for him, but a source indicated that one of assistant coaches Bernie Bickerstaff or Chuck Person will take over on an interim basis. Sources had said earlier Friday that his...
  After the Lakers loss to the Utah Jazz on Wednesday, cameras focused in on Kobe Bryant giving someone a death stare. Most assumed, myself included that Kobe Bryant was giving that "look" to head coach Mike Brown. Kobe has since come out and said "people are bored" and he's "too old" for this stuff, [...]
Two of the best players in the NBA had embarrassing bloopers last night. Although the Miami Heat crushed the Brooklyn Nets and LeBron James had a monster game; I am sure his teammates got on him for his missed dunk attempt. The Lakers are 1-4 but more embarrassing last night was Dwight Howard's free throw. He air balled it. How do you shoot an air ball when you are a pro and have...
Kobe Bryant takes shot against Warriors. The By The Numbers recap for the Lakers' 101-77 win over the Golden St. Warriors at Staples Center on Friday night. The Lakers are now 2-4, and next play home to Sacramento on Sunday night. 100 Bernie Bickerstaff's winning percentage as Laker coach after Friday's game, good for the best winning percentage in Laker coaching history!...
(Eds: With AP Photos.) By TIM DAHLBERG AP Sports Columnist Nobody knows what might have happened had the Los Angeles Lakers been a bit more patient and allowed Kobe Bryant and his teammates some time to adjust to Mike Brown's new Princeton offense, no matter how ill-suited it seemed for their talents. Not that it really matters, as long as Phil Jackson is ready and willing to...
The Lakers went out Friday night and smacked up the Golden State Warriors 101-77  for win number two. Of course following the game, the question everyone wanted answered was who would Kobe like to see coach the Lakers. This is what Mamba had to say on that subject: "Phil, obviously, you guys know how I [...]
Now after the original video with Kobe Bryant came out, it has been well-documented that this stuff is fake.  They CGI the car into the video, and the athlete is merely jumping in the air.  That being said, Lloyd shows off an absolutely insane vertical; it actually looks like his vertical is high enough to actually jump over the car, which is amazing.
Contrary to what we all expected would happen, the Los Angeles Lakers sign Mike D'Antoni to a four-year deal and NOT Phil Jackson. Now from a Laker-fan standpoint this is a tad of a letdown as Jackson has had a storied history with the franchise. From a fantasy basketball perspective, however, this news should make Laker players (especially Nash) owners feel like they were drinking...
Some Saturday afternoon links: - NBA 2K13 was tops in sales charts for the month of October. |Pastapadre| - Kobe Bryant had a big game, propelling the Lakers to their second victory of the season, on the day the team fired its coach, Mike Brown. |Ball Don't Lie| - Here's a compilation of Charles Barkley's greatest golf hits. |With Leather| - The Knicks, some former...
While the Miami Heat are known for their offensive prowess, they're proving mighty stingy on the defensive end, too. The Atlanta Hawks know all too well how hard it can be to generate offense against the defending NBA champions. Seeking a fourth consecutive win overall, the Heat try for a sixth straight road victory over the Hawks on Friday night. The Heat (4-1) are coming...
NBA News

Delivered to your inbox

You'll also receive Yardbarker's daily Top 10, featuring the best sports stories from around the web. Customize your newsletter to get articles on your favorite sports and teams. And the best part? It's free!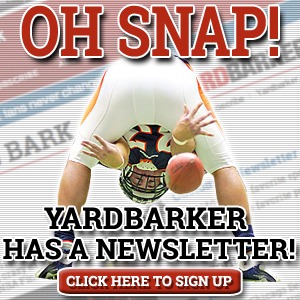 Latest Rumors
The Backyard

Today's Best Stuff

For Bloggers

Join the Yardbarker Network for more promotion, traffic, and money.

Company Info

Help

What is Yardbarker?

Yardbarker is the largest network of sports blogs and pro athlete blogs on the web. This site is the hub of the Yardbarker Network, where our editors and algorithms curate the best sports content from our network and beyond.