Found May 24, 2013 on Fox Sports:
(Eds: With AP Photos.) By TIM REYNOLDS AP Basketball Writer When Chris Andersen does something particularly impressive for the Miami Heat, a heavy metal guitar riff blares through their arena. Some children have shown up for games with replicas of his tattoos drawn upon their bodies. Others have gotten their hair gelled and shaped to match his Mohawk `do. His style is unmistakable. His numbers are pretty eye-catching as well. With a career that once looked like it would be inevitably cut short by his own mistakes, and in a season that started with him out of the NBA completely, Andersen has emerged into a huge piece of what the Miami Heat hope is a second straight championship puzzle. He's shooting an absurd 83 percent from the floor in these playoffs, including a 7-for-7 effort in Game 1 of the Eastern Conference finals against Indiana, a series that resumes in Miami on Friday night. ''He's perfect,'' Heat guard Dwyane Wade said. He was in the opener of this series, anyway. And the Heat - who prevailed 103-102 in overtime, on a buzzer-beating layup by LeBron James - needed every bit of Andersen's 16-point effort, a postseason career-high for him and his highest-scoring game yet in a Miami uniform. The seven makes on seven attempts topped Alonzo Mourning's previous club record for best shooting in a postseason game, one better than his 6-for-6 effort in 2007. Forgive Andersen, who can usually be found either getting into scrums with opponents or grabbing rebounds that they've unsuccessfully jostled for, if he wasn't impressed. He doesn't care about stats at all, and wasn't even aware that his 29-for-35 shooting so far in these playoffs - mostly dunks and layups - is better than anyone in the history of the league who has attempted at least that many shots in a single postseason. ''Is that what I'm shooting? OK, then,'' Andersen said. ''I don't even think about that. I just basically take what the defense gives me.'' He's the prototypical energy-and-effort guy off the bench, which is what Heat coach Erik Spoelstra was convinced his team needed. So he pestered Heat president Pat Riley for years about trying to bring Andersen - who worked out for the club as a non-drafted, non-tattooed free agent a decade or so ago - into the mix. ''He's one of a kind,'' Heat forward Shane Battier said. ''I've never had a teammate like him. But he's a great teammate.'' The Heat signed him to a pair of 10-day contracts in January, all the while knowing that he was staying for the duration of the season. And in a season of uncanny marks for the reigning champions, the numbers with Andersen are off the charts. When he plays, the Heat are 48-4. When he plays at least 13 minutes, the Heat are 35-1. When he gets four rebounds or more, the Heat are 28-0. ''Rarely do we let a player like that leave our gym as a nondrafted free agent,'' Spoelstra said. ''But we did, watched him develop and from afar we were fans. Tried to get him two or three years ago, weren't able to and so when the opportunity came available it was really a no-brainer for us.'' Spoelstra said the Heat did its ''due diligence'' when it came to looking at Andersen's past, which included being barred from the NBA for more than two years because of substance-abuse issues. In Miami, he's become a fan favorite, even though a few months ago he was ''huntin' hogs and livin' that country boy life'' in Texas and Colorado and not thinking about basketball all that much. And when the Pacers talk about how they believe this Heat team is better than the one that ousted them in the second round a year ago, they're not necessarily speaking about last summer's addition of Ray Allen. Instead, it's Andersen that has captured Pacers coach Frank Vogel's attention. ''The defense and rebounding is a dramatic difference from what they had in the past two years. It's a dramatic difference,'' Vogel said. ''He's a great screener, he's a great finisher at the rim offensively. He's probably the biggest upgrade or difference between last year's team and this year's team - no disrespect to Ray, who's obviously a Hall of Famer.'' Heat center Chris Bosh said Andersen's numbers shouldn't be diminished by the fact that most of his offense comes from close range. ''Finishing is a really underrated part of the game because it's not always easy,'' Bosh said. ''Some you're going to be wide-open, but you still have to be in the right place at the right time.'' Makes sense, since Andersen got brought to the right team at the right time, at least in his estimation. Andersen turns 35 this summer, but clearly has plenty left in his proverbial tank. It's believed that the Heat will try to bring him back next season, and Andersen has said he enjoys playing in Miami. (One look at his starring role in the Heat ''Harlem Shake'' video that's gotten nearly 45 million YouTube hits shows his comfort level in the locker room, and that was taped just a few weeks after his arrival.) Any talk about next season - or next month, for that matter - will have to wait. Andersen has never had as good a shot at winning a championship as he does now, and that's why he's insisting that there's nothing on his mind besides helping the Heat find a way to get past the Pacers and back to the NBA Finals. ''It is incredible,'' Andersen said of his story, with the twists and turns leading him to where he's at now. ''But at the same time, I'm just trying to stay in the moment, keep my focus on what I need to do and where I need to improve. I know I'm destined for more.''
Original Story:
http://msn.foxsports.com/nba/story/An...
THE BACKYARD
BEST OF MAXIM
RELATED ARTICLES
Miami Heat superstar Dwyane Wade is one of Gatorade's professional athlete endorsers. Apparently one of the perks of being a Gatorade sponsor, besides being paid to be in their commercials, is having a fully stocked Gatorade refrigerator in your house. Photo via @dwaynewade / Instagram. The caption with the photo: "Just came home to a packed #gatorade machine...
The Michael Jordan and LeBron James comparisons will probably follow the players throughout the duration of LeBron's career. The players will be constantly asked their thoughts, regardless of whether or not it actually has merit. Remember when Jordan when Jordan did an interview with ESPN Magazine and shared his thoughts on how he would stop [...]
And here I was thinking that Wade picked out his clothes with his eyes closed… This year athletes have seemed to press the envelope more than ever when it comes to their fashion choices, and that proved no truer than when Dwyane Wade wore a double-breasted, polka dot, capri pants suit to game four of the Eastern Conference semifinals. His stylist, Calyann Barnett called into...
In a new issue of Jet magazine, Dwyane Wade talks about being a great dad but a bad husband. The animosity between Dwyane and his ex-wife Siohvaughn Wade has been well documented. He shared how he ended up with full custody and what he's looking forward to in the future. "I didn't set out to get full custody but I wasn't able to see my kids the way I wanted and I'm not...
Um, that's a serious endorsement. Dwyane Wade has a deal with Gatorade, and apparently that deal includes massive amounts of Gatorade. How massive? Well, so massive that he has a refrigerator stocked with all flavors of the drink — hundreds of bottles' worth — in his house. Wade is also, by his account, giving away a lot of that Gatorade to his children, which would be a...
LeBron James and Nike have brought in $300 million in U.S. retail sales in 2012 for the LeBron X making his signature shoes the highest-selling NBA sneakers of the year.  LeBron generates 6 times as much as the next player on the list – Kobe Bryant for the Kobe 8 at $50 million. According to SportsOneSource via Forbes.com: U.S. Retail Basketball Shoe Sales 1. LeBron James (Nike...
MIAMI James Jones talked about retiring after last season. But there are no such thoughts now. The Miami shooting guard plans to pick up his 1.5 million player option for next season and return to the Heat. Unless something crazy happens, Ill be back, Jones said Wednesday in an interview with FOX Sports Florida. Jones said after the Heat won the championship last season he most...
Chris Bosh stood up in a relatively quiet Miami Heat locker room and offered a concise, blunt and accurate assessment of where things stand so far in the Eastern Conference finals. ''Our backs are against the wall,'' Bosh said. He's absolutely correct. Advantage, Indiana. Over the first two games of these Eastern Conference finals in Miami, it was Indiana that...
Miami Heat superstar Dwayne Wade literally has a fridge fully stocked with Gatorade bottles in his house. Because that's awesome, that's why.
Enough said.   Article found on: Next Impulse Sports
Heat News

Delivered to your inbox

You'll also receive Yardbarker's daily Top 10, featuring the best sports stories from around the web. Customize your newsletter to get articles on your favorite sports and teams. And the best part? It's free!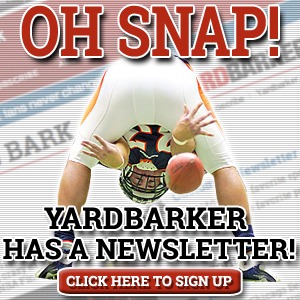 Latest Rumors
The Backyard

Today's Best Stuff

For Bloggers

Join the Yardbarker Network for more promotion, traffic, and money.

Company Info

Help

What is Yardbarker?

Yardbarker is the largest network of sports blogs and pro athlete blogs on the web. This site is the hub of the Yardbarker Network, where our editors and algorithms curate the best sports content from our network and beyond.