Found July 12, 2013 on Pass The Pill:
After opting out of his $10.2M contract with the Timberwolves to test the waters of free agency, Andrei Kirilenko proved correct that another team would want him, but proved wrong that it would be for more money. Andrei Kirilenko has signed a 2 year contract with the Brooklyn Nets for their mini-mid level exception, which is worth $3.18M for this season, and about the same amount for next season. This move reunites Kirilenko with his former Utah Jazz teammate Deron Williams. image from netsdaily.com This move is costing Kirilenko $7M this season, which certainly doesn't seem to be the right financial move. But the Brooklyn Nets don't care about that, and for them this is a great deal. After talks with 2011 draft pick/small forward Bojan Bogdanovic broke off with his Turkish team Fenerbahce Ulker on agreeing to a buyout for this season, the Nets desperately wanted to find another small forward, and they certainly have found a guy in Kirilenko who will fill that role. Kirilenko is a jack of all trades type player who can score, rebound, block shots, and play both the small forward and power forward positions, as well as guard nearly all positions on the defensive side of the ball. Getting such a versatile player for the mini-mid level exception is a steal for the Nets as far as I am concerned and certainly is reason for the Nets organization and their fans to be excited. In 64 games for the Timberwolves last season, Kirilenko played 31.8 minutes per game, averaging 12.4 points, 5.7 rebounds, 1.5 steals, and 1.0 blocks. Those aren't bad numbers for a guy who is getting paid the amount of the mini mid-level exception. It is obvious he wasn't worth $10.2M for this upcoming season, but he certainly is worth more than $3.18M. image from sports.yahoo.com One interesting twist in this story is that the Nets' owner Mikhail Prokhorov has had his eyes on Andrei Kirilenko ever since he purchased the Nets due to Kirilenko being a fellow Russian. I'm quite confident that the happiest person about this deal is Prokhorov since the two things he likes most, aside from women and private jets, is winning and having fellow Russians to talk with. Kirilenko will certainly help satisfy both of those wants. —Ben Parker: follow me on twitter @nba_lord  The post Andrei Kirilenko Takes Huge Pay Cut To Sign With Nets appeared first on Pass The Pill - Kings of Hoops.
Original Story:
http://sports-kings.com/passthepill/a...
THE BACKYARD
BEST OF MAXIM
RELATED ARTICLES
SOMETHING SEEMS FISHY
Mikeal Prokhorov's Nets were able to sign fellow Russian, Andrei Kirilenko, to a well below market deal, prompting some teams to ask for an investigation.
Andrei Kirilenko didn't land a lucrative, long-term deal, but he will join a franchise with zero fear of taking on an extreme financial burden. According to Kirilenko's agent, Marc Fleisher, the Minnesota Timberwolves small forward of exactly one season will sign with the spendthrift Brooklyn Nets. The 11-year pro opted out of the second year of his contract in Minneapolis...
Brooklyn Net Andrei Kirilenko's wife Masha apparently lets her hubby cheat on her once per year. Not a different arrangement than seen in many a NBA nuptial...but the duo apparently has a good PR... Full story at Bob's Blitz ~ http://www.bobsblitz.com
A lot of basketball wives acknowledge the frustration of NBA groupies hanging around and worry that their man may stray a little out-of-bounds while on one of their long road trips. One player's wife has found a way to keep her husband in check — at least 364 days of the year. Masha Lopotova — the wife of new Brooklyn Nets forward Andrei Kirilenko — revealed  that...
AK-47 must have really wanted to get out of Minnesota. After opting out of a $10 million salary with Minnesota, Kirilenko will get the Nets mini-mid level of $3.1 million, per source. — Chris Mannix (@ChrisMannixSI) July 11, 2013
The Brooklyn Nets have agreed to sign Andrei Kirilenko for the mini mid-level on a two-year deal starting at $3.18 million Kirilenko will have a player option in the second season. Kirilenko spent last season with the Minnesota Timberwolves and opted out of his $10.2 million contract for the 13-14 season. The San Antonio Spurs tried to acquire Kirilenko via sign-and-trade.
The Nets have been busy this offseason, and they've added one more name to the list of new talent – Andrei Kirilenko. Brooklyn reached a deal with the former Timberwolves forward on a two-year, mini-mid-level exception, according to The New York Post. Kirilenko will now make $3.18 million next season, a surprising pay cut seeing as he opted out of the final year of his contract...
The Brooklyn Nets already beefed up their roster by making a big trade with the Boston Celtics, and they are not done making moves. According to NBA reporter Peter Vecsey, the Nets have agreed to sign Andrei Kirilenko for the mini mid-level exception, which is $3.1 million. The Nets are getting a darn good defensive [...]
MINNEAPOLIS -- Andrei Kirilenko won't leave the Twin Cities many signature moments to remember him by, but that isn't because the veteran small forward didn't make a difference during his one season with the Minnesota Timberwolves. The man nicknamed after a gun just operates more like an M-16 than a bazooka. The guy they call AK-47 takes a knack for steady, persistent...
Many people were in disbelief about Andrei Kirilenko's deal with the Brooklyn Nets from the moment terms of the agreement were reported on Thursday. Kirilenko, who declined a $10.2 million option to remain with the Minnesota Timberwolves, agreed to a one-year contract with the Nets for the mini mid-level exception of $3.1 million. Though the [...]
Mikhail Prokhorov is worth billions, and he made it living in country that, well, we don't trust. Sure, Communism has been dead in Russia for over 20 years, but hey, they're the Ruskies. It appears as if that feeling is carrying over to Prokhorov if we are reading the tea leaves correctly. A few owners and GM's spoke anonymously about the Brooklyn Nets signing of Andrei Kirilenko...
Welcome to Pro Hoops Central NBA Roundup: Free Agent Mania! While it is true that since the Dwight Howard signing things have slowed down a bit, there were some NBA free agent transactions that went down Thursday. Brooklyn has an AK-47 to add to its arsenal, the Lakers signed a former Washington Wizard, and much more. We'll start with: Is it any surprise that the Minnesota Timberwolves...
NBA News

Delivered to your inbox

You'll also receive Yardbarker's daily Top 10, featuring the best sports stories from around the web. Customize your newsletter to get articles on your favorite sports and teams. And the best part? It's free!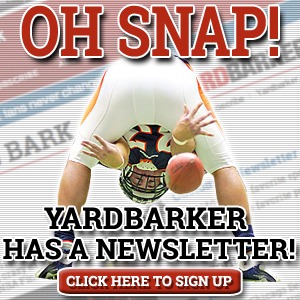 Latest Rumors
Best of Yardbarker

Today's Best Stuff

For Bloggers

Join the Yardbarker Network for more promotion, traffic, and money.

Company Info

Help

What is Yardbarker?

Yardbarker is the largest network of sports blogs and pro athlete blogs on the web. This site is the hub of the Yardbarker Network, where our editors and algorithms curate the best sports content from our network and beyond.