Found January 28, 2013 on NBA Injury News:
Philadelphia 76ers center Andrew Bynum has yet to play in a game this season after undergoing surgery. That may change, as Bynum seems to be doing well during his rehab. Christopher from the Sixers Dish reports on a conversation with the center.Still targeting the All-Star break for debut?"I think right after the All-Star break, in my mind." Practice by the end of the week?"I have no idea. It'll be up to the doctors at that point."How are you feeling?"Baby steps. Still no slides, but I dunked yesterday. I was happy to know I could still do that, which is good. Just taking it really, really slow." Been elevating much?"Gradually increasing. We did sprints today. That's the next step – doing sprints, next slides." Are you where you thought you'd be at this point?"I'm a little bit farther ahead. I honestly believe that. Earlier, before I started getting better, I thought I'd have to play through a lot of pain, but the pain is subsiding a bit, which is good."The above were just some of the questions asked to Bynum with his respective responses. His Sixers debut looks to be something fans will be able to witness soon according to what Bynum has said. The All-Star Weekend is on February 16th - 17th, so he has around three weeks before he plays in his potential debut. When asked if he might come back earlier and then use the All-Star week as a break, Bynum said that it would be better to take the extra week of training rather than return earlier than he had too.Bynum's return will play a big role. With his interior dominance, he could help the Sixers in rebounding (23rd in the NBA) and scoring in the paint (25th in the NBA).Follow @hoopsinjurynews!function(d,s,id){var js,fjs=d.getElementsByTagName(s)[0];if(!d.getElementById(id)){js=d.createElement(s);js.id=id;js.src="http://www.nbainjurynews.com//platform.twitter.com/widgets.js";fjs.parentNode.insertBefore(js,fjs);}}(document,"script","twitter-wjs"); var _gaq = _gaq || []; _gaq.push(['_setAccount', 'UA-34100676-1']); _gaq.push(['_trackPageview']); (function() { var ga = document.createElement('script'); ga.type = 'text/javascript'; ga.async = true; ga.src = ('https:' == document.location.protocol ? 'https://ssl' : 'http://www') + '.google-analytics.com/ga.js'; var s = document.getElementsByTagName('script')[0]; s.parentNode.insertBefore(ga, s); })();
Original Story:
http://www.nbainjurynews.com/2013/01/...
THE BACKYARD
BEST OF MAXIM
RELATED ARTICLES
Participating in shootarounds, doing non-contact drills and training on the antigravity treadmill, Philadelphia's suits hope Andrew Bynum will debut as a member of the 76ers prior to the All-Star break. An MRI exam conducted in November on the 25-year-old Bynum revealed that the center was still suffering from knee problems and remained incapable of performing on the hardwood....
Andrew Bynum plans to stay true to his earlier word of returning to the NBA after the All-Star games. USAToday reported on the injury prone center's proclamation to return. Bynum issued the followed statements: "To me, it doesn't really matter when I come back. I think, giving myself a full 'nother week of training is going to be better than trying to come back before that...
The coaching staff has ramped up its preparation for getting Bynum into a game, and throughout the organization there is a giddy sense, whether warranted or not, that it will happen surprisingly soon. According to general manager Tony DiLeo, the team believes that Bynum could begin full practice by the end of this week and…
Andrew Bynum commented on his rehab and possible return date prior to the Sixers' game vs. Memphis Monday: Still targeting the All-Star break for debut?: "I think right after the All-Star break, in my mind." How are you feeling?: "Baby steps. Still no slides, but I dunked yesterday. I was happy to know I could still do that, which is good. Just taking it really, really...
Categories: 76ers BREAKING NEWS NewsTags: 76ersDoug Collins I mean, what can I say about the Sixers' season thus far. I could drop a couple of "F" bombs and other fun adjectives. I can save them for later though. I think Doug is about to let them fly. Can you blame him? Well, actually you could. He hand a big-hand in putting this [...](Read more...)
The Dallas Mavericks front office has come under fire for making poor personnel choices. We won't even touch the absurdity that is their on-again/off-again/he is only good enough for our D-league team affiliation with Delonte West. But Allen Iverson? Wow. Please Click Here To Read This Story The post Report:Dallas Mavericks trying to sign Allen Iverson to D-league squad appeared...
Jrue Holiday had a career night Saturday, scoring 35 points (16-25 FG, 2-3 FT). In 38 minutes, the Philadelphia 76ers' All-Star point guard added a 3-pointer, five rebounds, six assists and a steal. Holiday is having a fantastic year. Hold onto him.
PHILADELPHIA (AP) -- Marc Gasol scored a season-high 27 points and Rudy Gay had 26 to lead the Memphis Grizzlies to a 103-100 win over the Philadelphia 76ers on Monday night. Jerryd Bayless scored a season-high 21 points to help the Grizzlies win without point guard Mike Conley. Conley sat out with a sprained left ankle suffered in Sunday's loss to New Orleans. The Grizzlies...
If the 76ers were to score 100 points or more against the Knicks in Philadelphia on Saturday night, everyone in attendance would get a free Big Mac. The Sixers fell three points short of that, but it was more than enough to defeat the New York Knicks by a final score of 97-80. The Knicks couldn't get anything going on the offensive end last night. They took too many bad shots,...
Led by their All-Star point guard, the Philadelphia 76ers are trying to stay afloat in the Eastern Conference as they await the debut of their marquee addition. They'll try to win two straight for the first time in two months on Monday night when they host the Memphis Grizzlies, who look for their leading scorer to snap his recent slump. Philadelphia is 8-19 since a 10-6 start...
PHILADELPHIA -- Rudy Gay put Memphis ahead to stay on a follow shot with 13.9 seconds left Monday night and the Grizzlies went on to beat Philadelphia 76ers 103-100. Gay, who finished with 26 points, rebounded a miss by teammate Jerryd Bayless in traffic and scored from point-blank range as the Grizzlies (29-15) won for the third time in four games. Marc Gasol led Memphis with...
Sometimes it's hard to tell what an athlete's personality is like. If you really want to know though, just look at the hairstyle he rocks. These athletes have gone above and beyond the typical haircut and they are not ashamed of it. 9. Anderson Varejao/Robin Lopez   Both of these guys totally rock the Slideshow Bob (Simpsons) look. This offseason scientists are actually  planning...
76ers News

Delivered to your inbox

You'll also receive Yardbarker's daily Top 10, featuring the best sports stories from around the web. Customize your newsletter to get articles on your favorite sports and teams. And the best part? It's free!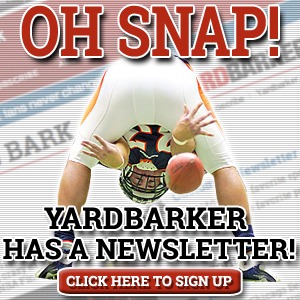 Latest Rumors
Best of Yardbarker

Today's Best Stuff

For Bloggers

Join the Yardbarker Network for more promotion, traffic, and money.

Company Info

Help

What is Yardbarker?

Yardbarker is the largest network of sports blogs and pro athlete blogs on the web. This site is the hub of the Yardbarker Network, where our editors and algorithms curate the best sports content from our network and beyond.