Found November 15, 2012 on Sports Blog Net:
Let's review what we have seen in our latest episode of "As the Lakers Turn," the ever popular soap opera starring the Los Angeles Lakers. First we saw the team fire head coach Mike Brown on Friday, and it seemed to be a forgone conclusion Phil Jackson was going to be hired as the man in charge of  leading them to the promised land. Then came Sunday night-Monday morning, when the decision came for the Lakers front office to hire Mike D'Antoni as the coach instead of Jackson, who has won 11 NBA titles, 5 with the Lakers. We are still awaiting D'Antoni's coaching debut and are still wondering why Jackson was not hired by the Lakers. The D'Antoni hire was a curious one in my eyes because, to be honest, I don't understand how this makes the Lakers better. I would even go as far as to say this is Mike Brown in reverse. Brown had the reputation of being a good defensive minded head coach, but the offensive was left do be desired. D'Antoni is the opposite: an offensive genius who doesn't concentrate too much on defense. I would think you would want to hire a coach who knows more about winning titles than just about anyone who has coached a team in professional sports. Instead, the Lakers hired a man who just saw things blow up in his face in New York last season and ended up resigning. This isn't to say D'Antoni is a terrible coach, I just don't know if he's the man who will get the most out of a Lakers team that is expected to win the title this year. I heard ESPN analyst Magic Johnson talk about the hire of D'Antoni and how he doesn't believe in Lakers owner Jim Buss (son of longtime Lakers owner Dr. Jerry Buss). To be honest, I agree with Johnson's statement and I think it goes deeper than just business. Jim Buss doesn't seem like a guy who knows a whole lot about the sport of basketball. I believe he's a man who is a good in business, but thinks getting big name players will get you titles, sort of like Dallas Cowboys owner Jerry Jones. I also believe there is something flawed with the relationship between Jim Buss and Jackson. After all, Jackson is dating Jim's sister Jeannie, so you never know what could be going on there. If you ask me, Jim Buss is out to prove the Lakers can win a title with other coaches besides Jackson, almost as if to say they don't want to go back to the past. Jim Buss and general manager Mitch Kupchak made a joint statement saying they just felt D'Antoni is "the best fit for the team at this time." Please let me know if you come across anyone who honestly believes that statement. Bottom line, it's going to be feast or famine for this Lakers team. All of these players, from Kobe Bryant, to Dwight Howard, to Steve Nash, were brought together to win a title right now. It has the potential to become a huge mess if this D'Antoni hire doesn't work out. I guess we will all be watching with a fine-toothed comb. Stay tuned for the next episode of "As the Lakers Turn." By Charles Taylor
Original Story:
http://bestkeptsecret.sportsblognet.c...
THE BACKYARD
BEST OF MAXIM
RELATED ARTICLES
I was shocked when I read the Lakers had fired Mike Brown 5 games into the season.  Either you believe in your coach enough to give him a chance, or you shouldn't let him coach your team at all in the first place.  Regardless of whether Mike Brown was the right coach for this Lakers team, firing any coach midseason makes it much harder to gel and compete for a title.  The only...
Los Angeles Lakers GM Mitch Kupchak said he chose to hire Mike D'Antoni over fan-favorite and 11-time champion Phil Jackson because he felt D'Antoni's system would be a better fit for the Lakers current roster. Only time will tell though if he made the right decision.Now no one doubts that D'Antoni's system can be implemented on the fly much quicker than the triangle system...
On Sunday night it seemed sure that Phil Jackson would return to coach the Lakers. The 11-time champion seemingly could not pass up the opportunity to coach a superstar-laden team with his familiar charges of Kobe Bryant and Pau Gasol along with newly acquired center Dwight Howard and Steve Nash. A chance for a championship seemed gifted to him if he could only give it that last...
History could have been different if Phil Jackson had said he was ready to coach the Lakers while meeting informally with two team executives on Saturday morning. He might be the Lakers' coach right now, Lakers General Manager Mitch Kupchak said Tuesday. "We would have gone back immediately and gone back and holed up with Dr. Jerry Buss and decided what we were going to...
Had the narrative been, "Lakers fire Mike Brown then hire D'Antoni," then Laker fans would be absolutely thrilled to have D'Antoni. However, the Lakers went back to the well. They called the great Phil Jackson and he was interested. But the Lakers turned Jackson down! That shocking turn of events triggered an overreaction by fans and media.
The Los Angeles Lakers announced Nov. 11 that they have hired Mike D'Antoni to take over the NBA club's head coaching duties. D'Antoni takes over from Mike Brown, who was fired on Nov. 9. The move came as a bit of a surprise to many Lakers fans who were almost certain the team was going to rehire 67-year-old former coach Phil Jackson to take over the squad for the third time...
Mitch Kupchak and the Lakers moved forward with Mike D'Antoni after not hearing back from Phil Jackson for approximately 30 hours.
As you may figure, the folks over at Next Media Animation have put together another classic clip dealing with the Los Angeles Lakers hiring of new head coach Mike D'Antoni.The ire of their hatred was Lakers vice president Jim Buss who proclaimed in this clip as to be the reason why Phil Jackson isn't back in the city of Angels:
New Los Angeles Lakers coach Mike D'Antoni said he will be a failure at the Staples Center if he doesn't put his new team in the title hunt. "I'm going to do everything I can do to win a championship," D'Antoni told KSPN-AM 710 on Tuesday. "If we're not at least in the hunt, a serious hunt, then I've failed as a head coach. I'm comfortable...
LOS ANGELES -- Mike D'Antoni eased into his seat at the table for his introductory press conference Thursday afternoon, fresh off knee surgery. He won't be able to ease into his new job. The Los Angeles Lakers introduced their 24th head coach Thursday at their practice facility in El Segundo, three days after signing D'Antoni to a three-year contract reportedly worth...
NBA News

Delivered to your inbox

You'll also receive Yardbarker's daily Top 10, featuring the best sports stories from around the web. Customize your newsletter to get articles on your favorite sports and teams. And the best part? It's free!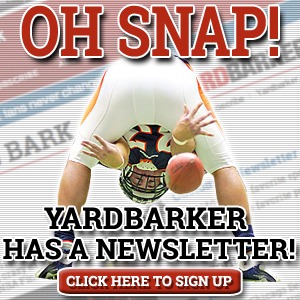 Latest Rumors
The Backyard

Today's Best Stuff

For Bloggers

Join the Yardbarker Network for more promotion, traffic, and money.

Company Info

Help

What is Yardbarker?

Yardbarker is the largest network of sports blogs and pro athlete blogs on the web. This site is the hub of the Yardbarker Network, where our editors and algorithms curate the best sports content from our network and beyond.