Found July 26, 2012 on Fox Sports Houston:
HOUSTON With all due respect to Rockets general manager Daryl Morey and vice president of basketball operations Sam Hinkie, the time had come for an actual professional basketball player to offer analysis on the reputed defensive and rebounding skills of center Omer Asik. With Morey across the pond attending the London Olympics, the task fell to Hinkie on Thursday to gush over Asik, whose talents as a help defender and rim protector weren't obvious to the average fan because Asik averaged only 14.7 minutes per game last season with the Bulls. However, NBA players are acutely aware of the capabilities of their fraternity members. And while there frequently are surprise stories and unexpected developments Jeremy Lin comes to mind the ability to project what one player can do comes from observing performances via on-court proximity. That vantage point can provide unique perspective. "He is a tremendous defensive player," Rockets forward Patrick Patterson said. "He has a high basketball IQ. We definitely need help in that area; we did OK (last season) but we want to be a great rebounding team, and with the addition of (Asik) that pushes us in the right direction. "Defensively he's the perfect specimen: big body, 7-footer, strong. He can play help defense, he can block shots, and he can do everything that you want your big guy to do out there. Even though not too many people got to see his skills ... we're all well aware of what he can do out there." After inking Asik to a three-year, 25.1 million contract, the Rockets were left convincing skeptics he is worthy of such a substantial raise (Asik earned 3.5 million over two seasons with the Bulls). They talked of projection, trusting their scouting and how Asik will fit in their locker room and in their developmental plan because, in truth, that's all the Rockets have to hang their collective hats on. After sharing a frontcourt with Joakim Noah, Carlos Boozer and Taj Gibson, Asik, 26, didn't play enough minutes or deliver the production that generates excitement. That the Bulls declined to match the Rockets' offer sheet to Asik only raised more eyebrows. Determining his worth after two seasons of limited minutes is a tricky task, although Asik is anxious to prove that he has the work ethic necessary to validate the Rockets' deep-rooted faith. "What Houston did for me is a big opportunity for me because I was playing limited minutes because of the really quality guys there," Asik said. "I didn't start much there (two games in 2011-12) but I think I will be working real hard and try to adapt quickly. "When I decided to come to the NBA my goal was to become a starting center in this league. I'm very happy about it." That adaptability also caught the Rockets' eye. Asik developed in his native Turkey, playing professionally for Fenerbahce Ulker and Alpella over the course of five seasons while also helping the Turkish national team claim silver in the 2010 FIBA World Championships. The Trail Blazers drafted Asik in the second round of the 2008 NBA Draft, but immediately shipped his rights to Chicago as part of a three-team trade. During his rookie season (2010-11) with the Bulls, Asik averaged 2.8 points, 3.7 rebounds and 0.7 blocks over 12.1 minutes per game. That he played all 82 games and seamlessly transitioned into the NBA was deemed a positive and it set the stage for an improved second campaign. "The adjustment for an international player to come to the NBA as a rookie is quite challenging as they make the transition," Hinkie said. "He was outstanding as a rookie and made strides even throughout this year." What the Rockets saw in Asik were flashes of rebounding and defensive brilliance. His total rebounding rate (20.1 percent) and block percentage (5.0) would have ranked in the top 10 last season had Asik qualified with the minutes threshold, giving rise to the notion that additional playing time would yield even more impressive results. With his combination of size (7-0, 255 pounds), selflessness and tenacity, the Rockets felt compelled to act when due diligence revealed plaudits for his positive influence in the Bulls' locker room. Asik has shortcomings offensively, something he addressed directly by expressing excitement over working with Rockets coach Kevin McHale. But what the Rockets are paying for at this stage is his defensive presence and rebounding prowess. Those assets are rare and coveted. "Young centers in our league that are proven that they can impact an NBA game are scarce, really, really scarce," Hinkie said. "So we were delighted to be able to add him to our team and to be able to add him to our locker room and what we're trying to build here." Follow me on Twitter at moisekapenda
Original Story:
http://www.foxsportshouston.com/07/26...
THE BACKYARD
BEST OF MAXIM
RELATED ARTICLES
All right, the schedule's out. We know when and where the Bulls will be playing this year. Let's face it, though: After the events of this offseason so far, we pretty much know how the season will turn out. The Bulls, behind the genius of Tom Thibodeau, will compete and defend the crap out of [...] [[ This is a content summary only. Visit my website for full links, other content, and more! ]]
The Rockets have announced the signing of Omer Asik on NBA.com. As almost an afterthought, at the very bottom of the article is this little tidbit. In a non-related move, the Rockets also announced that the team has waived guard E'Twaun Moore. I feel bad for E'Twaun. Everything seemed to be going his way. He was playing very well in Summer League and had expressed his...
Jeremy Lin considers Yao Ming to be a role model and sought guidance from him throughout last season. The two became close thanks to the their Asian roots, and Yao even said he tried to sign Lin to his Chinese team during the lockout. Now Lin is following Yao's career path by signing with the Rockets, and the former All-Star center thinks that will be a good career move for the...
HOUSTON Though not quite a laundry list of names, the Rockets have developed enough unrenowned point guards into solid starters that the scouting and analysis skills of their front office personnel are confirmed. And now for his next trick, Rockets general manager Daryl Morey will attempt to add 7-foot center Omer Asik to the ledger including Aaron Brooks, Kyle Lowry and Goran...
The Rockets have been at the front of the offseason. Whether it was getting involved in Dwight Howard rumors or going after and signing Jeremy Lin, you cannot fault Daryl Morey for going out there and being active. Houston has been a middle of the Western Conference team for the better part of a decade. Always good enough to compete for a Playoff spot, never quite good enough to...
The Bulls will open the 2012-2013 season against , and Omer Asik will return to Chicago for a Christmas night matchup when the Bulls host the Rockets. National Televised Games: November 8th OKC @ Chicago TNT December 5th Chicago @ Cleveland ESPN December 11th LAC @ Chicago ESPN December 21st Chicago @ NYK NBATV December 25th Houston @ Chicago ESPN January 11th Chicago @ NYK ESPN...
CSNNELess than a week after being traded from the Celtics to the Rockets in the Courtney Lee deal, E'Twaun Moore was waived by his new team according to Rockets.com. Moore was one of the standouts on the Celtics' Orlando and Las Vegas Summer League teams prior to being moved last Thursday. He averaged 12.0 points, 2.4 rebounds, and 2.8 assists in five games in Orlando and...
Thursday the NBA released their first full season schedule since the 2010-11 season after a labor lockout forced the league to cut this past year in half. For the Pistons who continue to rebuild and re-tool their roster open up the 2012-13 campaign against the re-tooled Houston Rockets on October 31st from The Palace. The Rockets who recently acquired PG Jeremy Lin this offseason...
Omer Asik would have finished third in total rebound percentage and ninth in block percentage had he logged starter's minutes with the Bulls.
After the National Basketball Player's Association decided to grant players who had been claimed off of waivers with their "Bird" and "Early Bird" rights, Knicks fans were ecstatic. This ruling meant that teams would be able to re-sign players they had picked up off of waivers without their salaries affecting the team's salary cap. This decision was especially huge for...
NBA News

Delivered to your inbox

You'll also receive Yardbarker's daily Top 10, featuring the best sports stories from around the web. Customize your newsletter to get articles on your favorite sports and teams. And the best part? It's free!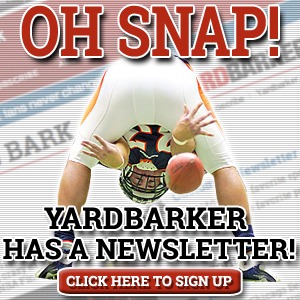 Latest Rumors
The Backyard

Today's Best Stuff

For Bloggers

Join the Yardbarker Network for more promotion, traffic, and money.

Company Info

Help

What is Yardbarker?

Yardbarker is the largest network of sports blogs and pro athlete blogs on the web. This site is the hub of the Yardbarker Network, where our editors and algorithms curate the best sports content from our network and beyond.