Found July 29, 2012 on NBA 24/7 365:
PLAYERS:
LeBron James
,
Boris Diaw
,
Ali Traore
,
Doug Collins
,
Nicolas Batum
,
Chris Paul
,
Carmelo Anthony
,
Nando De Colo
TEAMS:
Miami Heat
,
San Antonio Spurs
,
Philadelphia 76ers
,
Portland Trail Blazers
,
Los Angeles Clippers
,
New York Knicks
***Although he took just six shots, LeBron James left his fingerprints all over this game.  The King finished with eight assists, including a high-speed, no-look dish which whizzed past the head of Boris Diaw (video to be added if and when I can find it).  Oh, and then there was this one…
I imagine James would've finished with at least 10 helpers had Team USA been able to find the center of the rim in the first 20 minutes.  Also, Deron Williams had a slick behind-the-back drop pass to Kevin Durant in transition, but Durant was fouled as he attempted to dunk the ball.  Had the play been completed it may have been equally spectacular to LeBron's.
***Kevin Durant (sans hair) finished as the game's leading scorer with 22 points.  Kevin Love was the second-leading scorer with 14 while 6'9" big man Ali Traore led France with 12 (Traore was his team's standout player, making a variety of pretty moves with his back to the basket).  Neither team shot the ball particularly well, but France was putrid from the outside (2-22 from three) despite being left open frequently.  USA was able to get into a rhythm in the second half as the game opened up and whistles became less frequent (30 fouls were called in the opening 20 minutes… let me assure you that the first half wasn't easy on the eyes).  The 27 assists with which Team USA finished is an indication of how well they passed the ball.  Box Score.
***Doug Collins made a point about Nicolas Batum… something along the lines of "he has a tendency to blend in sometimes."  This is one of the reasons I felt that Minnesota offered up too much money, and while one no-show in the Olympics obviously fails to prove anything, Batum went just 2-6 (0-4 from three) for 7 points and 2 rebounds today.  Only time will tell, but I don't feel that his impact will ever justify an annual paycheck of 10 million dollars.
***Craig Sager, who looked totally out of his element reporting news in a bland blue polo shirt, provided us with some interesting insight between the first and second quarters.  Apparently, every member of Team USA was provided with a Molten FIBA basketball to practice with in the weeks leading up to these Olympic Games.  However, according to Sager, the balls that are actually used in the games are brand new, causing them to feel slick and overinflated.  Throughout the first half especially I took note of the NBA players from both teams looking noticeably uncomfortable with the ball in their hands.  Even elite ball handlers like Tony Parker and Chris Paul showed a bit of uncharacteristic clumsiness as they attempted to make moves.
***The starting guards of Team France (Nando De Colo and Tony Parker) committed a combined nine turnovers.  Team USA's main focus has been to "cut off the head of the snake," or to suffocate the opposition's ball handlers.  Parker, one of the top guards in this tournament, had little impact on this morning's contest.  Mission accomplished!
***Tyson Chandler (10 minutes), Carmelo Anthony (17 minutes), and Kevin Durant (28 minutes) had nine boards a piece as Team USA dominated the glass 56-40.  France isn't a team with great size, so dudes were able to throw their weight around a bit when the whistle wasn't blowing.  Tough to say how this type of rebounding effort will translate against bigger opponents what with all of the strange officiating that seems to go on.
***According to @ESPN_Numbers, Team USA is now 5-0 all-time against France in Olympic competition with an average margin of +30.2.  This basically sums it up: USA got off to a slow start but pulled away and dominated as they often do.
Original Story:
http://nba247365.com/?p=7247
THE BACKYARD
BEST OF MAXIM
RELATED ARTICLES
LeBron James might be the best passer in the NBA. He was the best player for the Americans and he didn't even score in double figures. James set the tone with his passing. James finished the game with 9 points, 8 assists and 5 rebounds. James has great vision for a player his size. In the win over France James had one of the best passes that you will ever see. Tyson...
Previously on That NBA Lottery Pick, we featured a story about Michael Jordan saying that the 1992 Dream Team would beat this year's incarnation of USA Basketball.It appears that LeBron James has decided to fire back at Mr. Jordan and said that the current Olympic team would win at least one game:"As a competitor you never want to say that you will lose, no matter who you...
More Team USA in their Ralph Lauren opening ceremony attire. LeBron James, Kevin Durant, Deron Williams and more Instagram'd their look for the ceremony. Looks like the team is enjoying the look. Could we be viewing the next wave of jock fashion? Nautical- All American.     And as a bonus, Olympic track athlete Lolo [...]
LeBron James finally won a ring, but his nine other fingers will look a bit naked beside that one bauble. Next up for James is to win a few more pieces of jewelry to even things out. Dwight Howard is still searching for just one, meanwhile, and where his search continues this season remains a mystery. The Orlando Magic center has reportedly been close to being shipped to Brooklyn...
LeBron James has become the latest member of Team USA to declare that this year's Olympic basketball squad would defeat the 1992 Dream Team if the teams met in a game. The NBA's regular season and Finals MVP joined teammate Kobe Bryant in saying that the 2012 squad would pull it out over the gold medal-winning team from 20 years ago. "The '92 Dream Team paved the...
After a slow 1st quarter the USA cruised past France in their 1st game of the 2012 London Olympics. After the 1st quarter the US was only up by 1 point but they pulled away in the end winning the game 98-71. The US is seeking in second straight gold medal after winning in Beijing four years ago. Leading the way for the US was once again NBA scoring champ Kevin Durant...
The first game for the 2012 USA Men's Basketball team is in the books. They throttled their opponent, France, 98-71. Kevin Durant and LeBron James were brilliant for the US, leading them to an easy victory. Great defense led the way to the USA's blowout of France. Team USA seems destined for Gold. The game was closer than expected in the beginning. The US had only a one-point...
Kevin Durant led Team USA with 22 points and nine rebounds, while LeBron James was also strong with nine points, eight assists and five rebounds.
1.Thunder at Heat (Dec. 25th) These teams are still clearly the two best teams in the NBA. This will be a rematch of last year's NBA final in which the Heat won in 5 games. All 5 games were pretty close. LeBron James finally got his ring could this be the year Kevin Durant gets his? Durant and James are also very good friends. 2.Celtics at Heat (Oct. 30th) This was...
Herald   Jason Terry, Celtics get their schedule LeBron James' versatility could include Olympic time at center Handicapping U.S. men's basketball team's chance to win Olympic gold London's hoops venue reusable Thunder, Heat get holiday Finals rematches 14 of first 22 at home for champion Heat next season Pressure still on Coach K and U.S. men's basketball team Mavericks...
NBA News

Delivered to your inbox

You'll also receive Yardbarker's daily Top 10, featuring the best sports stories from around the web. Customize your newsletter to get articles on your favorite sports and teams. And the best part? It's free!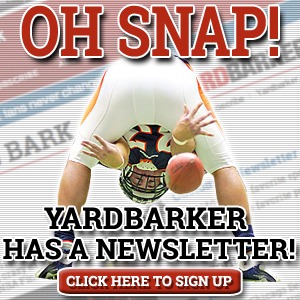 Latest Rumors
Best of Yardbarker

Today's Best Stuff

For Bloggers

Join the Yardbarker Network for more promotion, traffic, and money.

Company Info

Help

What is Yardbarker?

Yardbarker is the largest network of sports blogs and pro athlete blogs on the web. This site is the hub of the Yardbarker Network, where our editors and algorithms curate the best sports content from our network and beyond.