Found July 21, 2013 on The Victory Formation:
If it feels like it's been awhile since Charles Barkley said anything quoteworthy (about basketball, at least), well that's probably because it has. Chuck has toned down his commentary just a bit in recent months, and with the NBA in the offseason until the fall, it's easy to forget that Barkley is never one to shy away from an open mic. This week, Sir Charles was asked about the Philadelphia 76ers situation at Head Coach. Barkley starred on the Sixers teams of the 80′s and (very) early 90′s, before being traded to Phoenix. Barkley is still considered one of the best Sixers of all time, and apparently as such, he feels a need to make his opinion known on the topic. "I think that's one of the silliest things that I've seen in sports in a long time," Barkley said on Comcast SportsNet's Friday edition of "Philly Sports Talk." "I'm in Philly during the summer as you know, and I'm watching and reading every day — to not have a coach under contract by now, I think that's a joke. Barkley went on to criticize the process that the team has been following in their search, which is still ongoing [...]
Original Story:
http://www.thevictoryformation.com/20...
THE BACKYARD
BEST OF MAXIM
RELATED ARTICLES
Charles Barkley has spent the past two days giving his opinion on everything from issues plaguing society, to certain NBA topics. On Friday Barkley cause serious waves when he appeared on the CNBC program Closing Bell, and said that he agreed with the verdict in the George Zimmerman trial.  Barkley later joined ESPN for an interview, and discussed some of the moves made in the...
Charles Barkley, who never minces words, ripped his former team during a TV interview Friday. While appearing on Comcast SportsNet's "Philly Sports Talk", the former Philadelphia star said the 76ers are a "joke" for letting their coaching search stretch into late July. "I think that's one of the silliest things that I've seen in sports in a...
The Philadelphia 76ers are still without a head coach.  Former NBA star Charles Barkley thinks that is an absolute "joke." "I think that's one of the silliest things that I've seen in sports in a long time," Barkley said on Comcast SportsNet's Friday edition of "Philly Sports Talk." "I'm in Philly 
Charles Barkley doesn't care what people think. He has made that clear whenever he is in front of camera or talking to a reporter. The says what he thinks in his own unabashed and often entertaining way. In the process he may say a few things that anger people, but you can at least count on him  to give you his honest opinion. That's what he did recently in an interview...
During March Madness, there was talk of Sir Charles Barkley joining Twitter as part of a larger, sponsored, ad campaign with Capital One. Well, we're glad that never happened because someone else would have likely tweeted for him and we don't want Barkley on Twitter if we can't have Barkley on Twitter. Or something. Anyway, yesterday during an interview on CNBC, Barkley...
Speaking with CNBC via yardbarker, the always outspoken Charles Barkley revealed his thoughts on the Martin/Zimmerman verdict yesterday. And as one can imagine, it was thoughtful, unexpected and slightly against the grain. "Well, I agreed with the verdict. I feel sorry that young kid got killed. But they didn't have enough evidence to charge him. Something clearly went wrong...
I post this video not necessarily because of the content, but mostly because of the delivery. During an interview with ESPN on Friday, Charles Barkley discussed some of the offseason moves around the NBA. He defended Dwight Howard for going to Houston, saying the Rockets are a good basketball fit for the center. He said [...]
The Philadelphia 76ers have not had a head coach since April 18, the day after they finished their 2012-13 season with a rare win and Doug Collins officially resigned. Since then, the Sixers have hired a new general manager, pulled off a stunning draft-day trade and gone all-in on tanking the upcoming season in hopes of landing the No. 1 pick in next year's NBA draft. Yet 95 days...
Charles Barkley had a busy weekend. After handing out hundreds like party favors at the American Century Celebrity Golf Championship on Thursday, Barkley…
With August approaching, the Philadelphia 76ers remain the only NBA team without a head coach. In outspoken former star Charles Barkley's opinion, that fact is "a joke." Appearing on Comcast SportsNet's "Philly Sports Talk" on Friday, Barkley voiced his disagreement with the Sixers' decision to allow their coaching search to drag on into late July. Doug Collins, their...
By Jamar Hudson / @jamarhudson Unlike his boy MJ, Charles Barkley has successfully found a post-career profession that has equalled, if not surpassed, his Hall-of-Fame playing career. He is undoubtedly the driving force behind the best studio show not just in basketball, but in all of sports. The NBA on TNT has made Thursday nights [...]The post We Love Charles Barkley…For The...
More from Grantland artist Tim Macauliffe. It's American AND pro-ball. Which means it would've fit in perfectly here on the 4th of July…which I dropped the ball on. Let's all think back and then it'll fit. You remember the binge drinking? The mediocre bbq? The fat girl you made out with who tried to facebook you immediately the next day? Ahhhh 'Murica. What a place. NBA...
NBA News

Delivered to your inbox

You'll also receive Yardbarker's daily Top 10, featuring the best sports stories from around the web. Customize your newsletter to get articles on your favorite sports and teams. And the best part? It's free!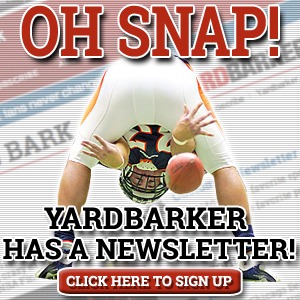 Latest Rumors
Best of Yardbarker

Today's Best Stuff

For Bloggers

Join the Yardbarker Network for more promotion, traffic, and money.

Company Info

Help

What is Yardbarker?

Yardbarker is the largest network of sports blogs and pro athlete blogs on the web. This site is the hub of the Yardbarker Network, where our editors and algorithms curate the best sports content from our network and beyond.