Found April 11, 2012 on Fox Sports Southwest:
Charles Barkley says Lamar Odom had a difficult time adjusting to life in Dallas because he was suffering from a divorce. Not a divorce from his reality TV star wife Khloe Kardashian but a divorce from his former NBA team. During a local radio interview on Wednesday, the TNT NBA analyst and Hall of Fame player said Odom never reached his potential with the Mavericks because his feelings were still hurt from being traded by the Los Angeles Lakers. "I think he just like mentally was like, 'Wow, they don't like me anymore,'" Barkley said on the Galloway and Company show on KESN-FM 103.3 in Dallas. "And I don't think he ever regrouped, or ever recovered." But Barkley wasn't close to being done with discussing Odom after making those comments. Sir Charles was then asked about Mavericks owner Mark Cuban confronting Odom at halftime of a game on Saturday. Cuban reportedly asked Odom, "Are you in or are you out?" "You know I love my man Cubes," Barkley said. "I'm surprised it took that long. The D League thing was, to me, a red flag. But that didn't wake him up. And I've got to tell you something. I always pull for my players. I always pull for the players. But the fact that they've got to pay him, I think is a joke. I mean because he didn't earn his salary. He didn't earn it at all. "I like Lamar as a person, but I'm disappointed about everything that happened in Dallas. And it's a shame that the Mavs got to pay him, to be honest with you. He don't deserve to get paid for what he put out there this year. He doesn't deserve it, plain and simple." And Barkley continued to voice his displeasure about the money Odom would make "to sit at home." "I think it's a joke that he's gonna get paid for sitting at home for the next few months," Barkley said. "In the NBA we get paid every two weeks. So Lamar's making close to 10 million a year. So he's probably going to miss two paychecks. He's probably making 300,000 to 400,000 every two weeks. So, to sit at home and make that type of money, just really pisses me off, to be honest with you, but for the effort he put out there. "He's going to make hundreds of thousands of dollars his next two paychecks that he looks like he's going to miss, and that's not fair to the Mavs, it's not fair to the game of basketball, and I'm just disappointed in Lamar." Follow Jon Machota on Twitter: @jonmachota
Original Story:
http://www.foxsportssouthwest.com/04/...
THE BACKYARD
BEST OF MAXIM
RELATED ARTICLES
TOTAL BURN
Mavericks president of basketball operations Donnie Nelson, summarizing Lamar Odom's tenure in Dallas: "It's like going to war with wet gunpowder."
Now that Lamar Odom has finally cut ties with the Mavericks but will still be paid for the remainder of the season, he's pretty much free to do whatever he wants. What would you do for the next few months if your boss paid you to stay away? Would you go on a long vacation? Sit around and do nothing? Get another job and double up on the money? Metta World Peace has an idea for Odom...
<a href="http://www.mogreet.com/moshare/it/" class="moshare-button" data-channel="wordpress-1.2.4" data-message="Somehow, the "Best Freakin' Brother-Run Basement Sports Show Period" pulled some strings and got NBA legend Charles Barkley on their show. I'd never heard of the B.F.B.R.B.S.S.P. before watching this interview, but...
MAVERICK ATTITUDE
More details regarding Lamar Odom's untimely exit from Dallas are emerging, and it would seem that an argument with team owner Mark Cuban was the final straw.
DALLAS (AP) -- Mark Cuban says Lamar Odom wasn't committed to the Dallas Mavericks. In his first public comments since Odom and the team parted ways, the Mavericks owner said Tuesday night that it was time to move on. Cuban acknowledged the end came after Odom's four uninspired minutes Saturday night at Memphis. At halftime, Cuban asked Odom like he had several times previously...
One of the biggest scams in the history of DFW sports has come to a close. Lamar Odom played the Dallas Mavericks in every conceivable manner, with considerable help from owner Mark Cuban. Yes, it was Cuban who finally banished Odom from the team Monday after the two had a confrontation at halftime of a game in Memphis. But it's not like Odom's uninspired play was a new...
As time goes on, so does the comments about Lamar Odom, Mark Cuban spoke prior to the Dallas Mavericks – Sacramento Kings game Tuesday night: "I just asked him, does he want to go for it or not? Is he in or is he out? I think he thought we were playing poker. I just [...]
On Monday the Dallas Mavericks and two-time NBA Champion and 2011 Sixth Man of the Year Lamar Odom parted ways with Odom becoming officially deactivated for the remainder of the season and playoffs. Odom will still be under contract with the Mavs until the off-season but will not be eligible to compete in any games for Dallas or any other franchise as the deadline to sign players...
The Lamar Odom era in Dallas was a perfect example of a potentially great trade gone horribly wrong. The Mavericks gave up hardly anything to bring Odom on board. With his playoff experience and veteran poise, many expected Odom to turn into a tremendous role player for the defending champions. Instead, he never got over the fact that the Lakers shipped him off. Dallas has ruled...
Lamar Odom had an exchange with Mark Cuban during halftime of Saturday's game against Memphis.
Andrew Bynum is channeling some Charles Barkley in his "I do what I want" mannerisms. In a post-game interview, he said he "shot like ****" when discussing his 7-for-20 shooting night. However, his 30 rebounds vindicated his poor shooting night. Oh, and the fact Ron Artest was pure ETHER from the field and beyond the [...]
NBA News

Delivered to your inbox

You'll also receive Yardbarker's daily Top 10, featuring the best sports stories from around the web. Customize your newsletter to get articles on your favorite sports and teams. And the best part? It's free!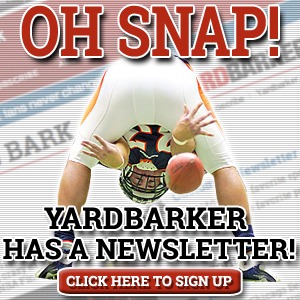 Latest Rumors
The Backyard

Today's Best Stuff

For Bloggers

Join the Yardbarker Network for more promotion, traffic, and money.

Company Info

Help

What is Yardbarker?

Yardbarker is the largest network of sports blogs and pro athlete blogs on the web. This site is the hub of the Yardbarker Network, where our editors and algorithms curate the best sports content from our network and beyond.