Found January 17, 2012 on NBC New York:
In the last 18 months, the Knicks have added Amar'e Stoudemire, Carmelo Anthony and Tyson Chandler to their roster. Given the results they generated last season and the hype they generated during the truncated run-up to this season, you wouldn't imagine that the Knicks would be looking for another savior quite so quickly. And yet, 13 games into this season with a 6-7 record, that's just the situation the Knicks find themselves in. The savior in question isn't from central casting. Baron Davis, better known for indifferent effort and an expanded waistline in recent seasons, is seen as the man who can save this Knicks season once his back is well enough to let him get back on the court. Davis is getting closer to a full practice and there's some talk that he could get on the court for a game during next week's road trip -- something that would spark celebrations among Knicks fans to rival anything we've seen since the 1973 title. With a disjointed offense a...
Original Story:
http://www.nbcnewyork.com/news/sports...
THE BACKYARD
BEST OF MAXIM
RELATED ARTICLES
New York Knicks coach Mike D'Antoni believes that injured guard Baron Davis remains on schedule to return to action. As for a precise date, well, D'Antoni isn't ready to go that far. "I don't know about this week, but next week, yes," D'Antoni told the New York Post. "He's still on schedule. If that's the third of February, the fifth,...
What's on Knicks coach Mike D'Antoni's mind? Not only the return from injury of Carmelo Anthony, but also the looming Knicks debut of Baron Davis. Davis is getting closer and closer to returning from a herniated disk and a person familiar with the situation said the guard will take a big leap in his rehab this [...]
The Knicks need a productive point guard. Is Baron Davis that player?
The Knicks won't have Baron Davis for today's matinee against the Magic at the Garden, and likely will be without Carmelo Anthony, as well. But, at least in Davis' case, his long-awaited debut continues to creep ever closer, with Knicks coach Mike D'Antoni saying yesterday Davis remains...
The New York Knicks are taking it day by day, and minute by minute, with superstar Carmelo Anthony's injured ankle. But getting him back on the court quickly may be wishful thinking. The Knicks' leading scorer spent the majority of his Sunday getting treatment on his sprained right ankle, the New York Post reported. He told the Post that he started running in a pool, but...
It's not complicated. Since the celebrated Carmelo Anthony trade 11 months ago, the New York Knicks have won 20 regular-season games and lost 21. That doesn't sound so great, but it gets worse: The Knicks also lost four straight in the playoffs, winning none. The Knicks didn't get Chris Paul. Many fans and observers believed getting Melo put the Knicks closer to obtaining...
Carmelo Anthony suggested some Knicks players could be doubting themselves in games.
It's always unfortunate when a Broadway show is without one of its major cast members. That scenario could unfold not far away at Madison Square Garden in a star-studded matchup on Martin Luther King Jr. Day. It's unclear if Carmelo Anthony will be available to join Amare Stoudemire and the New York Knicks as they take on Dwight Howard and the Orlando Magic on Monday. ...
Injured forward Carmelo Anthony is worried about his New York Knicks and is also questionable for Monday's game.
The Knicks aren't very good with or without Carmelo Anthony right now. Anthony made a surprising return Monday from his knee and ankle sprains, posted a terrific first half but petered out in the final minutes of the fourth quarter. The Knicks offense went stone cold late and Orlando...
The only solace to another horrific Garden evening is maybe Steve Nash will be doing this for the Knicks next season and not against them. Sore-wristed Carmelo Anthony could not have been more awful and Amar'e Stoudemire wasn't much better. Anthony did not speak afterward. A team official...
  This is what you get for $850 million dollars???  Madison Square Garden spent $850 million dollars to renovate the joint, and after taking a leak to drain myself of the $10 Blue Moon's they now serve, I get a broken soap dispenser and a sink with no running water.  It was bad enough that I had to watch the Knicks lose to the Phoenix Suns, who had dropped five straight before...
NBA News

Delivered to your inbox

You'll also receive Yardbarker's daily Top 10, featuring the best sports stories from around the web. Customize your newsletter to get articles on your favorite sports and teams. And the best part? It's free!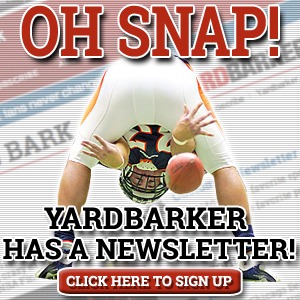 Latest Rumors
Best of Yardbarker

Today's Best Stuff

For Bloggers

Join the Yardbarker Network for more promotion, traffic, and money.

Company Info

Help

What is Yardbarker?

Yardbarker is the largest network of sports blogs and pro athlete blogs on the web. This site is the hub of the Yardbarker Network, where our editors and algorithms curate the best sports content from our network and beyond.