Found December 30, 2012 on Fox Sports Wisconsin:
MILWAUKEE Earlier this week, Bucks coach Scott Skiles was asked whether his team was respected throughout the NBA. Of course, he said he didn't know how to answer. But if there were any question whether the Milwaukee Bucks are a legitimate playoff team in the Eastern Conference, they answered that query about as emphatically as they could with Saturday's 101-85 statement win against the Miami Heat. After playing a great first half, the Bucks took a haymaker from the defending champions. Milwaukee opened the third quarter by making 3 of 24 shots as Miami went on a 27-6 run to take a 71-62 lead with 2:40 left in the period. The Bucks had stopped moving the ball, and the sold-out BMO Harris Bradley Center went from rocking to quiet enough to hear a small contingent of Heat fans above the dither. Then, in perhaps its best stretch of basketball of the season, Milwaukee outscored the Heat, 42-14, the rest of the way. Playoff-like atmosphere is an overused descriptor, but the arena had a different feel Saturday. Even the usually buttoned-down Skiles got animated during a timeout amid Miami's run, stomping his feet and letting Bucks center Larry Sanders have it. His message was simple: Get back to playing our game. "There's no magic dust. I shouldn't get any credit for that," Skiles said. "Other than we talked about that we were too slow. We were kind of just walking into our sets. "We played a very good first half in large part because we got to create our pace out there. Then we came out in the third and missed some layups and shots but also just kind of starting walking up and down the floor. That's not really our game. We don't play very well when we do that." Saturday's win alone doesn't cement Milwaukee's place among the playoff teams in the Eastern Conference, but it's the most convincing argument so far that this team is the real deal. The Bucks are 14-6 against the Eastern Conference this season, and only the Los Angeles Clippers have more conference wins in the entire league. The Bucks also now have eight wins against the other eight teams currently in the East's playoff mix. Still, this is a team that hasn't made the playoffs since 2010, one that knows there is much work to be done to extend a 16-12 overall record that has the Bucks tied for first place in the Central Division. "It's a win against the defending champions and one of the best teams in the league right now, so it means a lot, especially on our home floor where we've struggled against some good teams," Bucks forward Mike Dunleavy said. "But at the end of day they, all count the same. If you look at this win, you feel great about it. "Then you have games against Cleveland, at Charlotte, at New Orleans where, man, I wish we would have won those, too. I'll take it for tonight, it was a nice win, but we have to bounce back tomorrow night." Who knows the respect level the Bucks would command if they hadn't dropped the three games Dunleavy mentioned, but that's a moot point. All Milwaukee can do now is make sure it beats last-place Detroit on Sunday, and in the meantime, the Bucks are picking up believers. "Milwaukee kicked our butt," Heat coach Erik Spoelstra said. "They were the better team tonight." So Skiles probably doesn't have to guess what the rest of the league thinks of his team. He's also becoming more sure of what he thinks of it. "It's clear when we are playing our best, how we have to play," Skiles said. "I think that's clear. It's just getting it a little more consistently. "I know they know it. We've talked about it, they know it. There's no resistance or anything, it's not that easy always four games in five nights to peel the ball off the net and get up the floor with some energy. Like a lot of teams, that's when we play our best." For all but one nine-minute stretch Saturday, Milwaukee was at its best, leaving little doubt this is a team that has turned a corner. Follow Andrew Gruman on Twitter.
Original Story:
http://www.foxsportswisconsin.com/12/...
THE BACKYARD
BEST OF MAXIM
RELATED ARTICLES
Monta Ellis and Dwyane Wade are both guards. They both have more than seven years of experience in the NBA. Both men have led their teams in scoring. While there are a number of characteristics that make the two similar, very few people would argue that Ellis is nearly as good a player as Wade. Ellis is one of those few. During a recent interview that Pro Basketball Talk passed along...
MILWAUKEE -- Larry Sanders scored 16 points and grabbed 11 rebounds -- one of five Milwaukee players to score in double-figures -- as the Bucks beat the Miami Heat on Saturday night, 104-85, at the BMO Harris Bradley Center. After blowing a 12-point halftime lead, Milwaukee used a 22-4 run spanning the third and fourth quarters to retake the lead, going ahead by as many as 19 when...
MILWAUKEE -- Things looked bleak for the Milwaukee Bucks. After surrendering a 12-point halftime lead with a brutal start to the third quarter, the Bucks trailed Miami by nine, and it looked like the defending NBA champs were just finding their groove. But things changed quickly and six straight points to close out the third quarter turned into a 19-2 run and eventually a 104-85...
The Milwaukee Bucks and Detroit Pistons are both feeling good coming off wins over the reigning NBA champions, but one team will lose to a far less decorated opponent Sunday night when the Central Division rivals meet at The Palace of Auburn Hills. Milwaukee (16-12) used a dominant fourth quarter to defeat Miami 104-85 on Saturday, outscoring the Heat 35-14 over the final 12 minutes...
ST. FRANCIS, Wis. -- Is Dwyane Wade a dirty player? That's the topic de jour around the NBA as the Miami Heat guard and former Marquette University star was issued a one-game suspension for "flailing his leg and making contact with the groin" of Bobcats guard Ramon Sessions. Wade will sit out Friday's game against Detroit and return to action Saturday against Milwaukee...
MILWAUKEE (AP) -- Brandon Jennings scored 25 points and Mike Dunleavy had 13 of his 18 in the fourth quarter as the Milwaukee Bucks beat the Miami Heat 104-85 on Saturday night to spoil Dwyane Wade's return. Wade was back after serving a one-game suspension for flailing his leg and making contact with guard Ramon Sessions' groin during the Heat's 105-92 victory over...
The Milwaukee Bucks rallied from a 14 point third quarter deficit to tie the game with about a minute left. However, a clutch bucket and clutch freethrows from Tayshaun (yes, he's still in Detroit) Prince clinched the victory for the Pistons, 96-94. The Bucks fall to 16-13 with the loss. Positives: 1) Monta Ellis shot 12/22, had 30 points and 9 assists. But more importantly...
Monta Ellis is interviewed and asked who he'd compare himself to in the NBA and says he is in "the same category as DWade" adding the only thing Wade has that he doesn't is "more wins and two championships, that's it". Beyond that, as far as being on DWade's level, he says "Monta Ellis have it all".  
Greetings Losers, it's been awhile since I brought you any Bucks news. I know you've been anxiously waiting for an update. Well, I'm back from my holiday pilgrimage to the homeland, and will get you up to speed. Since I last wrote about the Bucks (12/16, ass whooping by Clippers) they have gone 3 and 2, with important victories over Ind, Bos, and Bkn, all teams they will...
The Milwaukee Bucks and Detroit Pistons are both feeling good coming off wins over the reigning NBA champions, but one team will lose to a far less decorated opponent Sunday night when the Central Division rivals meet at The Palace of Auburn Hills. Milwaukee (16-12) used a dominant fourth quarter to defeat Miami 104-85 on Saturday, outscoring the Heat 35-14 over the final 12 minutes...
NBA News

Delivered to your inbox

You'll also receive Yardbarker's daily Top 10, featuring the best sports stories from around the web. Customize your newsletter to get articles on your favorite sports and teams. And the best part? It's free!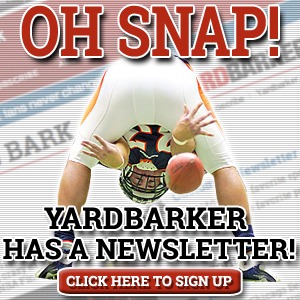 Latest Rumors
The Backyard

Today's Best Stuff

For Bloggers

Join the Yardbarker Network for more promotion, traffic, and money.

Company Info

Help

What is Yardbarker?

Yardbarker is the largest network of sports blogs and pro athlete blogs on the web. This site is the hub of the Yardbarker Network, where our editors and algorithms curate the best sports content from our network and beyond.