Found July 06, 2012 on Philly Sports World:
Will the Sixers sign a big name player this free agent season? No, the Spencer Hawes signing does not count. It does count in the salary expense and his two-year deal takes us further away from that marquee player or even a mid-level starter. What is left for the Sixers is finding some important role players. Players who can provide the Sixers with much-needed points and energy.
We have already discussed trying to obtain Andre Miller, a player who would give the Sixers great minutes and leadership. The only thing he would not bring is needed points to replace Lou Williams if the Sixers do not resign him. So what options are out there for the Sixers?
Allen Iverson could just be that guy! Iverson who was out of the league last season certainly sounded like he wanted back in the NBA when he was at the Sixer/Celtic game didn't he? Iverson in a limited role off the bench could provide some scoring and plenty of excitement for us Sixer fans. He would also come cheap at around a $1.5 million veteran minimum. The downside is Allen Iverson and if he is the same person.
Iverson could be the big name free agent signing as a role player who previously was the face of the Sixers' franchise. Seeing him in a Sixers' uniform coming off the bench and dropping ten points a night would help the Sixers win and also put some fans in the seats.
Similar Posts:
Original Story:
http://phillysportsworld.com/big-name...
THE BACKYARD
BEST OF MAXIM
RELATED ARTICLES
Center Darryl Watkins was waived by the 76ers. The two-year veteran was acquired in a three-team deal last week that brought Dorell Wright to Philadelphia. Watkins has averaged 2.5 points and 2.8 rebounds in 12.0 minutes per game while spending time with Sacramento and New Orleans the past two seasons.
  Denver Nuggets have entered the amnesty talk speculation as Chris "Birdman" Andersen's name was mentioned Monday evening on twitter via Gery Woelfel. Hearing Nuggets seriously discussing amnestying Chris Andersen. Has 2 years, $9M left on contract. If you are a Denver Nuggets fan — like myself — this is not a surprise and was just [...]
  In the midst of free agency and the Denver Nuggets trying  to get a reasonable $10 million per season with re-signing JaVale McGee, some may have forgotten that Ty Lawson become a restricted free agent next season. Prior to next season, many hoped this summer Masai would work a new Lawson deal, and although [...]
Scola's off to Phoenix. There are more 'small' Mavs transactions to come. Somewhere in the mix, Andre Iguodala's presence on this team's wishlists merits re-examination. It's easy to sit on the 'Get Iggy' bandwagon. But how does that stance hold up when keeping the Mavs' ultimate plan - 'Plan Powder' - in mind?
  Rather than do a post game wrap-up because — let's be honest — it's not a huge issue if Denver loses or wins these 5 Summer League games, but rather how the new rookies look playing alongside Kenneth Faried and Hamilton. Also, give us a glimpse on what could work for Denver and what probably [...]
  Just when it appears Denver Nuggets General Manager Masai Ujiri is done finagling with Denver's roster the rumor mill begins swirling. This time it involves Anthony Randolph and you may remember his name thrown around during the Carmelo Anthony trade, but never went to Denver rather to Minnesota. Free agent forward Anthony Randolph is watching the [...]
  I love dunks so much and this dunk from Denver Nuggets Jordan Hamilton made my soul smile.
  Days ago it was reported that the Denver Nuggets offered JaVale McGee a five-year $50 million contract in hopes that, perhaps, it would speed up the process. However, on Monday JaVale finally spoke on the matter and said his agent is handling the negotiations via Alex Kennedy. Although, in this report it seems both sides [...]
  While we had hoped Game 2 would have been more controlled than Game 1, Kenneth Faried had back spasms and was out of action for this game. Although, it's just a Summer League game, this game was pretty bad as Denver had 17 turnovers, but only 11 assists and shooting was shoddy as well [...]
Andres Nocioni is reportedly leaning toward a return to the NBA.
I want to be positive about my Sixers, I really do. And then things like this last week happens, and I wonder what the point is, really...Item 1: Amnesty for Elton Brand. Now, in and of itself, getting out of EB's contract, and away from a 33-year-old 6'-9" F/C is something of a benefit. Brand's best offensive move is a mid-range jumper that doesn't go down often...
a·buse [uh-byooz] -verb 1: to treat in a harmful, injurious, or offensive way: to abuse a horse; to abuse one's eyesight. 2: to break a man's ankles two times during one sequence, as Allen Iverson once did to Antonio Daniels. Origin: The streets. -Synonyms destroy, mistreat, murk broke [brohk] -adjective 1: having completely run out of money. 2: Antoine Walker. Origin: purportedly...
NBA News

Delivered to your inbox

You'll also receive Yardbarker's daily Top 10, featuring the best sports stories from around the web. Customize your newsletter to get articles on your favorite sports and teams. And the best part? It's free!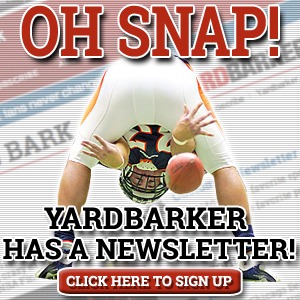 Latest Rumors
The Backyard

Today's Best Stuff

For Bloggers

Join the Yardbarker Network for more promotion, traffic, and money.

Company Info

Help

What is Yardbarker?

Yardbarker is the largest network of sports blogs and pro athlete blogs on the web. This site is the hub of the Yardbarker Network, where our editors and algorithms curate the best sports content from our network and beyond.