Found April 13, 2013 on Fox Sports:
This is not how it was supposed to end. This is not how a legend like Kobe Bryant is supposed to cap perhaps the most daunting season of his career. A slew of sensational end-of-season games in which he had placed on his aging shoulders and carried alone his outrageously disappointing team and his own guarantee to make the playoffs? Yes, that would be right. Or maybe coming up just short -- the heroics of these last weeks, when he'd scored 24, 30, even 47 points in key wins only to be bested in the end by an ordinary, average team like the Utah Jazz? That, too, would have been appropriate. But to be felled by something as unjust and anticlimactic as an injury in the final minutes of a game Friday night -- an injury that also finishes prematurely the drama of a Lakers team struggling to answer the most basic question of whether they were frauds or still had enough fight left in them -- feels wrong. What happened in the Lakers' 118-116 win over the Golden State Warriors on Friday night to keep them a game over a Jazz team that owns the tiebreaker for the final playoff spot robs all of us. It robs us of either Kobe's failure and this Lakers team's final, magnificent crash and burn, or else it robs us of Kobe willing his team to a postseason berth he boldly guaranteed in February. All that was wiped out Friday night when he suffered a likely torn Achilles' tendon in his left leg. The team told reporters it was a probable and a "complete tear." Bryant, on crutches in the locker room, drove the cold reality home to anyone who saw the sight: He is done for the season. As is a Lakers team that was dysfunctional, underachieving, thrilling and confusing -- but never, until now, one that could not look to Kobe Bryant to either save them or fail them on the floor. There is no sense pretending now. Whether the Lakers win out against the San Antonio Spurs and the Houston Rockets to end this regular season and make playoffs or not, the illusion is over. This team is not a threat in the postseason. That idea, however much or little you believed it, vanished along with Bryant's season Friday night. The dysfunction leading up to this moment had been widespread, self-inflicted and well-documented. Mike Brown fired a handful of games into this season, Dwight Howard as pouty and petulant as anything LeBron James did two years ago, Pau Gasol 7 feet of hurt feelings and bitter disbelief that Mike D'Antoni couldn't figure out how to use him, Kobe pulling all the strings to assign blame for the hot mess to everyong but with himself, D'Antoni often seeming openly flabbergasted at was going wrong and how the hell to fix it -- on and on the list went of a Lakers team in freefall, of melodrama and distractions and, for a time, losses after losses. Yet they won some games, and Kobe made his guarantee when they were still a sub-.500 team, and suddenly the Lakers, if not a force, were back in playoff contention. In the last few weeks, under the very real greatness of Kobe, they muscled their way to within three wins of the postseason. They controlled their destiny, or so we said, over and over. But the idea of destiny and our control over it is a thin and feeble concept. Kobe made a move Friday that he said he has made many, many times before. But this time there was a pop, and pain, and the knowledge he can control nothing going forward for this team. Not anymore. We all lose now. Those of us, like me, who believed the Lakers would fail to make the postseason and Kobe and his teammates would be left with only themselves and their head coach to blame. And those who thought they would make it, that Kobe's guarantee was backed by a future Hall of Fame player's drive to turn will into wins ... and even those who thought, once in the postseason, anything might happen for this team, then even the Spurs or Thunder might find themselves in trouble with a rejuvenated Lakers team with the clean slate of a second season boiled down to one seven-game series after another. Gone is the schadenfreude of watching it all crumble under the weight of the Lakers' own mess. Or the thrill, and for non-Lakers fans the grudging respect, of Kobe willing a different ending and the pleasure of watching the level of basketball that such a thing would require. A great player, a great drama, and an ending everyone deserved to see, it's all gone, severed along with Kobe Bryant's Achilles. It does not matter if the Lakers make the playoffs now. They stand no chance, if they stood one at all, without the Black Mamba. Perhaps the greatest Laker to ever don the purple and gold -- and all of us who watched his tortured season and waited to know how it might end -- have been snake bit. You can follow Bill Reiter on Twitter or email him at foxsportsreiter@gmail.com
Original Story:
http://msn.foxsports.com/nba/story/ko...
THE BACKYARD
BEST OF MAXIM
RELATED ARTICLES
The Los Angeles Lakers are fighting for their post-season lives. To take a one-game lead for the 8th and final seed in the Western Conference bracket, the Lakers had to get past the Portland Trailblazers. Watch Bryant dominate to get it done. The Lakers won 113-106. Please click here to watch this video. Video: Kobe Bryant goes off for 47 in Portland. appeared first on Players View.
EXPERT INSIGHT
Kobe Bryant's trainer Tim Grover spoke about Kobe's torn achilles tendon and whether or not it was the result of playing so many minutes.
Kobe Bryant made an ordinary move to the basket, putting his head down and pushing off his back foot. Only this time, it ended with Bryant wincing and crumpling to the ground. The diagnosis: A torn Achilles tendon. The result: The Lakers playoff hopes possibly crumpling right along with their star. Bryant will have an MRI on Saturday to confirm the bad news already reported by...
LOS ANGELES – Kobe Bryant pushed his fraying body and his Los Angeles Lakers teammates relentlessly through the second half of a vital game until he felt a searing pain in his left heel. Bryant's Achilles' tendon apparently is torn. His season likely is over. And though the Lakers held on to beat Golden State, Bryant thinks they'll have to continue their playoff chase without...
The last time he was injured this season, Kobe Bryant sat on the Lakers bench and drew plays on a clipboard for his teammates. This time, Lakers coach Mike DAntoni insists he doesnt need any help. A few hours before the Lakers played the San Antonio Spurs at Staples Center in their first game since Bryant suffered a ruptured Achilles' tendon, the Lakers guard posted this tweet...
Yes, I'm giving you another Kobe Bryant update. Don't act like you don't need this in your life! Kobe Bryant has finally launched his Instagram page. What were his first photos of? His surgery of course. Less than 24 hours after the Black Mamba tore his Achilles Tendon, Kobe had surgery Saturday afternoon at the Kerlan-Jobe Orthopaedic Clinic. The recovery time is said to be...
As if the Los Angeles Lakers season couldn't get any worse…Kobe Bryant will be out 6-9 months with an Achilles injury. He suffered the injury on Friday night in a game against Golden State. The Lakers season simply hasn't gone the way it was expected. Injuries have played a major role with them not being [...] [[ This is a content summary only. Visit my website for full links...
Tweet   The Los Angeles Lakers are a game up on the Utah Jazz for the eighth, and final, playoff spot in the NBA's Western Conference thanks to a 118-116 victory over the Golden State Warriors Friday night. While the win keeps the Lakers in a postseason spot for another another day it's one that [...]
I've been there, there is no quick recovery.
With the focus on projecting the impact of 35 year-old Kobe Bryant's ruptured left Achilles on the Lakers' playoff prospects and his future in the sport, there hasn't been much said about the implications of Bryant having played hurt. It is as though one injury had no bearing on the other. That is not likely the case. Kobe sustained what was reportedly a "severe" left ankle...
NBA News

Delivered to your inbox

You'll also receive Yardbarker's daily Top 10, featuring the best sports stories from around the web. Customize your newsletter to get articles on your favorite sports and teams. And the best part? It's free!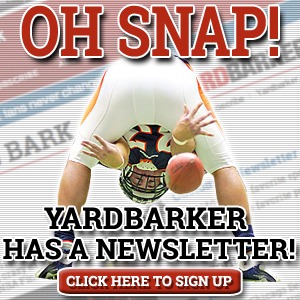 Latest Rumors
The Backyard

Today's Best Stuff

For Bloggers

Join the Yardbarker Network for more promotion, traffic, and money.

Company Info

Help

What is Yardbarker?

Yardbarker is the largest network of sports blogs and pro athlete blogs on the web. This site is the hub of the Yardbarker Network, where our editors and algorithms curate the best sports content from our network and beyond.