Found January 31, 2012 on Awful Announcing:
Blake Griffin has thrown down some pretty monstrous dunks in his short NBA career.  There were these two amazing jams against the Knicks last year including permanently putting Timofey Mozgov on a poster.  There was this steal and reverse dunk against the Pistons.  There was this 360 in the Slam Dunk contest and he even dunked over a car.  There were over 200 more from his rookie campaign and many more this year with the advent of Lob City.
Blake Griffin may have thousands of dunks by the time his career is over, but none will be better than his dunk in tonight's game against the Oklahoma City Thunder.  In fact, I dare say this is not just Blake Griffin's greatest dunk, but the greatest dunk in NBA history.  Is that being a prisoner of the moment?  Of course!  Blake Griffin goes 1 v 1 with one of the best and most intimidating defenders in the game, Kendrick Perkins.  Griffin meets Perkins at the rim and then uses his body as a launching pad to lift into the stratosphere before throwing the ball through the net with enough force to momentarily throw the planet off its rotational axis.  Normal human beings aren't supposed to do this!  
Here's Ralph Lawler with the call...
Like Awful Announcing on Facebook
Follow Awful Announcing on Twitter

Original Story:
http://www.awfulannouncing.com/2012-a...
THE BACKYARD
BEST OF MAXIM
RELATED ARTICLES
DUNK OF THE YEAR! BEST DUNK OF THE 21ST CENTURY! BEST DUNK I'VE SEEN SINCE…WELL…EVER! BLAKE GRIFFIN JUST GAVE ME A DUNK BONER! I CAN NOW DIE DUNK OF A LIFETIME! KENDRICK PERKINS JUST GOT POSTERIZED! Blah, blah, blah. Our reaction to the Blake Griffin kinda dunk/kinda a frontal finger roll from last night's win over Oklahoma City: Perkins' foul effort sucked. Posted: Last...
Okay so I am probably the last sports blogger in the world to post this dunk. Whatever, give a guy a break, life is busy. Anyways, I think it is a great dunk but I still think Vince Carter had many better dunks and let's not even compare him to Shawn Kemp. Regardless, Kendrick Perkins is becoming the new "it" guy to show up in under the net looking scared. addthis_url ...
When you play in the paint you're bound to get dunked on eventually, but you just hope it's never as bad as what Blake Griffin did to Kendrick Perkins on Monday night. Griffin has racked up a rather impressive resume of victims and dunks since he debuted for the Clippers in the fall of 2010. Monday, one of the NBA's most well respected interior players had his name...
There are lonely feelings and then there's the feeling Kendrick Perkins has after being obliterated by Blake Griffin on this dunk. Even the Kia Optima that Griffin jumped over in the dunk contest last year feels sorry for Perkins. Dunk of the year? That depends if Griffin doesn't want to take any more souls before the end of the season. [NBA TV]
In the latest sports-related installment from NMA World Edition, the creators of the always-bizarre Taiwanese Animation Treatment videos reveal their take on Los Angeles Clippers dunkmaster Blake Griffin's epic slamma jamma on the Oklahoma City Thunder's Kendrick Perkins. Among the amusing — yet borderline psychotic — imagery featured: fans, upon witnessing a powerful Griffin dunk, [...]
Kendrick Perkins got ethered by Blake Griffin. Perkins never had a chance. The Clippers would go on to beat the NBA-best Thunder, 112-100 behind Griffin's monster dunk and a barrage of three-pointers. Share this:
NBA News

Delivered to your inbox

You'll also receive Yardbarker's daily Top 10, featuring the best sports stories from around the web. Customize your newsletter to get articles on your favorite sports and teams. And the best part? It's free!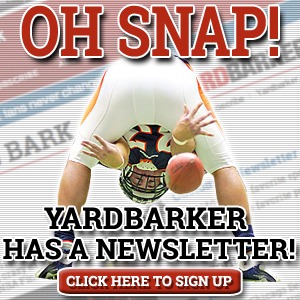 Latest Rumors
Best of Yardbarker

Today's Best Stuff

For Bloggers

Join the Yardbarker Network for more promotion, traffic, and money.

Company Info

Help

What is Yardbarker?

Yardbarker is the largest network of sports blogs and pro athlete blogs on the web. This site is the hub of the Yardbarker Network, where our editors and algorithms curate the best sports content from our network and beyond.