Found February 05, 2013 on NorthWest Sports Beat:
Close Call Coming off a 105-99 big win against the Utah Jazz that saw the Portland Trail Blazers (25-23)  tighten up the Northwest Division of the NBA's Western Conference, Portland had to hold out against the Minnesota Timberwolves (18-27) until the very last second in a 100-98 win. Portland entered the fourth quarter leading the T-Wolves 77-58, a relatively large margin by NBA standards. But despite this big lead, the game turned interesting as Minnesota was able to put on an impressive fourth quarter, scoring 40 points along the way. A huge block by LaMarcus Aldridge that stopped what could have been a game-tying shot with the clock winding down. Thrilling as this game turned out to be, the Blazers could have (and should have) pulled away with an easy victory on Monday night in Minnesota. A bevy of turnovers by Portland (28 to be exact) led to plenty of opportunities for the Timberwolves to come back into the game, and the Blazers have to get rid of the turnover bug if they want to continue to contend in the West. Portland was able to hold off the Timberwolves on Monday night. (Photo: AP) But, a win is a win, and any faithful Portland fan will be more than happy to see their team two games above .500 and right behind the Houston Rockets for the last playoff spot in the Western Conference. A few game notes from last night's game: Wesley Matthews returned to the lineup last night after a brief time on the bench due to injury, scoring 22 points while passing Rudy Fernandez and Rasheed Wallace to assume the 8th position in most three-pointers made by a Portland Trail Blazer throughout their career. Besides Matthews' achievement, here is what we loved and hated from Portland's close victory over Minnesota. Love 'Em LaMarcus Aldridge is a Star Well, after my doubting him for quite some time, Aldridge is beginning to prove his worth to me. I know that he was already selected to the all-star game and is considered a great player, but there have always been times when he played rather inconsistently. With his effort last night, and in recent games, Aldridge is quickly solidifying himself as one of the best players in the league. He can hit a shot from just about anywhere on the court and is one of the most versatile players on Portland's roster. Last night Aldridge shot 12 for 17, racking up 25 points and hauling in 13 rebounds while coming up with two blocks, one of which helped solidify a Blazer victory. Wesley Matthews is Back As mentioned above, Wesley Matthews had seen some time on the bench as he suffered an injury against the Utah Jazz two contests ago. While is was a brief absence, it was good to see Matthews back on the floor and contributing for the Blazers. His health will be vital as Portland makes a run towards the playoffs. Hate 'Em Turnovers There is nothing more frustrating in any sport that turnovers. Worse than not even attempting a shot, turnovers lead to momentum swings, easy points for the opposing team, and a team that is difficult to watch at times. The Blazers were exactly that on Monday night as they turned the ball over way too often and way too much as they let the Timberwolves jump back into the game. Leading the way in turnovers was Nicolas Batum, with seven total on the night. Speaking of Batum… Nicolas Batum is missing Yes, you read that right: Nicolas Batum is currently missing from Portland's roster and nobody can seem to find him. Well, in actuality Batum is still putting in minutes but not doing anything with them. After putting together some impressive weeks for Portland, Batum has all but disappeared from significance as he is more of a burden than an athlete right now. As mentioned above, Batum had a team-leading seven turnovers last night to go along with his 35 minutes of play and four points. Will the real Batum please stand up? CLICK HERE CHECK OUT OUR TRAIL BLAZERS BLOG AT THE NWSB!
Original Story:
http://www.nwsportsbeat.com/trailblaz...
THE BACKYARD
BEST OF MAXIM
RELATED ARTICLES
Another classic? The Portland Trail Blazers  have begun to establish a bit of a history with the Dallas Mavericks. Whether it's Game 4 of the 2011 playoffs, LaMarcus Aldridge's game-winner in 2012 or the most recent matchup that involved both an improbable comeback and a last-second shot in Portland's favor. Matchup: Portland (25-23) @ Dallas Mavericks (20-28) Venue: American...
MINNEAPOLIS It's in part thanks to the Timberwolves that Nicolas Batum got his four-year, 45 million deal this offseason, a contract that many assumed to be more than what the small forward was worth. It was the result of a bidding war between the Timberwolves and Trail Blazers, and Portland eventually won, matching Minnesota's offer for the restricted free agent. Since...
It is well known that what separates the Portland Trail Blazers from being a bona fide playoff contending team and a pretending playoff team is their bench. What is disheartening is that their bench is home to a number of their recent first round draft choices. One of those former first round picks is point guard Nolan Smith, the Blazers 21st selection from Duke in the 2011 NBA Draft...
LaMarcus Aldridge had 25 points and 13 rebounds to help the Portland Trail Blazers avoid a late collapse and hang on to beat the Minnesota Timberwolves 100-98 on Monday night. Wes Matthews scored 22 points and Damon Lillard added 21 points for the Blazers, but they each had five of the team's season-high 28 turnovers. The Blazers never trailed in the game, but the Wolves had...
MINNEAPOLIS Once again, the Timberwolves are left wondering what if. What if Kevin Love's hand hadn't shattered not once, but twice? What if Chase Budinger's knee ligament hadn't sliced itself into pieces? What if Brandon Roy's brittle joints had a season left in them? And now, on a much more micro level than any of those nagging questions, what if Andrei Kirilenko...
MINNEAPOLIS A few weeks ago, ignorance might have been bliss. A few weeks ago, there was just Lazar Hayward on a 10-day contract, not two downright serviceable players in Mickael Gelabale and Chris Johnson. There was no Nikola Pekovic, no Alexey Shved, and Ricky Rubio was even further from form. Under those circumstances, breaking down losses is best left to coaches, best not poked...
Will he or won't he be able to return?  That is the question that everyone asks about Brandon Roy, including himself.  The Minnesota Timberwolves guard is trying to recover from yet another knee surgery, but it will be an uphill battle.  He understands this may be his last shot.  If he can recover and play again, great.  If he can't, he may be done for good.Roy suffered...
Remember the power outage during the Super Bowl?  Yep, the one that forced you to sit there and actually talk to the people you were watching the game with.  Or was it the one that enabled you to head back to the table with all of the food to stuff your face some more.  It was also the one that forced us to listen to CBS' failure to investigate anything and let Jim Nantz mumble...
MINNEAPOLIS - In a matter of minutes, the Portland Trail Blazers went from cruise control to crisis, from a comfortable lead to a nail-biting finish. "The fourth quarter didn't go the way we wanted it to,'' Blazers coach Terry Stotts deadpanned after his team's 100-98 victory over the Minnesota Timberwolves on Monday. Down 19 after three quarters at Target...
The 35-minute blackout during Super Bowl XLVII was the talk of the town (and by "town", we mean America) Sunday, so if you're in a pro sports team's marketing department, why not go with the latest trend in arena/stadium lighting? Some genius in the Minnesota Timberwolves organization did exactly that, scheduling a blackout between the first and second quarter of their game...
MINNEAPOLIS After straining his right quad at the end of the second quarter of Monday's loss to Portland, Timberwolves small forward Andrei Kirilenko is questionable for Wednesday's game against the Spurs. If he were to miss the game, it would be just his fifth missed game this season; he sat for four in late November and early December with back spasms. In other Kirilenko...
NBA News

Delivered to your inbox

You'll also receive Yardbarker's daily Top 10, featuring the best sports stories from around the web. Customize your newsletter to get articles on your favorite sports and teams. And the best part? It's free!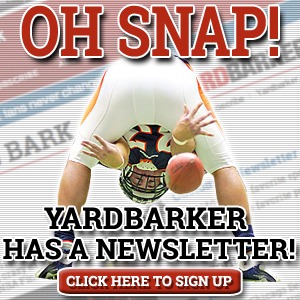 Latest Rumors
Best of Yardbarker

Today's Best Stuff

For Bloggers

Join the Yardbarker Network for more promotion, traffic, and money.

Company Info

Help

What is Yardbarker?

Yardbarker is the largest network of sports blogs and pro athlete blogs on the web. This site is the hub of the Yardbarker Network, where our editors and algorithms curate the best sports content from our network and beyond.