Found April 05, 2012 on Sports Junkie Online:
PLAYERS:
LaMarcus Aldridge
,
Greg Oden
,
Joel Przybilla
,
Marcus Camby
,
Andre Drummond
,
Steve Nash
,
Meyers Leonard
,
Jared Sullinger
,
Tyler Zeller
,
J.J. Hickson
,
Joel Freeland
,
Gerald Wallace
,
Tim Duncan
,
Perry Jones III
TEAMS:
Portland Trail Blazers
,
Houston Rockets
,
Phoenix Suns
,
Brooklyn Nets
,
San Antonio Spurs
,
Connecticut Huskies
,
Illinois Fighting Illini
,
Ohio State Buckeyes
,
North Carolina Tar Heels
,
Baylor Bears
For all the on-court struggles and off-court drama, LaMarcus Aldridge is undoubtedly the Portland Trail Blazers best player. Making his first All-Star game this season, Aldridge is averaging 21.6 points, 8.1 rebounds and 2.4 assists per game, with career highs from both the field (51.3%) and charity stripe (81.3%).
One of Portland's biggest problems over the last several seasons has been the lack of a scoring threat at the center postion. Not since before Greg Oden fractured his patella in December of 2009 has the team had a player that opposing teams had to account for on defense. While Joel Przybilla and Marcus Camby have been serviceable big men that do a decent job of altering shots and rebounding, their offensive games largely consisted of putbacks (though Camby was a good high-post passer).
Entering the offseason, the Blazers' top two needs are at point guard and center, two positions where the 2012 draft class is woefully thin. Outside of Anthony Davis of Kentucky, there are only two lottery-worthy big men that could be realistically considered centers.
Connecticut freshman Andre Drummond is a physical specimen (6'10", 270 pounds), quick-twitch athlete who does a good job at rebounding and altering shots. The biggest problem with Drummond is a lack of focus, as he's had just as many disappearing acts (like his 0 point, 4 rebound effort in a 21 point loss to Louisville) as terrific games (17 points, 14 rebounds, 3 blocks in a two point loss to Syracuse). He's also very raw offensively, and his free throw shooting makes DeAndre Jordan look like Steve Nash (29.5%).
Illinois sophomore Meyers Leonard has a fairly well-rounded offensive game, showing the ability to score both on the block as well as facing up. Leonard doesn't have the size/athleticism combination of Drummond, but should be able to hold his own in the post against most NBA players. He's also a solid rebounder (8.2) and shot-blocker (1.9), but had some attitude concerns in his time at Illinois.
The deepest position in this draft is at power forward, where players like Ohio State's Jared Sullinger, North Carolina's John Henson and Tyler Zeller, Kansas' Thomas Robinson could all declare for the draft. Throw in combo forwards like Kentucky's Terrence Jones and Baylor's Perry Jones III, and this could potentially be the deepest class for power forwards in recent memory.
The Blazers currently have J.J. Hickson, who will likely receive the team's tender, making him a restricted free agent. Hickson has actually looked good at both the '4' and '5' since being claimed by Portland, but struggles some defensively. The team could also bring over 2007 1st Round pick Joel Freeland, who is one of the best big men in Europe. Both Freeland and Hickson are athletic big men, but lack the ideal size for a starting caliber center in the league.
The Blazers may also have two lottery picks this season, as they were able to get New Jersey's 2012 1st round pick (top three protected) in the Gerald Wallace trade. Right now, New Jersey has the fifth worst record in the NBA, and so long as they don't stumble so much to drop into the bottom three in the league, the odds are very good that Portland will have two picks between #5 and #12 (depending on their respective finishes).
I'd recommend the Blazers do what the Spurs have done with Tim Duncan since David Robinson retired. While Duncan has been listed as a power forward almost his entire career, he's largely guarded by the opposing center, so the Spurs start a power forward alongside Duncan, essentially a traditional lineup size-wise, but a positional swap. The good news for the Blazers is the deep draft class could provide the team with a bevy of options that could pair nicely with Aldridge and form a formidable front line.
While Aldridge isn't as good as Duncan was in his prime, he's a great jump shooter for a big man that has above average passing ability and an underrated (and sometimes underutilized) low-post game. Aldridge's combination of length and quickness will no doubt cause problems for NBA centers, and while he hasn't shown to be a great shot-blocker, Aldridge has the length to alter a good deal of shots, and quick enough hands to record his fair share of steals as well. The team has already experimented some with Aldridge as a center, but that has either been in late game situations to add an extra perimeter shooter, or when Marcus Camby was injured last year. I believe that transition could be more permanent (and successful) than most might think.
Original Story:
http://sportsjunkieonline.blogspot.co...
THE BACKYARD
BEST OF MAXIM
RELATED ARTICLES
It's been a rough year for the Portland Trailblazers, and an even rougher one for Raymond Felton. I guess actually it's been roughest for Nate McMillan really, who was fired in part because Ray averaged a career low 10.4 points per game this season, but all of this is besides the point.  What's important, at least for the purposes of this blog post, is that the Blazers...
LaMarcus Aldridge had 24 points and nine rebounds and the Portland Trail Blazers rallied after surrendering the lead to New Jersey in the fourth quarter for a 101-88 victory over the Nets on Wednesday night. Nic Batum added 20 points and 10 rebounds for the Blazers, who led by as many as 16 points in the third quarter before a late surge put New Jersey in front in the fourth. Portland...
For his first season and a half in the NBA, Luke Babbitt struggled to find the court for the Trail Blazers, seeing more court time in the NBDL than with Portland. Even when he did get playing time, Babbitt seemed hesitant to shoot the ball, and was largely thinking instead of reacting when on the court. Many, including myself, had doubts about his long-term fit in the league, and...
 This story is not going to end well in Portland for Raymond Felton.  In many ways the tale has grown stale and already run its course, that is until the Blazers disgruntled point guard used his post game  comments  on Wednesday night to challenge the local media and any other Felton critics in Rip City to "come see me".  Now a season of struggles and unhappiness in Portland...
Late Run Helps Blazers Take Down Nets The Portland Trail Blazers' job got a little easier last night when Deron Williams missed the game due to a stomach virus. The Nets fought hard and actually led 85-84 with a little over 5 minutes to play, but the Blazers outscored New Jersey 17-3 in the last five minutes. BOXSCORE | RECAP Portland Trailblazers 101, New Jersey 88 When: 10...
NBA Matchup Insight Time is running out for the Trailblazers, as yet another loss put them further away from the playoffs. Portland is now 4 games back of the Rockets for the last playoff spot and they face a Nets team that did lose last night to the Lakers, but mounted a late comeback to almost steal a win. CLICK HERE TO CHECK OUT THE BLAZERS BLOG IN OUR CLUBHOUSE TODAY AT NWSB...
LaMarcus Aldridge's buzzer-beating 17-foot jumper lifted the Portland Trail Blazers to a 99-97 overtime victory over the Dallas Mavericks on Friday night. Raymond Felton scored 16 of his season-high 30 points during Portland's 30-10 surge in the third quarter. Aldridge, a former Dallas-area high school star who finished with 25 points and 12 rebounds, made the fallaway jumper...
In a difficult season for the Portland Trail Blazers, their last loss was particularly disheartening. Trying to stay in playoff contention, the Trail Blazers look to bounce back Wednesday night when they host the New Jersey Nets. Portland hasn't won back-to-back games since late January, having alternated decisions in its last nine contests to put the club in a tough position...
DALLAS (AP) -- LaMarcus Aldridge's buzzer-beating 17-foot jumper lifted the Portland Trail Blazers to a 99-97 overtime victory over the Dallas Mavericks on Friday night. Raymond Felton scored 16 of his season-high 30 points during Portland's 30-10 surge in the third quarter. Aldridge, a former Dallas-area high school star who finished with 25 points and 12 rebounds, made...
Even with a new coach, the Portland Trail Blazers are still having trouble gaining momentum in the playoff race. A visit to the Dallas Mavericks might not help. The Blazers will seek back-to-back wins for the first time in more than two months Friday night in Dallas. Portland (26-29) is 6-6 since interim coach Kaleb Canales took over for the fired Nate McMillan, and has alternated...
Not too much time has passed since the Dallas Mavericks and the Portland Trail Blazers met in the First Round of the NBA playoffs last spring, but the cast of characters of one of these teams received a big time face lift. And it wasn't the team that won that playoff series last April. After this season's trade deadline, which saw Portland trade their starting small forward...
NBA News

Delivered to your inbox

You'll also receive Yardbarker's daily Top 10, featuring the best sports stories from around the web. Customize your newsletter to get articles on your favorite sports and teams. And the best part? It's free!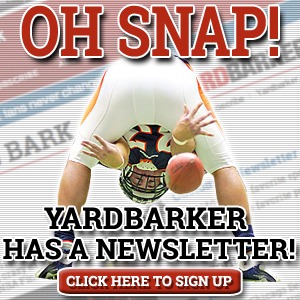 Latest Rumors
Best of Yardbarker

Today's Best Stuff

For Bloggers

Join the Yardbarker Network for more promotion, traffic, and money.

Company Info

Help

What is Yardbarker?

Yardbarker is the largest network of sports blogs and pro athlete blogs on the web. This site is the hub of the Yardbarker Network, where our editors and algorithms curate the best sports content from our network and beyond.