Posted June 27, 2012 on AP on Fox
General manager Rich Cho says it will take ''something enticing'' for the Bobcats to trade away the No. 2 overall pick in the NBA draft. Cho won't say exactly what that entails. For now the Bobcats haven't received a tantalizing enough offer and still own the rights to the No. 2 pick, although that could certainly change before the start of Thursday night's NBA draft. Bobcats president of basketball operations Rod Higgins and Cho went out of their way at Wednesday's pre-draft news conference to say they're excited about who they might get at No. 2, but the reality is they're still very much open for business. ''We've had a ton interest from across the league in the second pick,'' said Higgins, who refused to name any potential trade partners. ''We wouldn't be doing our jobs if we didn't listen and find alternative ways to try to help our ball club.'' They did that Tuesday night via trade. The Bobcats dealt veteran small forward Corey Maggette to the Detroit Pistons for shooting guard Ben Gordon and a future first-round draft pick. The first-round pick gives the Bobcats a valuable asset down the road and Gordon gives the team a legitimate outside shooter following a season in which Charlotte finished last in the league in 3-point shooting (29.5 percent). Gordon is 12th among active NBA players in career 3-point shooting percentage at 40.6 percent. Higgins said he spoke to Gordon after the deal was completed and he was ''very excited'' about coming to Charlotte. ''He wants to come in and help us win games,'' Higgins said. The Gordon trade is the first step in a major roster overhaul the next two years. The Michael Jordan-owned Bobcats finished with the worst winning percentage (.106) in NBA history this past season and the pressure is on to make good decisions after a variety of poor trades and draft picks in recent years that have left fans disgruntled. The decision to draft Gonzaga star Adam Morrison with the third overall pick in 2006 proved to be a disaster and trading for Tyrus Thomas hasn't panned out either. The Bobcats look to change that tide this year. ''We have a lot of cap room this summer and more cap room in 2013,'' Cho said. ''We acquired a really valuable asset with the (Pistons') first-round pick - especially with the protection involved - that we can use down the road or in a trade. And we added a scorer and a shooter and consummate professional in Ben that we're excited about.'' On the flip side, the loss of Maggette leaves the Bobcats with a gaping hole at the No. 3 spot as Derrick Brown is the only player on the roster who really fits that role. That doesn't mean the Bobcats will be more inclined to use the No. 2 pick on a small forward, Cho said. Cho lives by the philosophy of ''draft talent and trade for need,'' meaning the Bobcats could still fill the small forward position in free agency or via trade. They're expected to have about $20 million in salary cap space this summer and could create even more if they decided to use the amnesty tag on Thomas or center Boris Diaw. Thomas is due to make $26 million over the next three seasons. Diaw has one year left on his contract at $7.4 million. Cho's philosophy means the Bobcats will draft ''the best player available'' regardless of who's on the roster. Higgins said drafting a small forward simply because that is the team's most glaring need right now would be ''shortsighted.'' ''You have to look at all things considered, and the draft is just the next order of business in terms of building your team,'' Higgins said. ''You also have the ability to trade and free agency is right around the corner where you can upgrade, too.'' In the meantime, the Bobcats are happy about the acquisition of Gordon despite having to take on the final two years of his salary, which includes $13 million in 2013-14. Since averaging 20.7 points per game in his final year with the Chicago Bulls four years ago, Gordon's production has dropped off significantly. In the past three seasons in Detroit he's averaged 13.8, 11.2 and 12.5 points per game. ''Sometimes guys need a change of scenery,'' Cho said. ''I don't think his work ethic has wavered. He shot the ball well last year on 3's. He's coming into a good situation and he's excited about the new opportunity.''
Original Story:
http://msn.foxsports.com/nba/story/ch...
THE BACKYARD
BEST OF MAXIM
RELATED ARTICLES
Bobcats general manager Rich Cho says it will take ''something enticing'' for the team to trade away the No. 2 overall pick in the NBA draft. So far nothing tantalizing enough has come along. That could change before the start of Thursday night's NBA draft though. While Bobcats president of basketball operations Rod Higgins says the team ''likes the...
Oh Corey, sweet, sorry, injured Corey.  We barely got to know you as a Bobcat, and now, you are gone.  Stephen Jackson and Shaun Livingston to swap picks and bring in Maggette, last year on draft day, worked.  It was worth it to get Bismack Biyombo, or was it Kemba?  This time around, Corey Maggette [...]
The Charlotte Bobcats ended the regular season with the lowest winning percentage in the history of the Association and Charlotte General Manager Rich Choi, is on a mission to get his club back on track as soon as possible. The former G.M. of the Portland Trail Blazers, has already been busy two days before the NBA Draft, as the "Charlotte Observer" reported Tuesday night, that...
  If you have been living in a cave, you should know by now that Charlotte wants to draft Thomas Robinson, but they also need more pieces after their seven-win season. Thus, they are enticing teams to take Tyrius Thomas if they want that #2 pick via Michael Lee. According to multiple sources, the Bobcats [...]
We are less than 48 hours away from the 2012 NBA Draft and the Charlotte Bobcats are dealing. In a confirmed report from Yahoo Sports', Adrian Wojnarowski, the Bobcats have traded forward Corey Maggette to the Detroit Pistons for guard Ben Gordon and a lottery protected first round draft pick in 2013.
Ten years earlier, Joe Dumars convinced Michael Jordan to take Jerry Stackhouse off his hands and send a younger, less expensive one-dimensional player back to the Detroit Pistons. That player was Rip Hamilton, who blossomed into an all-time Pistons great, learned to be a solid perimeter defender, and gave the Pistons financial flexibility. Fast forward [...]
The Bobcats have acquired Ben Gordon and a lottery protected 2013 pick in a trade with the Pistons for Corey Maggette.
The short answer is no. If you look at the picture even Ben Gordon thinks my headline was a feeble attempt to link a relatively meaningless trade that took place late last night to the NBA Draft tomorrow. The long answer, though, is that Charlotte's trade with Detroit for Ben Gordon may justify the draft pick they were about to make anyways a little bit more. If Charlotte...
NBA News

Delivered to your inbox

You'll also receive Yardbarker's daily Top 10, featuring the best sports stories from around the web. Customize your newsletter to get articles on your favorite sports and teams. And the best part? It's free!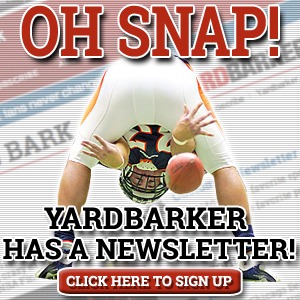 Latest Rumors
The Backyard

Today's Best Stuff

For Bloggers

Join the Yardbarker Network for more promotion, traffic, and money.

Company Info

Help

What is Yardbarker?

Yardbarker is the largest network of sports blogs and pro athlete blogs on the web. This site is the hub of the Yardbarker Network, where our editors and algorithms curate the best sports content from our network and beyond.