Found June 09, 2012 on Fox Sports Florida:
MIAMI (AP) -- Starting, not starting, it's irrelevant to Chris Bosh right now. He's just happy to be playing again. Bosh said Saturday that he is planning to come off the bench for the Miami Heat in Game 7 of the Eastern Conference finals against the Boston Celtics, the same role he had in the last two games of the series. Bosh missed nine games with a strained lower abdominal muscle, after getting hurt in the opening game of Miami's second-round series against Indiana. Bosh played 14 minutes in Game 5 against the Celtics, then played 28 in Game 6 -- and Miami outscored Boston by 16 points when he was on the floor in that season-saving victory. "I think it'll be irrelevant for as long as we're playing," Bosh said Saturday when asked if the start-or-not issue affects him. "It really doesn't matter for me. I just want to be out there and as long as I get to play, it doesn't matter. I think we have a good thing going right now and I'll continue to come off the bench as long as it's good. I'm going to have my time out there with certain lineups and that's not going to change my approach and how I do things." Heat coach Erik Spoelstra said he would reveal his starters closer to game time Saturday night, though he has raved about what Bosh has been able to do since returning from the abdominal injury. "He helped us win (Game 6)," Spoelstra said. "It's an extreme situation, bringing somebody back in the middle of a very competitive conference finals. He's very even-keeled in the mind. So if anybody can handle it, he can handle it." If Spoelstra stays with the same lineup, he'll have Shane Battier and Udonis Haslem alongside the three starting-locks of LeBron James, Dwyane Wade and Mario Chalmers. Bosh has been slotted at times to come in when Kevin Garnett goes out of the game for Boston. When the Celtics made a small run -- mainly by attacking the basket -- to get Game 6 within 10 points, Bosh checked in to help defend the rim. Boston never got the lead under that 10-point mark, and the Heat wound up eventually winning by 19. "It's not a normal rotation where you're slotting, OK, you're going to play this many minutes, you're going to come out and rest this many minutes,'" Spoelstra said. "It's on the fly." Bosh has never been part of a series that went seven games. And until this series, he hadn't come off the bench since his rookie season in Toronto. "I think we're in a situation where I'm not worried about watching my minutes or anything like that," Bosh said. "Just play the game. Whatever the game calls for, for me to play as minutes as possible, I'm going to make sure I do it and be productive when I'm out there."
Original Story:
http://www.foxsportsflorida.com/06/09...
THE BACKYARD
BEST OF MAXIM
RELATED ARTICLES
Chris Bosh has watched the birth of his son, collapsed to the court in agony with a strained abdominal muscle, seen his team sputter many times during nine games without him, then dealt with the death of a masseuse who was stricken at his home. And all since this Miami Heat playoff run began. ''I think about those things every day,'' Bosh said. His run of emotional...
Chris Bosh remains the sixth man for the Miami Heat as they head into the wrong side of the first elimination game of the series Thursday night. Udonis Haslem gets the start at center while LeBron James and Shane Battier start at forward. When asked if he was more comfortable giving Bosh more minutes, Heat [...]
Chris Bosh says whether he starts for the Miami Heat is irrelevant.
LeBron James had just finished off another playoff masterpiece, but through his lensless, thick-rimmed glasses, he would not deem himself the most important player in the Heat's victory. While James scored 31 points in the 101-88 win over the Celtics in Game 7 of the Eastern Conference Finals and succeeded in getting the monkey off his back for at least one more playoff round...
The 2003 draft profile for Chris Bosh, a freshman out of Georgia Tech, oozed with comparisons to Kevin Garnett. The unnatural athleticism and guard-worthy skills in their long, wiry frames made the two so similar, Bosh readily admitted to patterning aspects of his game after the then-eight-year veteran. Nine years later, Bosh has put together a nice career for himself. He was taken...
MIAMI As much as LeBron James, Dwyane Wade and Chris Bosh chafed at the trash talk, the head games and even the pushups each time they have played Boston, deep down they knew there was a reason the Celtics, after putting Ray Allen and Kevin Garnett alongside Paul Pierce had won a title, lost another in Game 7, and never, ever went down without a fight. The Celtics not only played...
As much as it hurts Celtics fans to hear it, the Miami Heat earned their Game 7 victory of the Eastern Conference Finals against the Celtics on Saturday night. Despite all the talk about the referees and bad calls made throughout the series, Miami won fair and square, and they had the right to celebrate their second consecutive trip to the NBA Finals. And that's exactly what they...
This is what MVP's do. When their team needs them and it's win or go home, they rise up to the occasion, put their team on their back and get the W. Last night, Lebron James epitomized what it means to be an MVP. 45 points, 15 rebounds, 5 assists and 1 win. The last stat is the only number that really matters for the Miami Heat as they get the critical game 6 victory, 98-79,...
The Miami Heat's three-headed monster lost a vital piece when Chris Bosh went down with an abdominal strain in the playoffs. But that hasn't kept the two remaining pieces of the Heat's Big 3 -- Dwyane Wade and LeBron James -- from combining to score a good portion of Miami's points. The three-headed monster may be a lot for a team like Boston to contain, but with...
The Miami Heat were clinical in their blowout of the Boston Celtics. They have to acknowledge that SF LeBron James will not drop that type of total every night and PF Chris Bosh and SG Dwyane Wade will have to put in more. Here are the three keys to winning the ball game and focusing on a beatable Oklahoma City Thunder squad. III: Defend the Arc The Boston Celtics made...
<span style="font-family: "Times New Roman","serif"; font-size: 12pt; line-height: 115%;">After falling 3-2 to the Boston Celtics in the NBA Eastern Conference Finals Miami was feeling the, pardon the pun, heat.  <span style="font-family: "Times New Roman","serif"; font-size: 12pt; line-height: 115%;">All...
Click on photo to read more about the Heat blame game I posted the picture of Erik Spoelstra because guess what? He's going to get the blame if the Miami Heat lose. At what point do you say this may be a failed experiment. I would consider moving Wade and Bosh and building around Lebron. Dead serious. The Press Relax Yankees fans – Here are 6 Reasons Why They'll be in First...
NBA News

Delivered to your inbox

You'll also receive Yardbarker's daily Top 10, featuring the best sports stories from around the web. Customize your newsletter to get articles on your favorite sports and teams. And the best part? It's free!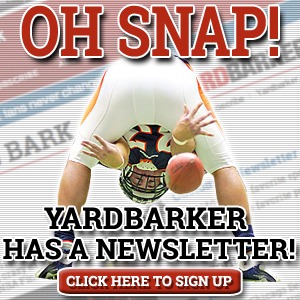 Latest Rumors
The Backyard

Today's Best Stuff

For Bloggers

Join the Yardbarker Network for more promotion, traffic, and money.

Company Info

Help

What is Yardbarker?

Yardbarker is the largest network of sports blogs and pro athlete blogs on the web. This site is the hub of the Yardbarker Network, where our editors and algorithms curate the best sports content from our network and beyond.