Found April 19, 2013 on Atlantic Twine:
PLAYERS:
Jeff Green
,
Carmelo Anthony
,
Paul Pierce
,
Doc Rivers
,
Avery Bradley
,
J.R. Smith
,
Rajon Rondo
,
Courtney Lee
,
Pablo Prigioni
,
Kevin Garnett
,
Kenyon Martin
,
Tyson Chandler
TEAMS:
Boston Celtics
,
New York Knicks
The immense intriguing and tremendous rivalry between the Boston Celtics and New York Knicks will take the 2013 NBA playoff stage on Saturday at 3 p.m. That being said, this matchup consists of high expectations and many distinct clashes between a star and uprising star, the guard play and Amar'e Stoudemire's absence. Jeff Green vs. Scoring champion Carmelo Anthony Photo by Jim McIsaac/Getty Images Throughout the course of the season, mainly March 31, Anthony and Green have stood out to be a deadly combination to television viewers, and in Saturday's matinee and beyond may subject a back and forth, mono e mono-esque battle. Green has been the anchor to Boston's 2013 ship, but for them to succeed he must bring his A-game every single night. The four-year point forward has been distinguished as a dynamic, athletic player, but his 12.8 points, 3.9 rebounds and 0.8 blocks per contest must elevate. While Paul Pierce and company will bring a presence like no other. It is vital he opposes as a threat on the defensive and offensive side of the basketball, meaning, grabbing boards and taking the ball to the hoop. Anthony has been characterized as NBA's best scorer in 2013, and his production versus any other year involves one factor: his consistency. In his previous 10 games, the nine-year point forward has posted a staggering 54 percent from the field while averaging 36.9 points, and 9.9 rebounds per game. Anthony, who has been characterized as a prolific scorer has made his presence known defensively and becoming more aggressive (via 6.9 rebounds on the season). But in the upcoming days, whether it is small ball or big scheme Doc Rivers presents, he will have a true test to handle, especially facing the versatile Green. So who wins the matchup? There is no doubt in my mind, with all expectations invested, this clash between these two specimens will have the tweeters chatting.  With that, I like Green in this clash. Whenever, he goes toe-to-toe with the Knickerbockers his relentless attitude to find his shot is prevalent. Photo by Jim McIsaac/Getty Images Avery Bradley vs. J.R. Smith Ever since Rajon Rondo left with a season-ending ACL injury, Bradley has been the general on the floor alongside Courtney Lee, and his presence on the other has been known on a consistent basis. The two-year guard has possessed the basketball in more ways than one. Defensively, Bradley has had the privilege of vindicating the top-tier guards in the NBA. His defensive tactics include being a pest on his oppositions, not allowing any breathing room. Bradley recorded 1.3 steals in the 2013 season. Offensively, Bradley is slowly turning into an offensive threat, registering 9.2 points while knocking down a 12-15 foot jumper on an everyday basis. With Pablo Prigioni missing Saturday's game due to an apparent ankle injury, Smith will get the nod. For some reason, this man always brings an offensive mindset on every team he has played on. But with the Knicks his presence has been made shooting the three-point shot. Throughout the season, 35.6 percent from beyond the arc. His defense lacks, but as long as his scoring remains dominant, he should be in good hands. Evaluating who has the advantage isn't easy. It's Bradley's resilient and sufficient defense against Smith's scoring ease. The Celtics guard will have a tough time guarding Smith, the eight-year front court player has the ability to make incredible and clutch shots time and time again. No Amar'e? Expect a field day for Kevin Garnett (Photo by Jared Wickerham/Getty Images) Amar'e Stoudemire will once again be out for a small duration of time, and will likely miss the first round against the Celtics, according to the New York Daily News. Stoudemire's absence defines two things: bad news for the Knicks and good news for the Celtics. Kevin Garnett thrives off of energy and motivation before and in-game settings, and there is no doubt he believes there could be a field day in the painted area in the upcoming series. Without Stoudemire, Kenyon Martin and Tyson Chandler will have to step it up a notch. New York averages 40.6 rebounds per game (26th in the league) while the Celtics are ranked 29th averaging 39.3. But even without Stoudemire, Garnett will still have a battle going up against Chandler and Martin. KG, who turns 37 on May 19, still has some gas left in his hefty engine, but not much. Garnett will have the edge without Stoudemire, but his rebounding numbers will entail if Doc Rivers' team advances to the next round. Check out the historic battle on ABC at 3 p.m. Saturday. It should be an interesting sight to see. Prediction: The green team will take on the great city of Boston on its back, and expect them to win in six, 4-2.
Original Story:
http://nbaatlantictwine.com/boston-ce...
THE BACKYARD
BEST OF MAXIM
RELATED ARTICLES
Blake Griffin has a very important announcement to make: Move over Carmelo Anthony, he is going for the 2013 NBA scoring title.
The NBA post season is underway and we have already witnessed our first amazing dunk in the first game. "Sixth Man of the Year" candidate, JR Smith came off the bench in the first half to score 11 points in 10 minutes during the first half. One of those baskets was this dunk where JR bangs on Celtics Jeff Green.   When JR goes inside, the Knicks are hard to beat. JR ended the...
Kevin Durant would need to score more than 70 points to surpass current points leader Carmelo Anthony to take the 2012-13 NBA scoring title. The sidelined Anthony will take the title with no contest from Durant. Durant posted a photo on his Instagram account on Wednesday morning stating that he will sit out of Wednesday night's game. He offered a message to those disappointed that...
Advanced statistics have made quite a bit of headway in the basketball world over the past couple of years.  However, the general public, NBA pundits, and NBA front offices still tend to fawn over players that score a lot of points, regardless of how efficient they are.  Which is why a player like Carmelo Anthony, who the advanced stat Wins Produced ranks as the seventh (!!) top...
Down by a score of 53-49 at the end of the first half, and defense a concern, the Knicks came out in the second half and gave up a total of 25 points, including just 8 in the 4th quarter. It was the lowest point total in a second half ever in the much storied Celtics playoff history, and the Knicks went on to win game 1 of the series by a final score of 85-78. It wasn't pretty...
By Kenneth Teape After a 19-year wait the Knicks once again sit atop the Atlantic Division as champions, fitting that their first round matchup will be against the Boston Celtics, winners of the past four Atlantic Division crowns before this season.  This will be one of the more entertaining first round series of the NBA Playoffs this season as the rivals thoroughly dislike each...
In five seconds, tell me how many scoring titles Michael Jordan won and how many titles he won. You guessed on one, but you knew the other without even thinking. Scoring titles are nice, but in the grand scheme of things, they mean nothing. Kevin Durant knows that and I hope Carmelo Anthony knows that as well. Want to be a legendary player? Have to get the ring and any fan that doesn't...
New York Knicks coach Mike Woodson doesn't think Amar'e Stoudemire will play in the team's opening-round playoff series against the Boston Celtics. "I think he's going to be out,
The Knicks took a very crucial game one in this best of seven series first round playoff match-up against the Boston Celtics. Even without the youth or talent of past years, the Celtics still know how to turn it up a notch come playoff time. The Knicks had real trouble slowing them down in the beginning of the game. They gave up twenty nine first quarter points to the Celtics but...
Playoff Schedule Celtics Players and What to Watch For: Today at 3pm the New York Knicks will begin their journey on a road to a hopeful Championship run. The first obstacle for the Knicks is the dreaded Boston Celtics who are not as good as the old Celtics, but still playoff tested and dangerous. Paul Pierce, Kevin Garnett and Jeff Green are now the Celtics nucleus. Pierce is not...
Schedule:  Game 1: Saturday, April 20 – Celtics at Knicks – 3 p.m. (ABC) Game 2: Tuesday, April 23 – Celtics at Knicks – 8 p.m. (TNT) Game 3: Friday, April 26 – Knicks at Celtics – 8 p.m. (ESPN) Game 4: Sunday, April 28 – Knicks at Celtics – 1 p.m. (ABC) Game 5*: Wednesday, May 1 – Celtics at Knicks – TBD Game 6*: Friday, May 3 – Knicks at Celtics – TBD Game...
NBA News

Delivered to your inbox

You'll also receive Yardbarker's daily Top 10, featuring the best sports stories from around the web. Customize your newsletter to get articles on your favorite sports and teams. And the best part? It's free!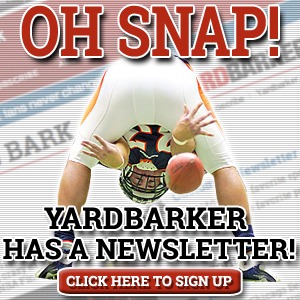 Latest Rumors
Best of Yardbarker

Today's Best Stuff

For Bloggers

Join the Yardbarker Network for more promotion, traffic, and money.

Company Info

Help

What is Yardbarker?

Yardbarker is the largest network of sports blogs and pro athlete blogs on the web. This site is the hub of the Yardbarker Network, where our editors and algorithms curate the best sports content from our network and beyond.