Found March 27, 2012 on Fox Sports Houston:
HOUSTON There was a bizarre intersection of point guards at Toyota Center on Monday that might have proven debilitating had Goran Dragic not concluded this unusual night by laughing off his twisted right ankle. Earlier in the day Kyle Lowry made an appearance at the Rockets' shoot-around looking slightly gaunt and worse from the wear of a bacterial infection that has sidelined him since March 10. Less than an hour before tipoff against the Kings, veteran Earl Boykins arrived fresh off signing a 10-day contract and the completion of a physical that enabled Rockets coach Kevin McHale to add Boykins to the active roster. And then in overtime, after the Rockets had determinedly erased a 16-point first-quarter deficit, Dragic crumbled to the floor and sent a collective gasp through the arena. It appeared worse had come to worse. "I was not sure if I (should) go back to the bench to watch the game or go to the locker room," Dragic said of a curious moment when he stopped en route to the locker room to watch the action from behind the basket stanchion adjacent to the Rockets' bench. "I tried to finish the game but the pain was too strong. "I was just looking what was going to happen on defense or offense. Luckily we won that game." For a moment, luck seemed nowhere in sight. The Rockets eked out a 113-106 victory that allowed them to keep pace with the Jazz and Nuggets, both of which had won on the road earlier in the evening. With Lowry confirming that his status for the remainder of the season is unknown, the Rockets signed Boykins, 35, to provide a veteran's steady hand behind Dragic. No one could have anticipated that Boykins would log 21 minutes in his first action of the season, or that he would sink four consecutive free throws in overtime to snuff the Kings (17-32). "This is very unique," Boykins said after posting 10 points and five assists. "This is definitely a unique situation, but it helps when you've been around as long as I have. You know how to prepare to play in the NBA even if you're not in the NBA. You know what it takes to keep your body in shape. Tonight the guys, they had confidence in me. It takes a great deal of confidence to give someone the ball who you haven't seen all year. "It's a lot easier to play when your teammates have that type of confidence in you." To an extent, this is what McHale had in mind when the Rockets (27-23) pursued Marcus Camby at the trade deadline and Boykins this week. Courtney Fortson did a bang-up job backing up Dragic, but with injuries ravaging their roster the Rockets needed experience off their bench. Camby and Boykins, teammates with the Nuggets for three-plus seasons (2003-07), provide exactly that. Camby labeled Boykins "pound for pound one of the toughest guys in the league" in the aftermath of his fortuitous performance, and McHale gushed over what Boykins provided. Given that Boykins last played in the NBA last season with the Bucks, he exceeded all expectations based on the circumstances at hand. "That's the value of having guys like Marcus Camby and Earl Boykins: they've played in a ton of games," McHale said. "Is it different? Yeah. Is it a new team? Yes. But it's basketball, and they've been doing it their whole lives. There's just a calmness about them and an assuredness. "They're just relaxed. They've seen so much, which is great. We need that." McHale shared with Boykins "four or five plays" as well as some defensive assignments during the small window after Boykins arrived and before the teams took the court for pregame warm-ups. At the 6:56 mark of the first quarter McHale inserted Boykins into the game seeking a remedy to the Rockets' sloppy ball handing and the Kings' run-outs. Once the Rockets managed to take better care of the ball, they began the process of chipping away at the Kings' advantage. That endeavor reached its conclusion when Patrick Patterson converted a second-chance opportunity into a basket and a 91-90 lead with 3:33 left. The Rockets expended so much energy rallying that the one-point lead Patterson provided was their largest of the closing moments. Patterson buried a 22-foot jumper with 8.3 seconds left to force overtime, and in the extra session the Rockets finally pulled away, extending to a 106-101 lead when Dragic drilled a pull-up 18-footer with 2:14 remaining. Less than a minute later Dragic hobbled off the court with the assistance of team trainer Keith Jones. After Lowry offered no assurances of his return and with Boykins called off the street and closing this game, things looked grim. Later, Dragic made it seem like everything was OK. "Now we have Boykins. He's a great point guard, he's been in the league a long time so he can help us a lot," Dragic said. "This season is really tough for us (because) we have a lot of injuries. (I) just try to be healthy and not think about injuries, and try to play hard as possible." Follow me on Twitter at moisekapenda
Original Story:
http://www.foxsportshouston.com/03/27...
THE BACKYARD
BEST OF MAXIM
RELATED ARTICLES
While Kyle Lowry is out of the hospital and is recovering well from a serious bacterial infection, his status for the rest of the season is up in the air. Asked if he hoped to play again this year, Lowry said, "I don't know. Honestly, once the antibiotics system gets through we'll see. We'll go back and see what the doctor says." The Rockets have 17 games...
DIDN'T COUNT, BUT NICE
Marcus Camby made a one handed shot from the full length of the court but unfortunately got off the shot just a second too late for it to count. It is quite rare to see the full court shot made, so this should be making its way around highlight reels this morning, regardless if the three points ended up on the board or not. Click here to view the embedded video. var conf_37945...
Patrick Patterson scored a career-high 24 points and Earl Boykins hit four free throws for Houston late in overtime to lead the Rockets to a 113-106 win over the Sacramento Kings on Monday night. Boykins, who was signed by Houston earlier in the day, finished with 10 points in his first action of the season. Houston built a 107-102 lead in overtime behind four points from Chandler...
HOUSTON (AP) -- Patrick Patterson scored a career-high 24 points and Earl Boykins hit four free throws for Houston late in overtime to lead the Rockets to a 113-106 win over the Sacramento Kings on Monday night. Boykins, who was signed by Houston earlier in the day, finished with 10 points in his first action of the season. Houston built a 107-102 lead in overtime behind four points...
Nearing the end of the third quarter of the NBA affair between the Houston Rockets and the Sacramento Kings, Rockets center Marcus Camby threw up a prayer from full court. The shot went in but sadly for Camby, it happened after time had expired:
The Rockets signed Earl Boykins to a 10-day contract on Monday.
When trying to look cool goes wrong. The next quarter of the game he hurts his left wrist, and probably will be out for a while. The basketball deities do not like you celebrating full court shots that do not matter due to the game clock. [Follow me @TravisHouser]
So if Saturday's Mavs-at-Rockets game was the 'biggest ever,' how do we quantify tonight's Rockets-at-Mavs game? 'Bigger than big'? Plus, what Bill Bates has to do with Shawn Marion, 'The Custodian's' wit, why you'd better figure out who 'Katniss' is, and Luis Scola as a Picasso. Donuts!
I'll be covering the Houston Rockets – Dallas Mavericks game for Score Mobile. If you're stuck somewhere without a television or just want more stats and a chance to add your own thoughts on the game, you can join me as I provide play-by-play coverage of the game. You can follow my game coverage on your cell phone via Score Mobile or on your computer by using the application...
NBA News

Delivered to your inbox

You'll also receive Yardbarker's daily Top 10, featuring the best sports stories from around the web. Customize your newsletter to get articles on your favorite sports and teams. And the best part? It's free!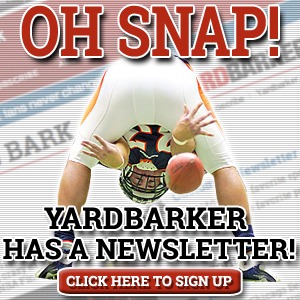 Latest Rumors
The Backyard

Today's Best Stuff

For Bloggers

Join the Yardbarker Network for more promotion, traffic, and money.

Company Info

Help

What is Yardbarker?

Yardbarker is the largest network of sports blogs and pro athlete blogs on the web. This site is the hub of the Yardbarker Network, where our editors and algorithms curate the best sports content from our network and beyond.