Found July 24, 2012 on With Leather:
If you're like me, you're absolutely tired of the drama and the all around piss poor PR mess created by both the Orlando Magic and Dwight Howard over the past 9 or 10 months. If you're unfamiliar with this mess that I speak of, allow me to give you a rundown:
Dwight Howard told the Orlando Magic that they either needed to surround him with players he had a part in selecting or he would ask to be traded.
The Magic tried and failed because nobody wanted their crappy contracts.
Dwight Howard asked to be traded.
The Magic asked Dwight what it would take to keep him, he said, "Fire Stan Van Gundy." (They later did.)
Dwight denied ever saying that.
Before the trade deadline, Dwight insisted that the Magic trade him, preferably to the New Jersey Nets.
The Magic reportedly told him he'd be going to the Lakers.
Dwight waived his opt-out option to remain with the Magic.
The season ended.
Everyone in the media made a whole bunch of sh*t up.
We know that the Magic have entertained multiple trade offers for Howard from teams like the Lakers, Houston Rockets, and Brooklyn Nets, among others, but nobody seems to know what players were actually involved, which teams were taking which bad contracts, and what draft picks were going where. Unless you ask Nets GM Billy King, who will probably say that the Magic are a bunch of doodie heads for not taking his awesome pupu platter that led the Nets to 21 wins last year.
Basically, everything that has been "reported" has come through the magical "sources" of ESPN beacons of integrity like Chris Broussard, local Orlando media hacks, and people just regurgitating what Howard's friends are telling them. So take it with another huge grain of salt when Broussard "reports" today that "sources" are telling him something new.
An executive who has had discussions with the Magic regarding Howard said Orlando only will trade the star center in a deal that is great for the franchise. The executive said this has been Orlando's stance for the past "week or so."

Another executive who has talked with Orlando said he thinks the Magic may start the season with Howard and wait until the February trade deadline to move him.

Each executive left the door open for posturing, noting that the Magic may be bluffing in hopes of coaxing better offers out of opposing teams. But the overriding sense is that Howard may not be moved for weeks, if not months.
And as an example of how horrendous and lazy the reporting around this whole ordeal has been, that Broussard story about the Magic waiting to make a trade has somehow been turned into "the Magic are going to try to keep him". I don't… I just… Huh?
Original Story:
http://feedproxy.google.com/~r/uproxx...
THE BACKYARD
BEST OF MAXIM
RELATED ARTICLES
GET ME OUTTA HERE
Dwight Howard reportedly met with an Orlando Magic executive and reiterated his stance that he wants to be traded.
We all want the Dwight Howard related insanity to be over. We're sick of reading about it and writing about it. Orlando Magic Rob Hennigan has once again failed in his quest to talk Howard into remaining on board as a happy camper. Please click the link below to read this feature.
Dwight Howard has rumored in so many deals that I lost count of them. These have been going on since last season's NBA trade deadline. So as right now Howard is still a member of the Orlando Magic and according to a new report is might stay that way. Chris Broussard from ESPN was told  the Magic may not trade Howard after all. The Orlando Magic have told rival executives...
Orlando has told other executives that they will only trade Dwight Howard in a deal that is great for the franchise.
TSHQ Earth-Shattering Groundbreaking Story: Dwight Howard and Magic GM Rob Hennigan met in LA tonight apparently to discuss something.  The question is, what did they discuss?  Lucky for you, we here at TSHQ are privy to information regarding happenings around the league (because we run ****), and have the inside scoop on what exactly transpired behind closed doors.  The following...
Just about everyone has expressed their exasperation over the Dwight Howard situation by now. The sports world is tired of hearing this story and everyone -- from players to fans to management -- want it over. Blame ESPN and the 24-hour news cycle, if you would like, for part of the over-coverage of this story with its reporting of "imminent deals" and backroom conversations...
By this time in July, NBA fans have typically already seen the biggest moves go down. The NBA's schedule makers are busy piecing together each team's 82-game schedule and talking with the TV networks about the games they want. That whole process and the next stage of the NBA's summer (perhaps the first stage, the one thing that should have been done back in December if...
The Rockets have been at the front of the offseason. Whether it was getting involved in Dwight Howard rumors or going after and signing Jeremy Lin, you cannot fault Daryl Morey for going out there and being active. Houston has been a middle of the Western Conference team for the better part of a decade. Always good enough to compete for a Playoff spot, never quite good enough to...
Herald   The pros and cons of Magic keeping Dwight Howard US beats Spain 100-78 in basketball exhibition Bulls allow Omer Asik to join Rockets Knicks sign Argentina point guard Pablo Prigioni Chalmers; NBA exhibition game canceled Brooklyn Nets sign F Tornike Shengelia Kirk Hinrich says 'stars aligned' for return to Bulls Globe   Keyon Dooling agrees to one-year deal...
NBA News

Delivered to your inbox

You'll also receive Yardbarker's daily Top 10, featuring the best sports stories from around the web. Customize your newsletter to get articles on your favorite sports and teams. And the best part? It's free!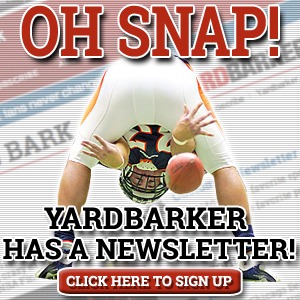 Latest Rumors
Best of Yardbarker

Today's Best Stuff

For Bloggers

Join the Yardbarker Network for more promotion, traffic, and money.

Company Info

Help

What is Yardbarker?

Yardbarker is the largest network of sports blogs and pro athlete blogs on the web. This site is the hub of the Yardbarker Network, where our editors and algorithms curate the best sports content from our network and beyond.