Found September 08, 2012 on Sports Blog Net:
[caption id="attachment_2232" align="alignleft" width="224"]
Celtics fans may not get to see THIS again, but Brian Scalabrine's retirement and migration to CSN means the return of a player whose popularity defies both his own talent and logic in general. (basketbawful.blogspot.com)[/caption] Bust out the
"Hope" signs
. Dust off those ironic posters you used to bring with you to the TD Garden. Heck, gas up the duck boats while you're at it.
Brian Scalabrine
is coming back to Boston... sort of. Fans hoping to see basketball's version of the red-headed stepchild once again jogging eagerly up and down the court in a green jersey for 13 minutes or so every night are in for some disappointment: according to multiple sources, Scal's retiring and
joining the CSN broadcast team
. The decision makes complete sense. As a player, Scalabrine's playing time dropped over eight minutes per game when he left Boston for Chicago. Averaging under five minutes a game, Scalabrine's numbers dropped below even one basket, rebound and assist per game. Basically, that means Scalabrine played a little defense for the Bulls every game, and that's all. And already 34, Scalabrine knew that numbers like that wouldn't get him anywhere near the $3.4 million salary (seriously?) he earned with the Celtics for the 2009-10 season, or even the $1.3 million (again, seriously?) he took home with the Bulls last season. Between diminished salary prospects and the demands of an again-81-game season, Scalabrine decided to hang up the sneakers for good. Taking the route of so many ex-athletes, Scalabrine took his talents to the broadcast booth, and what better place to do it than Boston? Few cities know and honor the totality of their sports history the way Boston does. We don't just know the greats, we know
everybody
. And because of that, second- or third-tier athletes who've played for Boston can always come back home. Scalabrine isn't the first non-star to become a Boston broadcaster or analyst. Ex-Red Sox David McCarty's gig with NESN has extended his longevity long past what a player as inconsequential as he rightfully deserves. The same could be said of ex-Celtic Dana Barros, though at least Barros' outreach work and youth camps gives him a little more street cred. Scal shares the same place in Celtics lore as Barros, and McCarty holds a parallel spot in the annals of Fenway. That place, for lack of a more nuanced description, is at the bottom. Arguing that Scalabrine meant little more to the Celtics than as a bench-warmer would be ludicrous. But who cares? It's Scal! If CSN can keep him around the only fan base that ever loved him, why shouldn't he come back? It's difficult to explain Scalabrine's popularity in Boston, especially without resorting to stereotypes. Though he wouldn't look out of place in a Southie diner, Scalabrine isn't actually a local: he was born in California (Long Beach), and he played college ball in California (USC). And just as Scal didn't grow up in Boston, he also didn't grow up as a Celtic, as
Paul Pierce
– another California ex-pat – did. He spent his first four years with the New Jersey Nets, averaging 3.9 points, 2.9 rebounds and 1.0 assists per game. Scalabrine never bested his New Jersey numbers in either Boston or Chicago, making his stint in Boston
at best
the swansong of an NBA player already on his way out of the league, with Chicago serving as the final nail in the coffin (think Shaquille O'Neal in Boston). So the image of Boston falling in love with a too-old star (again, think Shaq) doesn't work either. So Scalabrine's not local, he's not homegrown, and he's not an aging hero. Only his style of play remains to explain why fans would care enough about the "White Mamba" to
write him a song
. To be sure, Scal always played intelligently, determined to not waste the few minutes Doc Rivers ever gave him by badly screwing up. He did his homework, made few truly boneheaded mistakes, took very few shots and rarely personally killed the team. That's all well and good ... but Boston fans aren't stupid. They know the difference between playing smart and playing with heart. Pierce plays with heart.
Kevin Garnett
plays with heart.
Avery Bradley
plays with heart. All three's attitudes have made them rock stars on Causeway Street. The same can't be said of Scalabrine. He always looked like he cared, but that emotion and desperation, that willingness to
play with one arm
or after
getting stabbed
— Scal never had that. Scal's popularity may remain a mystery, but it also remains undeniable. So if he wants to come back to the one city that will always buy him a drink or give him a job, let's give him a chance. And hey, he
is
pretty funny...
Original Story:
http://mgoisman.sportsblognet.com/201...
THE BACKYARD
BEST OF MAXIM
RELATED ARTICLES
Brian Scalabrine, or the White Mamba as he's come to be known, has been forced into an early retirement.  No, not because of injury or illness, or anything nefarious.  Sadly, Scalabrine's time at the end of the bench seeems to have come to an untimely end because no team wanted him, literally.  But still, because of Scalabrine's success at... well, I'm...
I have been tasked with eulogizing Brian Scalabrine's career.  And I'll be honest, I'm not 100% sure how to properly do that.  I've have a unique perspective on it because I just happened to be paying attention to it at the critical swing of the pendulum from "nobody" to "hated because he's overpaid" to "could be mayor if he wants...
ESPN Chicago is reporting the Brian Scalabrine has retired and will take a color commentary position calling Boston Celtic's games next season. I personally love this idea! I can't wait to hear his old battle stories about how he spent many a night getting towels and Gatorade for KG and the guys. This should make the games all the more interesting. Glad to have ya back Scals...
White Mamba Brian Scalabrine announced yesterday that he was retiring from the NBA and returning to the television booth as color commentator for Celtics games.  In choosing to join the C's broadcast team, Scal turned down a seat beside Chicago Bulls head coach and old friend Tom Thibodeau as an assistant. While this decision had been hard for the White Mamba to make, the...
NBA News

Delivered to your inbox

You'll also receive Yardbarker's daily Top 10, featuring the best sports stories from around the web. Customize your newsletter to get articles on your favorite sports and teams. And the best part? It's free!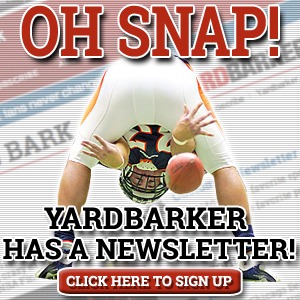 Latest Rumors
The Backyard

Today's Best Stuff

For Bloggers

Join the Yardbarker Network for more promotion, traffic, and money.

Company Info

Help

What is Yardbarker?

Yardbarker is the largest network of sports blogs and pro athlete blogs on the web. This site is the hub of the Yardbarker Network, where our editors and algorithms curate the best sports content from our network and beyond.