Found April 03, 2013 on BlackSportsOnline:
PLAYERS:
Chris Bosh
,
K. C. Thunder
,
Kenyon Martin
,
J.R. Smith
,
Paul George
TEAMS:
Miami Heat
,
Denver Nuggets
,
Memphis Grizzlies
,
Indiana Pacers
,
New York Knicks
,
Golden State Warriors
,
Houston Rockets
,
San Antonio Spurs
,
Los Angeles Clippers
,
Los Angeles Lakers
#1 Miami Heat 58-16: After the Bulls tackled their winning streak at 27 games, the Heat finally decided to rest some of their core players in preparation for the postseason. No LeBron, no Wade, No Chalmers…no problem, as Chris Bosh led the Heat into San Antonio and pulled off shorthanded victory in a game most of us had circled as a defining (for both teams) situation. #2 San Antonio Spurs 55-19: Suddenly, the Spurs are 2-3 over their last five games, including that home loss to Miami. With Ginobili out 3-4 weeks due to a sore hamstring, the Spurs have not only lost one of their more battle-tested playmakers for (at least) the start of the postseason, but they've also lost that 3-game lead for the top seed out West. Thursday's visit to OKC could either close that door or leave that race for the top seed wide open over the final 6 games. #3 Denver Nuggets 50-24: Even though their 15-game streak was broken last week, the Nuggets are still playing some of the best basketball in the league. Having leapfrogged and placed distance between themselves and the Clippers, the Nuggets have a great shot at locking down the 3-seed. With five of their last eight games coming in Denver, the Nuggets simply need to take care of business. #4 OKC Thunder 54-20: After a slight mid-season lull, the Thunder are on a 15-5 run as they close out the season. They've pulled to within a game of the Spurs for the top seed, which makes Thursday's meeting with San Antonio that much more significant. San Antonio is 2-1 vs OKC this year, so a Thunder victory could not only place them into a virtual tie, but it would also permit OKC to avoid losing the head-to-head tie-breaker. #5 Memphis Grizzlies 50-24: Following a 3-5 record over their previous eight, the Grizzlies have rallied to win their last three games. Even though they're the lower seed, they would actually own the home court advantage over the Clippers if the playoffs were to start today, due to their superior W/L record. That race won't be easy, as unlike the case with Denver, Memphis has five of their remaining eight games on the road. #6 Indiana Pacers 48-27: The Pacers have returned to playing the hard-nosed and consistent style of basketball that had many people calling them Miami's biggest threat following the All-Star break. Trouble is, they're now entrenched in a battle for the 2-seed with the suddenly resurgent Knicks. If the can take care of their business this week, that April 14th trip to Madison Square Garden could end up being for that position. #7 New York Knicks 47-26: Amazing what simply getting healthy can do for you. Chandler's return, coupled with the added interior toughness Kenyon Martin has added permit Carmelo to simply focus on what he does best. That 50 he placed on the Heat, shorthanded or not, was impressive. While it may ultimately turn out to be fool's gold, part of me still feels like this team could also give Miami a run for their money in a series. Melo, J.R. Smith, and the rest of the shooters would have to stay hot for an entire series…but stranger things have happened. #8 Los Angeles Clippers 49-26: Sooner or later, the Clippers will win that 50th game to set a new franchise record. You'd think it would come Wednesday night in a home game vs the Suns, but wouldn't it be poetic justice if they somehow needed to beat the cross-hallway rival Los Angeles Lakers (Sunday) in order to accomplish the feat? With seven games remaining, they'll eventually reach that total, but more importantly than anything else, the Clippers need to win in order to keep pace and catch the Grizzlies. #9 Golden State Warriors 42-22: 9-5 over their past 14 games, the Warriors are trying to hold off the surging Rockets, and hold on to that 6th seed out West. Five of their remaining eight games are at home, and four of them are against teams currently in the playoff picture. While Steph Curry is not (and should not be) in the MVP race, I'd actually place him right alongside Indiana's Paul George in the discussion for Most Improved Player. #10 Houston Rockets 41-33: With the Lakers and Jazz battling it out for the final playoff spot, the Rockets have gone about their business and probably solidified at least the 7th seed in the Western Conference playoff race. Even though they finish the year with three home games and five on the road, outside of a few (@DEN, vs. MEM, @LAL) all of them are favorable match-ups.
Original Story:
http://blacksportsonline.com/home/201...
THE BACKYARD
BEST OF MAXIM
RELATED ARTICLES
BURGLARIZED BOSH
Heat star Chris Bosh's home reportedly was burglarized of more than $340,000 in items on Wednesday while he was out celebrating his birthday.
Chris Bosh had to deal with some very unfortunate circumstances when he returned home from his 29th birthday party early Thursday morning, which has led to the greatness of the actual party being swept under the rug. Bosh's good mood probably disappeared when he got to his house and realized more than $340,000 worth of his stuff had been stolen, but the party itself sounds like...
MIAMI (AP) -- Thieves made off with an estimated 340,000 in jewelry from Miami Heat star Chris Bosh's home while he was out celebrating his birthday. Miami Beach police say Bosh called them about 12:30 a.m. Thursday after he and his wife returned from his well-publicized party at South Beach's Bamboo nightclub. The couple noticed a jewelry drawer was open and numerous watches...
Not many details have surfaced yet, but according to NBC 6 in South Florida, Miami Heat star Chris Bosh had his house robbed for around $340K in total. Apparently there were watches, handbags and rings pilfered which accounted for the large sum of goods. #BREAKING: Miami Beach Police said Chris Bosh's house was robbed and $340K in watches, handbags rings were stolen — NBC 6 South...
Tweet Miami Heat forward Chris Bosh's Miami beach home was reportedly robbed Wednesday night, with hundreds of thousands worth of property stolen in the process, per a report from NBC 6 in South Florida: The home of Miami Heat player Chris Bosh was robbed and $340,000 worth of watches, rings and purses were taken, Miami [...]
((ht: sunsentinel.com)) No, really, he was actually robbed by people yet undetermined. It appears that Mr. Bosh and his wife returned home early Thursday morning from his "Birthday Bash" at Miami Beach's Bamboo Club to find that quite a few valuables were taken from his home. According to reports, the list includes purses, jewelry, cash and watches. Value estimate...
MAKES SENSE
The fact that the Knicks beat an undermanned Heat team doesn't change Chris Bosh's belief that his squad could handle them in a playoff series.
Rarely, am I at a lost for words, but I am having a hard time coming up with words to describe the photo below. Chris Bosh's birthday party included, live camels inside the club and a Moroccan theme (check out the photos here), so that sort of explains the cake. Sort of………… But, not really. While camels were walking around, LeBron was dress as the Iron Sheik and Ne-Yo...
During an NBA game, acts of futility often don't register beyond simple thoughts like "wow, Player X is having a bad night" or "hey, Josh Smith, stop shooting long twos". Even historically awful performances, like the night I watched Chris Bosh shoot 1-18 at the United Center, can get lost in the moment (my excuse: I was surrounded by drunk hooligans up in the nosebleeds...
Chris Bosh celebrated his 29th birthday Wednesday night in Miami with a Moroccan themed birthday party – complete with live camels- at Bamboo. Of course your favorite members of the Miami Heat were on hand including LeBron James, Dwyane Wade, Udonis Haslem, Juwan Howard and others. Rapper Kendrick Lamar and comedian Garry Owen were on hand also. And since it was a family affair...
It was a disappointing loss when the San Antonio Spurs fell to the extremely short handed Miami Heat from a Chris Bosh game winner. The Spurs and their fans felt disappointment with their unmotivated play and careless mistakes. They were slow to the ball and just played like they had the game won from the start. The Miami Heat, however, had a different mindset coming into...
Heading into the NBA playoffs, LeBron James, Dwyane Wade and Chris Bosh simply look unbeatable. They blowout teams, make monstrous second-half comebacks, and make the rest of the league resemble a JV squad. The honest truth is that the Heat are going to win this year's NBA title and there is nothing any other team can do about it—including the Thunder or Spurs.... Read more
NBA News

Delivered to your inbox

You'll also receive Yardbarker's daily Top 10, featuring the best sports stories from around the web. Customize your newsletter to get articles on your favorite sports and teams. And the best part? It's free!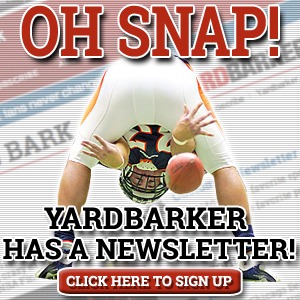 Latest Rumors
The Backyard

Today's Best Stuff

For Bloggers

Join the Yardbarker Network for more promotion, traffic, and money.

Company Info

Help

What is Yardbarker?

Yardbarker is the largest network of sports blogs and pro athlete blogs on the web. This site is the hub of the Yardbarker Network, where our editors and algorithms curate the best sports content from our network and beyond.