Found October 26, 2013 on Fox Sports Wisconsin:
ST. FRANCIS, Wis. -- Having a sick child takes a toll on a parent, something Milwaukee Bucks center Larry Sanders became very familiar with over the past few days. Sanders' young son, Jasiah, came down with an illness requiring him to be admitted into a local hospital for two days. Sanders was able to bring his son home about an hour before Friday's exhibition game against Toronto. "He started getting discoloration (on a portion of his body), things like that," Sanders said after Saturday's practice at the Cousins Center. "It started to flare up, and we just wanted to get our hands on it before it becomes a problem. He's back home now and running around." By his son's side in the hospital for the past few days, Sanders tried to put a smile on his face for his child, but deep down the scare of the situation took a lot out of him emotionally. "It's tough, but I remember times being in the hospital and having comfort of my parents there," Sanders said. "I just try to make it as enjoyable as I can for him. It takes a lot of effort. I was so uncomfortable, but I couldn't let him see that. I had to show him a good time and make him feel good." Bucks coach Larry Drew has been there as a father. Knowing how draining what Sanders was going through can be, Drew decided to give his starting center the night off on Friday. Sanders did arrive in a suit just before Friday's game was canceled due to an unsafe floor. "He just has not been getting any rest," Drew said. "I thought it would be better (to sit him out). I've been in that situation before and I know how that happens when you have a kid that's sick. You are up with him all night. There was no need to try to push him last night." Injuries keep coming: Teams aren't supposed to be as banged up as the Bucks are heading into the regular season. Milwaukee practiced without point guard Brandon Knight on Saturday due to a sore left hamstring, while shooting guard Gary Neal (illness) and point guard Luke Ridnour (back, elbow) were limited. Small forward Caron Butler was going to miss Friday's preseason game with a sprained left ankle, but he returned to participate in some of Saturday's practice. Because of all the injuries, Drew decided to keep Saturday's practice short and will give the team off Sunday before practicing Monday and Tuesday before the season opener Wednesday in New York. "We wanted to still come in here and get something done, get a little sweat," Drew said. "We made it more of a mental day than anything. We tried to avoid the banging. Our focus right now is to get bodies back." Knight has missed the last two preseason games with the sore left hamstring, but he's confident he'll be back and ready to go for the opener. "Resting it the past couple of games has helped it to calm down," Knight said. "I'm on the right track so far. If it was the regular season, I would have still played with it. It's not a big deal, but if you can have time to recover and try to be better prepared for the regular season then why not do that?" Ersan Ilyasova continued to make progress in his recovery from a sprained right ankle, as he ran in a straight line and did some shooting off the dribble Saturday. Estimating his ankle at 80 percent, Ilyasova said he's not quite comfortable to return to practice until he can test the ankle by moving laterally, but he's happy with how things are progressing. "It's always day by day," Ilyasova said. "I did a lot of things today and we have to see what it's going to be like tomorrow, soreness wise. "It's different when you play on a court because there's a lot of different ways to move. There's a lot of pushing up and down. Hopefully next week I'll start practicing with the team." Drew is approaching things as if Ilyasova won't play against the Knicks on Wednesday, but he's hopeful to have his starting power forward back in the near future. Knight, Butler, Neal and Ridnour all should be ready to play when the season starts, but they all will benefit from having three days before having to play a game. "I've never seen anything like this before, as far as guys being so banged up," Drew said. "One of the last things you want to do is start a regular season with nagging injuries. But it's the NBA. That's all a part of it, and hopefully you have enough depth to be able to overcome it. I would like to feel we do, but even our reserve guys are banged up. "We'll just try to have these guys mend and have as many bodies as we can Wednesday to tip it off at Madison Square Garden." Follow Andrew Gruman on Twitter
Original Story:
http://www.foxsportswisconsin.com/nba...
THE BACKYARD
BEST OF MAXIM
RELATED ARTICLES
Tanking a season is almost like common sense, right?  If you're stuck and have nowhere to go, you start over in hopes of drafting a franchise player and going from there.  Well, I have news for you: the Milwaukee Bucks actually do not believe in tanking.  Good for them.  I like that spirit.  The following is a 2013-14 season preview for the Milwaukee Bucks: Guards (B): Brandon...
The Milwaukee Bucks trimmed their roster down to themaximum of 15 players Saturday, requesting waivers on guard Trey McKinney-Jonesand forwards Olek Czyz and Stephen Graham. Hit hard by numerous injuries in the preseason, Grahamand Czyz had to play more than expected in early exhibition games. Both gavethe Bucks solid minutes, while Graham mostly played out of position at powerforward...
MILWAUKEE -- Both the Milwaukee Bucks and Toronto Raptors will be shorthanded for their preseason finale Friday night at the BMO Harris Bradley Center. The Bucks will be without starting point guard Brandon Knight for the second straight game due to a sore left hamstring, while starting small forward Caron Butler will sit out Friday with a left ankle sprain. Bucks coach Larry Drew...
With the Milwaukee Bucks' season about to arrive on October 30th versus the New York Knicks, here is the offseason primer to what you may have missed during the summer, including some new faces and returning ones as well. Additions: Giannis Antetokounmpo: The Greek freak was picked 15th overall and has drawn comparisons to Kevin Durant, with his thin but long frame.  He is coming...
The Milwaukee Bucks have requested waivers on guard Trey McKinney Jones and forwards Olek Czyz and Stephen Graham. Graham (6-6, 215) appeared in five preseason games and averaged 5.8 points and 1.4 rebounds per game. Czyz (6-7, 240) played in four contests during the preseason and averaged 4.8 points and 1.0 rebound, while McKinney Jones (6-5, 216) played in two games and averaged...
((HT: NBA)) The new floor for the Milwaukee Bucks might have too much wax on it or something... The Bucks-Raptors game was cancelled after a bunch of players hit the floor in a negative, non-fouling manner... Here's the look at the slipperiness... Head ref Danny Crawford said he and the other officials determined the floor was unplayable. "We kept making eye...
Watch as Bucks rookie Giannis Anteokounmpo teaches teammate Zaza Pachulia and the city of Milwaukee how to Dougie. Break it down, young fella!
The Milwaukee Bucks listen to Drake and touch their faces in creepy ways in this "starBucks Drake Hands" parody video.
Friday night's Milwaukee Bucks preseason game at the BMO Harris Bradley Center was called off in the middle of the first quarter due to safety concerns because the court surface was proving to be too slippery. The game against the Toronto Raptors was only the second game held on the Bucks' new home court, which was unveiled with much fanfare last month. Unfortunately...
Officials called off a preseason game between the Milwaukee Bucks and Toronto Raptors because of concerns about the condition of the floor on Friday night. Officials stopped the game with 5:58 left in the first quarter after several players slipped on the court surface in the first few minutes of the game. After about 20 minutes' worth of discussion, an announcement was made...
The Milwaukee Bucks pulled off a 14-9 preseason win over the Toronto Raptors Friday night after the game was called off midway through the first quarter. With 5:58 remaining, officials decided to stop the game at the BMO Harris Bradley Center in Milwaukee after several players slipped on the slick court surface. via The Associated Press The post Bucks Beat Raptors 14-9 After Game...
I can say with full emphasis that this shot by Milwaukee Bucks center ZaZa Pachulia is the best shot of the NBA preseason. It happened in the first quarter of the Bucks game against the Toronto Raptors and check out ZaZa over-the-head no-look shot that somehow found the bottom of the net: *** ZaZa image courtesy of Getty Images
Bucks News

Delivered to your inbox

You'll also receive Yardbarker's daily Top 10, featuring the best sports stories from around the web. Customize your newsletter to get articles on your favorite sports and teams. And the best part? It's free!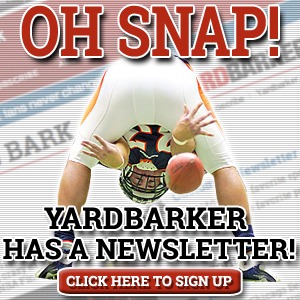 Latest Rumors
The Backyard

Today's Best Stuff

For Bloggers

Join the Yardbarker Network for more promotion, traffic, and money.

Company Info

Help

What is Yardbarker?

Yardbarker is the largest network of sports blogs and pro athlete blogs on the web. This site is the hub of the Yardbarker Network, where our editors and algorithms curate the best sports content from our network and beyond.