Found February 26, 2013 on Fox Sports Southwest:
DALLAS What will it take for the Mavericks to get it going? Apparently not even a once-in-a-decade performance by their leader will do it. The Mavericks missed eight of their final nine shots, were outscored 14-4 down the stretch, wasted a manly Dirk Nowitzki effort his first 2020 game in almost 10 years and lost 95-90 to Bucks in Tuesday's home game. "For us to win that game, I've got to be perfect, and I wasn't down the stretch,' said Dirk, which speaks volumes. Some thought the Dallas Mavericks' Tuesday night game would be a showcase for the Bucks' Brandon Jennings, who during the morning shootaround said some lovely things about maybe someday being a Maverick. "Who wouldn't want to play in an environment like this every night?" said Jennings, a restricted free agent this summer. "You've got an owner who's so into his team and everything like that. Every time you see the Mavs, you see him cheering or going crazy. They...
Original Story:
http://www.foxsportssouthwest.com/02/...
THE BACKYARD
BEST OF MAXIM
RELATED ARTICLES
Dirk Nowitzki understands his career is slowly drawing to a close, but he still has something to contribute.  He wants to contribute for the Dallas Mavericks.  Nowitzki thinks that once his current contract is up, he'll sign for another couple years in Dallas.According to Tim MacMahon of ESPN Dallas, Nowitzki thinks he will be with the Mavericks through at least the 2015-16...
Mark Cuban is talking about another NBA player that is not on his roster. At least this time there is an obvious reason for him to be snarky.  NBA living legend Derek Fisher debuted with Cuban's Dallas Mavericks after Thanksgiving, played less than 10 games, encountered a knee issue, asked for a release to return to Los Angeles to deal with both his knee and family issues and...
The Dallas Mavericks released a video today that spoofs Hyundai's Super Bowl ad for their new 2013 Santa Fe, and it makes no sense. In the original spot for Hyundai, a group of bullies steal a football from a kid when he was tossing it to himself and tell him to "come back when you have a team." The kid then assembles his seven-man team of 'super-kids' and returns to play...
The Mavericks should only be upset with themselves. It isn't like Fisher hasn't used the "I want to spend time with my family please cut me" card in the past, only to show up later and sign with a contending team. The Mavericks were duped, but Fisher didn't do anything illegal, so the Mavs just have to cry a river. Owner Mark Cuban did not reply to multiple emails on Monday...
Mark Cuban thought he was pretty funny over the weekend, when he suggested that the Lakers should amnesty Kobe Bryant in the off-season to take his $30 million salary off their books. The NBA didn't find it funny, and CBSSports.com is reporting that the league is investigating those comments. The NBA is debating whether to fine Cuban for saying Friday that the Lakers should consider...
We all know about how Bill Russell is one of the greatest winners in all of sports with 11 championships during his 13 year career. Those 11 rings ties Henri Richard in the NHL for the most championships won by a single player in any North American sport. We also know how much of an undercover bad ass he was off the court considering the fact that he used to take Wilt Chamberlain...
A few days ago, Mavs owner Mark Cuban thought he was funny when he suggested that the Lakers should amnesty Kobe Bryant at the end of this season to create cap flexibility for themselves.  Bryant and the Lakers did not find the comments amusing, and Bryant himself let Cuban know just how he felt by dropping 38-12-7 on the Mavericks yesterday in a Lakers win. After the game Kobe...
After playing in 9 games for the Mavs in December, Derek Fisher is back for the final push of the regular season and a playoff run with the OKC Thunder. The Dallas front office is reportedly 'agitated' that the PG did not contact them at all through this process. According to NBA.com: Owner Mark Cuban did not reply to multiple emails on Monday, but one league source said the...
Mark Cuban insists comments he made last week about the Lakers considering use of their amnesty clause on Kobe Bryant were hypothetical.
After his most dominant performance of a frustrating season, Dirk Nowitzki declared he has no doubt he'll play for the Dallas Mavericks at least through the 2015-16 season., http://juicedsportsblog.com/sports-news/news/dirk-no-doubt-ill-be-with-mavs-thru-201516
You heard the old adage, "Never wake a sleeping giant," right? Well apparently it fell on deaf ears recently as Mavericks owner Mark Cuban suggested the Lakers should amnesty Kobe Bryant next season thus saving the team some money and getting some luxury tax relief. Well, that is all the Bryant needed to hear. Cuban poked the proverbial bear in his cage and Kobe dropped...
Mark Cuban gets in trouble for saying all kinds of things, so it wasn't surprising when his suggestion that a conference rival get rid of its best player was met with squawks. Kobe Bryant going off for 38 points and then tweeting "Amnesty THAT" was just the beginning, though. The NBA is now looking into fining Cuban for his comments, according to The Los Angeles Times. Cuban...
NBA News

Delivered to your inbox

You'll also receive Yardbarker's daily Top 10, featuring the best sports stories from around the web. Customize your newsletter to get articles on your favorite sports and teams. And the best part? It's free!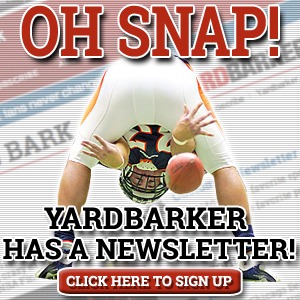 Latest Rumors
Best of Yardbarker

Today's Best Stuff

For Bloggers

Join the Yardbarker Network for more promotion, traffic, and money.

Company Info

Help

What is Yardbarker?

Yardbarker is the largest network of sports blogs and pro athlete blogs on the web. This site is the hub of the Yardbarker Network, where our editors and algorithms curate the best sports content from our network and beyond.