Found November 05, 2012 on NBA Injury News:
No one on the face of the planet truly believes the Chicago Bulls are better without Derrick Rose.  If someone makes that suggestion, they are either delusional or flat-out lying.  However, that doesn't mean the team can't buy into the idea that they can be good without him.  In fact, coach Tom Thibodeau is has been preaching an overall team effort since the injury, and it seems the team is buying in. Rose is not a selfish player, and the idea that a newly-founded team concept should reflect poorly on Rose is ridiculous.  When Rose is on the court, he is often the best player out there - either side.  So, the Bulls go to him when they need points.  Without him, the team as a whole has to contribute.  The team has to move as one and become a replacement Rose.  And that's what they are trying to do. Joe Cowely of the Chicago Sun-Times says Coach Thibodeau has made the team's weakness of being without Rose seem like an opportunity for strength.  And the truth is, it really is an opportunity.  Take a look at the Bulls roster.  They have talented players.  They have the type of players that, when playing together as one, can play with any team in the NBA."In this league, in order to be a great team, you've got to have production from all the guys on the floor,'' guard Richard Hamilton said. ''You can't just have one guy do the bulk of the scoring because good teams key on that, and — later in the playoffs — it's hard to win like that."Unfortunately, the Bulls didn't get a chance to test this theory in full last season.  Derrick Rose went down with his torn ACL in the playoffs - at a time when the Bulls seemed exceptionally unbeatable.  And they made their run to that point with Rose as their main scorer.  But Hamilton's point is well made and should be well taken by the team.  To win, they must win together.  To live without Rose, they must all perform at their best, all the time.What is Chicago trying to replace?  They are trying to replace 21.0 points per game, 6.7 assists per game, and leadership.  Who do the Bulls go to for their leadership? Playing as a team and getting everyone to contribute to their fullest has worked so far for the Bulls.  They are 2-1 on this young season and have the third-highest point differential.  How good they can truly be without Rose is up to them.  The Bulls can be competitive, or they can fade into obscurity without their star.  The choice has to be made in the locker room, on the court, and during the game.  And make no mistake, it is a choice. Follow @hoopsinjurynews!function(d,s,id){var js,fjs=d.getElementsByTagName(s)[0];if(!d.getElementById(id)){js=d.createElement(s);js.id=id;js.src="http://www.nbainjurynews.com//platform.twitter.com/widgets.js";fjs.parentNode.insertBefore(js,fjs);}}(document,"script","twitter-wjs"); var _gaq = _gaq || []; _gaq.push(['_setAccount', 'UA-34100676-1']); _gaq.push(['_trackPageview']); (function() { var ga = document.createElement('script'); ga.type = 'text/javascript'; ga.async = true; ga.src = ('https:' == document.location.protocol ? 'https://ssl' : 'http://www') + '.google-analytics.com/ga.js'; var s = document.getElementsByTagName('script')[0]; s.parentNode.insertBefore(ga, s); })();
Original Story:
http://www.nbainjurynews.com/2012/11/...
THE BACKYARD
BEST OF MAXIM
RELATED ARTICLES
PROUD PAPA
Congratulations are in order for Bulls guard Derrick Rose and his girlfriend Mieka Riese. Their son PJ was born last month and Derrick posted these adorable photos of baby boy to Twitter.   Shout out to my loyal reader Ms. Mai. She asked why I hadn't posted about his birth yet. This is why, [...]
When he's not busy rehabbing his leg, Derrick Rose of the Chicago Bulls is taking care of his newborn baby son, Mieka Reese. He tweeted out these pics today. Paul M. Banks is CEO of The Sports Bank.net, an official Google News site generating millions of unique visitors. He's also a regular contributor to Chicago Now, Walter Football.com, Yardbarker, and Fox Sports A Fulbright...
The Chicago Bulls and Luol Deng provided Thanksgiving dinner to more than 700 guests at the Pacific Garden Mission on Sunday. Deng and Bulls representatives including Michael and Nancy Reinsdorf, Gar and Leslie Forman, Randy Brown, Bill Wennington, Chuck Swirsky, Sidney Green, Carolyn Paxson, Benny the Bull as well as Bulls and Levy Restaurants front office staffs were on hand to...
Let this be a note to all NBA fans, it's not the greatest idea to heckle a player not having a good game unless you want them to go on a scoring spree.During Friday's Cavs/Bulls affair, a Cavaliers fan started heckling Bulls guard Richard Hamilton in the third quarter and as you may figure, Richard heard him and took issue with it:"In the third quarter, I decided to...
Kyrylo Fesenko is continuing to work out in Colorado to get in better shape while monitoring which potential situations or injuries pop up as the season continues.
Longtime radio announcer Jim Durham died this last weekend outside of Houston in Tomebell, Texas… no cause of death has been announced. He was just 65. Durham was the play by play announcer for the Chicago Bulls for [...]
Anthony Davis sat out Saturday's game against the Chicago Bulls and is unlikely to play Wednesday against the Philadelphia 76ers too. He's continuing to be evaluated and first must pass the newly implemented concussion tests if he wants to return to the court.
CHICAGO -- New Orleans may not have a reputation for being a hard-nosed, physical team. But the Hornets went into Chicago on Saturday and beat one of the league's better defensive squads at its own game. New Orleans limited the Bulls to 33 percent shooting and pulled off a surprising 89-82 victory over Chicago at the United Center. "We don't get a lot of credit...
President Obama has won at least one important matchup today, winning a pickup basketball game on the morning of Election Day. The President played with former Chicago Bulls players Scottie Pippen and Randy Brown, winning by 20-points. The pickup game has become an Election Day tradition, which started during the 2007 Iowa Caucus with a then underdog Obama. This time playing with...
On a night when the nation turns its attention to the presidential election, the eyes of some NBA fans turned their attention to the Windy City. The surprising 2-0 Orlando Magic traveled to Chicago to face the 2-1 Chicago Bulls, minus Derrick Rose. Orlando, lacking a major star on the roster has relied heavily on team work and streaky shooting. Chicago, missing Derrick Rose until...
Bulls News

Delivered to your inbox

You'll also receive Yardbarker's daily Top 10, featuring the best sports stories from around the web. Customize your newsletter to get articles on your favorite sports and teams. And the best part? It's free!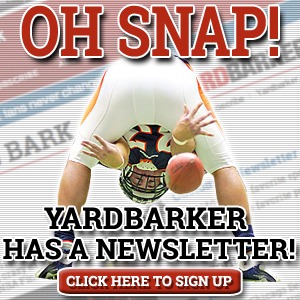 Latest Rumors
The Backyard

Today's Best Stuff

For Bloggers

Join the Yardbarker Network for more promotion, traffic, and money.

Company Info

Help

What is Yardbarker?

Yardbarker is the largest network of sports blogs and pro athlete blogs on the web. This site is the hub of the Yardbarker Network, where our editors and algorithms curate the best sports content from our network and beyond.