Found April 07, 2013 on isportsweb.com:
With the Dallas Mavericks season hanging in the balance, they only have 6 games left to try and make it to the playoffs for a 13 consecutive year, but without winning the majority of their games left and getting some help from the Lakers and Jazz ahead of them in the standings, their chances are very slim in getting over that hump, but don't completely count them out yet. Over the last several  games, the Mavs have shown signs of a team that really wants to get there, but then they have also shown signs of a very tired team and just want to end the season and get some rest; at least that's what I have seen. I am a very hard rock Mavs fan, but I also have to be honest with myself and others as to the chances that the Mavericks have in making that final push for one of those last spots. Dallas is still 2.5 games behind the Lakers and Jazz for the 8th spot with both of them holding the tie-breaker scenarios. Tonight the Mavs face the Portland Trailblazers in Portland where Dalls suffered a heart-breaking loss to one of their former coaches, Dewayne Casey; but they also got a much needed win against the Blazers at home in February so these last games are up to Dallas in what they want to do and how they want to finish, either strong or just getting through with the season. This season, we have seen a see-saw of events in games and capping it off with Dirk moving up another notch in the career scoring stat and is now 17th in the history of scoring in the NBA, now passing Patrick Ewing. Now Dirk doesn't worry about personal stats, he just wants to win and he needs to will his team to do so just like the game against the Clippers and most recently against the Bulls, both are fashionable wins. But Dallas just needs to hunker down and win the rest of their games if they have any hopes of getting to the next round, or we'll be sitting home watching the games. From the beginning of the season people have written the Mavs off since Dirk was sidelined with recouping from his knee surgery, but if he plays like he did in those 2 games, then they'll be fighting until the final whistle is blown and the fat lady has sung, and I'm not singing yet! Dallas has proven that they can beat the big dogs but they also have proven that they can wither like a houseplant in the summertime in the desert without water. So where do they go from here? Well, we'll just have to wait and watch and see what happens starting tonight in Portland before they go home and face Phoenix and get their revenge against Denver at home next week. Well, to keep everything in mind, it starts tonight and it's a matter of finding out which Maverick team shows up, the one that wants to get into the playoffs, or the one that will whine and be watching from home? The rest is up to them. So I guess the question is, "fear the beard or just shave"? And with that I will bid you an early goodbye and say good luck and let's go Mavs!
Original Story:
http://feedproxy.google.com/~r/isport...
THE BACKYARD
BEST OF MAXIM
RELATED ARTICLES
Coach Rick Carlisle playfully seemed prepared to cite HIPAA laws in refusing to detail an injury sustained by Dirk Nowitzki in Sunday's 96-91 win at Portland. 'There are laws against me talking about it to you bleepers,' Rick told the media. But Dirk himself revealed he's got an ankle injury but pledged to 'be fine' for the Mavs' next game. The Dallas...
Dirk Nowitzki will be a free agent after next season, bringing his future with the Mavericks into question.
  This isn't the first time Dirk Nowitzki has aired his grievances about his surrounding cast in Dallas, and if the organization fails to improve in the off-season it won't be the last. Nowitzki, is about to complete his 15th season in the NBA, and realizes that he won't be able to maintain his All-Star level production forever, so its important to him that the team is in...
Brittney Griner is ready to take Mark Cuban up on his offer to draft her. She says she'd be open to an NBA tryout after the WNBA season. The two-time AP player of the year said Saturday she first heard of Cuban's comments from friends. She jumped on Twitter to start reading up on what the Mavericks owner said. The 6-foot-8 Baylor star is well aware of the challenges of...
"Whew!"; I'll bet that's what a lot of the Dallas Mavericks organization is saying today. A quote by Branden Wright in reference to the fact that Portland had lost 7 of it last games and would be throwing everything at Dallas including the kitchen sink and they did and Dallas barely escaped with a victory. No matter what the Blazers have done against any other team, they...
FOX Sports Southwest announced it has made arrangements with KTXA (TXA 21) and the Dallas Mavericks to move two Mavericks telecasts on Sunday, April 14 at New Orleans (5:00 p.m.) and Wednesday, April 17 vs. the Hornets at the American Airlines Center (7:00 p.m.) to TXA 21 in Dallas-Fort Worth. The games originally were on FOX Sports Southwest's schedule. TXA 21's coverage...
"I have to go to the army." — Dirk Nowitzki, age 18 Its the gift and the curse of living in the day and age where Youtube, camera phones and TMZ exist. Its a gift because we get to see so much, so fast by just stroking a few keys on the keyboard or just [...]The post The Day An 18-Year Old Dirk Nowitzki Gave Scottie Pippen 52 Points, As Told By Charles Barkley appeared first...
PORTLAND, Ore. (AP) -- Those beards aren't coming off yet. Chris Kaman scored a season-high 26 points and the unshaven Dallas Mavericks boosted their faint playoff hopes with a 96-91 victory over the slumping Portland Trail Blazers on Sunday night. Kaman added 11 rebounds for the Mavericks, who were 2 games back of Utah for the eighth and final spot in the Western Conference...
The Dallas Mavericks are well aware time is running out if they want to avoid missing the playoffs for the first time since 2000, but they seemingly have a favorable schedule down the stretch. They conclude a four-game road trip Sunday night versus the Portland Trail Blazers, who have lost seven straight and are guaranteed to miss the postseason for a second consecutive year. The...
PORTLAND, Ore. (AP) — Chris Kaman scored a season-high 26 points and the Dallas Mavericks boosted their faint playoff hopes with a 96-91 victory over the slumping Portland Trail Blazers on Sunday night., http://juicedsportsblog.com/sports-news/news/mavericks-hold-on-for-9691-win-over-portland-yahoo-sports
Forbes usually gives us lists of who the most wealthy athlete is. What team is has the most value, etc. This time they've put together a list that I'm sure most NBA athletes have no desire to be apart of, "The most overpaid athletes in the NBA." According to them, scoring in the NBA is an overvalued commodity. Yes, I realize that the object of the game is to outscore your...
Mavericks News

Delivered to your inbox

You'll also receive Yardbarker's daily Top 10, featuring the best sports stories from around the web. Customize your newsletter to get articles on your favorite sports and teams. And the best part? It's free!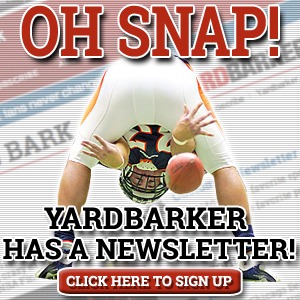 Latest Rumors
Best of Yardbarker

Today's Best Stuff

For Bloggers

Join the Yardbarker Network for more promotion, traffic, and money.

Company Info

Help

What is Yardbarker?

Yardbarker is the largest network of sports blogs and pro athlete blogs on the web. This site is the hub of the Yardbarker Network, where our editors and algorithms curate the best sports content from our network and beyond.