Found March 20, 2013 on Fox Sports Southwest:
OKLAHOMA CITY Even an Oklahoma City Thunder loss to the Denver Nuggets couldn't keep Tarah Warren from smiling Tuesday night. If you were at Chesapeake Arena or were watching on NBA TV or the local FOX affiliate in Oklahoma City, you probably saw Warren dancing and smiling. Enjoying the game And showing everyone exactly what she's facing. She was just Tarah, sitting a few rows behind the Oklahoma City bench, wearing a "Fight like a Girl" T-Shirt and embracing the Thunder like so many others in Oklahoma City have done. Only with Tarah, it was for a different reason. You see, Tarah has an advanced stage of ovarian cancer, has gone through a pair of surgeries and has undergone aggressive chemotherapy since January. The cancer has metastasized into her stomach and bowels. But Tuesday she was "Thundering Up," as they say in Oklahoma City, the common term used for cheering on Kevin Durant, Russell Westbrook and the rest of the team. And she wanted everyone to know about it. "I was so excited to be here," said Warren, who is 29 years old, married and lives in Oklahoma City. "I've been a fan for a long time, but I haven't been able to get out to go to a game for a long time. Cancer gives you a different reality. You're thankful for the littlest things, like the trees, a nice day or even for a basketball game." So Tarah let everyone know about it, holding a sign that said: "Tomorrow I have chemo but tonight I am Thundering Up!" Warren has a Facebook page called Teal for Tarah and a blog that can be seen at tenaciouslyteal.blogspot.com, but on Tuesday she was in front of everyone at the arena to show how she feels and what she looks like. "I'm very positive," Tarah said about her outlook. "My body is fading, but my soul and my spirit is up. It's counterintuitive to how I feel. God has helped me so much." That's why she showed up for the first time in front of a large group, showing off her lack of hair and showing an overflow of spirit. "My mom had breast cancer, and she let her hair fall out," Tarah said. "I couldn't do that. I wanted to face it. This was my way of dealing with it." That's why Tarah writes and wears a teal bracelet. Get the message out there. "That writing allows me to express myself and I'm OK with being an open book," she said. "I hope someone can benefit from it. I'm OK with letting people know." Tarah's husband, Benjamin, got the tickets, and Tarah went to the game with her friend Torrey James, who was visiting from San Diego. "It's nice to see people supporting Tarah here at the game," James said. "The crowd started screaming for it when they showed her and her sign. It's such a great challenge she is going through and we want to vocalize it to more people. Make more people aware." On Tuesday, Tarah enjoyed the Thunder. On Wednesday, it was back to her reality. "When the buzzer went off, I was thinking I have face the chemo room another time," she said. "But I can see the blessings even through this. I'm just trying to live out this journey."
Original Story:
http://www.foxsportssouthwest.com/fox...
THE BACKYARD
BEST OF MAXIM
RELATED ARTICLES
OKLAHOMA CITY As the Thunder couldn't get a good look in the closing moments of an overtime loss at Memphis on Wednesday night, it was pretty obvious Oklahoma City was missing something. Like James Harden. If you think the Harden talk is over and done with, just wait until the playoffs start here in a few weeks. Unless the Thunder figure out something really quick, expect...
Kevin Durant couldn't get a shot off at the end of regulation and he could barely get one to fall all night. In overtime, Russell Westbrook's miserable night continued with a pair of terrible decisions. But then it looked like things were going to work out. Durant responded with a jumper. Westbrook's dribble-drive and layup gave the Thunder a lead before Marc Gasol...
The Oklahoma City Thunder lost an important Western Conference showdown with the red-hot Denver Nuggets on Tuesday. They did not go down easy in the 114-104 defeat as Reggie Jackson threw down a power dunk on the Nuggets JaVale McGee. Please click here to watch this video. The post Video: Oklahoma City Thunder guard Reggie Jackson does JaVale McGee dirty appeared first on Players View.
I'm at event last night, talking about my website with a young lady, when she asks 'Did you see that complex video with Russell Westbrook' and I'm like no, I got to get on that asap. And that's exactly what I'm doing now. I recently reported on Russell's  cover feature for Complex Magazine's April 2013 issue, which lead up to this short interview footage as Russell...
The Memphis Grizzlies' Mark Gasol's knee ends up in a very unfortunate place for Oklahoma City's Nick Collision.
Marc Gasol went up for a layup during the Grizzlies 90-89 overtime win over the Thunder and his knee found its way into Nick Collison's groin. It was definitely unintentional but it doesn't change the fact that it will make you cringe when you see it. [SB Nation] Article found on: Next Impulse Sports
Are you a struggling blogger who could use some free pageviews? Have a post you've been busting your ass on that deserves some attention? Have a Bacon Porn photo to submit? mail@bustedcoverage.com JOIN BC BRACKET CHALLENGE – LINK! PASSWORD: BUSTED COVERAGE • Kate Upton rapping w/Flo Rida • March Madness Drinking Game • Sky Sports reporter in her underwear • Claude Giroux...
Oklahoma City visited Dallas the other night to let the people of the Lone Star State see the KD show. The three-time scoring champion then went on an offensive frenzy in the fourth before watching his supporting cast finish off the Dallas Mavericks. Durant scored 19 of his 31 points in the fourth quarter, Russell Westbrook had 35 including the go-ahead jumper with 1 minute left...
The last time the Oklahoma City Thunder lost consecutive games they responded with one of their best stretches of the season. The Thunder appear poised to get another run started Friday night when they visit the Orlando Magic, who are mired in another lengthy losing streak. Oklahoma City (50-19) is coming off back-to-back losses for the first time in a month following a 114-104...
In their quest for first place in the Western Conference, the Oklahoma City Thunder must do a better job of defending the paint and snap out of a perimeter shooting funk. Especially considering they'll be on the road Wednesday night against the Memphis Grizzlies, who have won eight straight at home and continue to score inside effectively. Even with Tuesday's 114-104 home...
NBA News

Delivered to your inbox

You'll also receive Yardbarker's daily Top 10, featuring the best sports stories from around the web. Customize your newsletter to get articles on your favorite sports and teams. And the best part? It's free!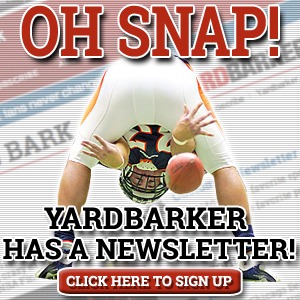 Latest Rumors
The Backyard

Today's Best Stuff

For Bloggers

Join the Yardbarker Network for more promotion, traffic, and money.

Company Info

Help

What is Yardbarker?

Yardbarker is the largest network of sports blogs and pro athlete blogs on the web. This site is the hub of the Yardbarker Network, where our editors and algorithms curate the best sports content from our network and beyond.