Found March 02, 2012 on Fox Sports Southwest:
Rick Carlisle has been as positive as anyone in the Dallas Mavericks locker room when it has come to the disappointing season Lamar Odom is having. When it has come to the media questioning the forward's lack of production, Carlisle has preached patience. But that changed on Friday. During his weekly local radio interview, the Mavericks head coach didn't hold back when discussing his frustrations with Odom, who has missed the last three games due to a personal issue. "I'm going to say my peace about this," Carlisle stated on the Galloway and Company radio show on 103.3 KESN-FM in Dallas. "I'm disappointed with how it's gone. We've worked hard with this kid. I'm a patient guy, Mark Cuban is a patient guy, Donnie Nelson is a patient guy. Our team is a patient team, but patience has worn thin here." Carlisle made sure to note that he wasn't speaking about Odom's personal matter, something he had little inside information about. No, Carlisle was talking about Odom's lack of contribution on the floor. "Our fans want to know that Lamar's in, our players want to know that Lamar's in," Carlisle said. "And it's not about how many points he's scoring or rebounds. Those things are a factor but our people, our players, want to see the guy playing like his pants are on fire. And we haven't seen that so far. That's got to change." Even if the numbers aren't exactly what Carlisle was speaking about they're a pretty good indicator that things haven't gone well for Odom, who was traded to the Mavs prior to the start of the season. During his 13th NBA season, Odom's posted career lows in every major statistical category, averaging 7.7 points, 4.5 rebounds and 1.7 assists. All of those numbers are nearly half of what he produced last season as the league's Sixth Man of the Year with the Los Angeles Lakers. "When he steps back on the floor in a Mavericks uniform, there's going to be a lot of scrutiny," Carlisle said. "This is not just the expectation; this has got to be the reality. The guy has got to play his butt off." In an attempt to get back in basketball shape, Odom has decided to join the Texas Legends of the NBA Developmental League for the weekend. Odom, who practiced with the Legends on Friday, will play for the team on Saturday with hopes of getting significant minutes. "This is pretty unprecedented, that a guy of this stature, in terms of his career, does this voluntarily," Carlisle said of the D-League move. "Guys don't do this kind of thing. It just is not done. They had to get permission from the league. There had to be clearance from the players association to do it. "On a certain level, it's an interesting concept. And in one way it shows that he's trying to do the right things to get himself ready to play, so that when he comes back it isn't a yo-yo thing where we've got to yank him in and out of games, because that can be a difficult thing, too. We'll see how this thing goes Saturday night in Frisco Texas. Then we need to get him back and we need to get him functioning at a high level. We need to get him functioning at a higher level than he's played at to this point. "And having said that, I will again identify the fact that the first 15 games were not good. The second 15 games were much better, statistically and in terms of his conditioning and overall approach and everything else. The hope was that the third quarter of the season would even be a bump up from there, and by the time we hit the last stretch of 10 or 15 games, we could have this guy completely entrenched in our system and doing everything at a high level. "And I still believe we can get there. But he's going to have to come back and play very hard and very aggressively." Carlisle said everyone will find out "very quickly" where things stand with Odom. As long as the veteran is engaged then everything should be fine. Regardless of the dwindling stats, it sounds as if Carlisle is just looking for a competitor. But what does Odom need to show his teammates? "It's got to be few words and strong action, and it's got to go from there," Carlisle said. "I'm sure he'll address the team. At this point going forward, it's attitude and action. "We're going to do everything we can to get the guy ready to play because, look, as a person to be around, he's been terrific. On the court it's been a struggle. "He's well-aware now of exactly what's expected." -- Follow Jon Machota on Twitter: @jonmachota
Original Story:
http://www.foxsportssouthwest.com/03/...
THE BACKYARD
BEST OF MAXIM
RELATED ARTICLES
Dallas Mavericks coach Rick Carlisle's patience with Lamar Odom is growing thin. Odom's ongoing absence led the Mavericks to send the struggling forward to the NBA Development League. He has been assigned to the Texas Legends and will play for the D-League team on Saturday night before returning to the Mavericks. "When he comes back, we're going to find out very...
The lid hasn't been completely lifted off the Lamar Odom absence -- and what I'm hearing regarding the deep-seated reason is more explosive that anything speculated so far. But the lid has been lifted off the Mavs'' tolerant silence on the matter thanks to coach Rick Carlisle, who blasted the wayward star not once but twice in media visits before Friday's Mavs-at-Hornets game.
DALLAS (AP) -- Lamar Odom will play at least one game in the NBA Development League before rejoining the Dallas Mavericks. The Mavericks said Friday that Odom had been assigned to the Texas Legends. He will be in uniform for the D-League team's home game in Frisco on Saturday night. Odom last played for the Mavericks on Feb. 20. He missed their last game before the All-Star...
Dallas Mavericks forward Lamar Odom won't be going to the NBA Development League after all. Although originially headed to play for the Texas Legends, Odom has been summoned to rejoin the Mavericks for their Saturday game against the Utah Jazz. Odom's ongoing absence led Dallas to make the initial move. The 32-year-old has missed the Mavericks' last four games because...
Well everything isn't always bigger in Texas, especially for former Los Angeles Laker, Lam Lam Odom. He was assigned to the D-League by the Dallas Mavericks today. http://www.insidehoops.com/blog/  has the scoop: The Dallas Mavericks announced today that they have assigned forward Lamar  Odom to the Texas Legends of the NBA Development League. Odom (6-10, 230) has...
DALLAS Lamar Odom had taken an impossibly long time away from the Dallas Mavericks to deal with personal matters. After contributing to a 102-96 win over the visiting Jazz on Saturday, he took an impossibly long time in his locker stall, his tattooed back to the gathered media swarm, meticulously arranging his jewelry and lathering his bald head with lotion. And after all the waiting...
For someone who lives on TV, Lamar Odom's personal issues are tough to diagnose. But options for LO to escape the Mavs? Those are clear and seemingly unbending. This is Thomas Wolfe meeting Lamar Odom and you can't go home again. Right? DB.com launches 15 days of Trade Rumor Traffic for Premium Mavs Fans with revelations on Odom's future and a clever way to give him what he...
As a sign of just how dysfunctional this Lamar Odom saga has become for the Dallas Mavericks, Dirk Nowitzki scored 40 points in Saturday's 102-96 victory against Utah and was an afterthought. Actually, afterthought is too strong. Nobody thought of him at all. He dressed quietly and exited without a single question about his absolute basketball brilliance. "Way to go, L...
Lamar Odom will return to the Mavericks within the next few days, according to sources.
The Dallas Mavericks have assigned Lamar Odom to their D-League affiliate, the Texas Legends, on what's being called a "rehab stint" to "get his legs back under him". Some view the demotion as a way to remove Khloe Kardashian from the sports landscape like one might remove a clump of cat urine from a rancid litter box, while others see it as a pretty direct "go away...
Lamar Odom has missed the team's last three games due to personal reasons.
Lamar Odom was once a major part of the front line for the Los Angeles Lakers, arguably the premier franchise in the NBA. However that appears to be a long time ago. Just minutes ago the Dallas Mavericks have officially announced the assignment Lamar Odom to the D-League's Texas Legends. Sorry Khloe Kardashian. Love this tweet from @TheIllimunati "The Kardashians have sent...
NBA News

Delivered to your inbox

You'll also receive Yardbarker's daily Top 10, featuring the best sports stories from around the web. Customize your newsletter to get articles on your favorite sports and teams. And the best part? It's free!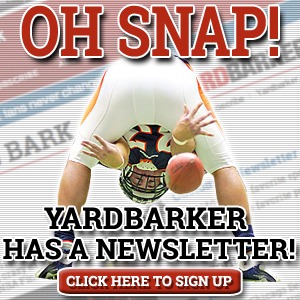 Latest Rumors
The Backyard

Today's Best Stuff

For Bloggers

Join the Yardbarker Network for more promotion, traffic, and money.

Company Info

Help

What is Yardbarker?

Yardbarker is the largest network of sports blogs and pro athlete blogs on the web. This site is the hub of the Yardbarker Network, where our editors and algorithms curate the best sports content from our network and beyond.