Found July 22, 2012 on CJ Sports NFL Talk:
PLAYERS:
Maurice Cheeks
,
Russell Westbrook
,
Gary Payton
,
Dwyane Wade
,
Shaquille O`Neal
,
Jason Kidd
,
Karl Malone
,
Carmelo Anthony
,
Kobe Bryant
TEAMS:
Oklahoma City Thunder
,
Miami Heat
,
New York Knicks
,
Dallas Mavericks
,
Los Angeles Lakers
In the NBA there's certian skills that some just have a knack for, stealing is one of them. Most kids grow up being taught that stealing is wrong. Not in this aspect these players were just good at taking things away from others. Let's dive in and take a look at some of these skilled players…
5. Maurice Cheeks PG, He put up some amazing numbers. Especially in the steal category averaging 2.1 steals a game for his entire career! He ended up totaling 2,310 steals over his entire career which is right now good for fifth best of all time.  He also averaged 11.1 points and 6.7 assists for his career to go with those steals. Cheeks is currently the assistant coach for the Oklahoma City Thunder, where i'm sure he is passing on his knowledge to All Star Russell Westbrook. Cheeks is definitely not a bad mentor to have.
4. Gary Payton PG, Nicknamed the "Glove" and rightfully so, for his career he averaged 1.83 steals for his career. Thing about Payton that sticks in peoples minds is that he didn't  get his championship ring until he paired with Dwyane Wade and Shaquille Oneal in 2006. Part of that trend to basically find somewhere to go to get a ring before you retire trend that all major sports are into. Payton is the only point guard to win NBA defensive player of the year and he holds records in Seattle for points, assists, and steals. Payton had a total of 2,4445 steals, averaged 16.3 points and 6.7 assists for his career.
3. Michael Jordan SG/SF, His airness comes in third on this list even though his arguably the best player of all time. If I put all of Jordan's accomplishments on here you would be reading for days. For his career he averaged 2.35 steals per game. He also won multiple championships, but on the darker side of things owns a Charlotte Bobcat team that can't find their way. Jordan had a total of 2,514 steals, averaged  30.1 points, 6.2 rebounds and 5.3 assists for his career. No reason why he shouldn't be the best player ever for years to come.
2. Jason Kidd PG, Are you surprised? Kidd is probably one of the most versatile points that ever played the game, he is a walking triple double. Not so much anymore, Kidd should have retired after winning his championship ring with the Dallas Mavericks in 2011. Unfortunately he has recently joined the New York Knicks and besides getting a DUI i'm sure the Knicks want to see if he still has something left in the tank. Kidd averages currently 1.95 steals per game for his career. With a total of 2,559 steals Kidd will be in this second spot for a while, he doesn't have a chance to catch the person who's number one overall. Kidd shouldn't be in the league much longer. He currently averages 13 points, 7 rebounds and 9 assists for his career.
1. John Stockton PG, Arguably the best point guard of all time… do you agree? Stockton is comfortably in the lead and it will be a while until someone catches him. Most known for his pick and roll clinic that he displayed with Karl Malone, Stockton nor Malone was able to get a championship ring because of Jordan. I'm sure he would trade all the stats for that championship ring. Stockton totaled a whopping 3,265 steals which like i said will stay safe for a while. For his career 13 points 10 assists and 2.2 steals per game.
So what do you think of the list? Agree or disagree? The question is that out of all the current NBA players will anyone ever challenge Stockton for the top spot? Feel free to comment below!
Related articles
Original Story:
http://110sportztalk.com/catch-that-t...
THE BACKYARD
BEST OF MAXIM
RELATED ARTICLES
Team USA took on Argentina in another exhibition game, Sunday. In the second quarter, Argentina pushed the ball down court on a fast break and thought they had an easy two points when Russell Westbrook came like a bat out of hell to pull a "LeBron" and deny the dunk. Westbrook rejected the ball off the backboard so hard, it flew back out to the three-point line before touching...
  Dwight Howard has said no more times than a virgin on prom night and now no one wants him, or so it seems. The Oklahoma City Thunder are quietly keeping tabs on the most desired big man since Shaquille O'Neal and the longer it takes for Dwight to share his services with a new suitor, the more likely it becomes OKC will become the lucky gent. On January 28, 2012...
Nazr Mohammed has chosen the Bulls over the Nets, according to a league source.
NBA News

Delivered to your inbox

You'll also receive Yardbarker's daily Top 10, featuring the best sports stories from around the web. Customize your newsletter to get articles on your favorite sports and teams. And the best part? It's free!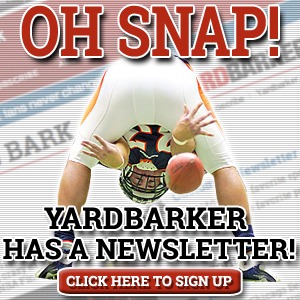 Latest Rumors
Best of Yardbarker

Today's Best Stuff

For Bloggers

Join the Yardbarker Network for more promotion, traffic, and money.

Company Info

Help

What is Yardbarker?

Yardbarker is the largest network of sports blogs and pro athlete blogs on the web. This site is the hub of the Yardbarker Network, where our editors and algorithms curate the best sports content from our network and beyond.