Found March 21, 2013 on Waiting For Next Year:
PLAYERS:
C.J. Miles
,
Luke Walton
,
Daniel Gibson
,
LeBron James
,
Wayne Ellington
,
Dan Gilbert
,
Byron Scott
,
Tyler Zeller
,
Chris Quinn
,
Shaun Livingston
,
Kyrie Irving
TEAMS:
Cleveland Cavaliers
,
Miami Heat
For all of the pre-game routines that NBA players plod through, it is the post-game rewind that keep CJ Miles up at night. Following games, the Cavaliers swingman often stays awake until 4- or 5-o'clock in the morning, watching a replay of the recent game and then re-watching it in his mind, conjuring up the things he did right, but mostly criticizing himself for the things he could have done better. It's something Miles has done since he was 14 or 15 years old, playing basketball inside the gym of his Dallas-area middle school. It flies smack in the face of most "how to" books regarding taking care of one's body, but Miles has made it work — he finds other ways to compensate for the energy exerted in a given night and is willing to bend his routine in the event of back-to-back games. For a player who maintains this level of headiness, Wednesday night's loss to the Miami Heat was going to be that much worse. Where many of his teammates would throw on various levels of apparel that insinuated they would be going out for a bit before heading home, Miles sauntered from the shower and put on a simple pair of sweatpants and a crewneck Cavs sweatshirt — he was going to be thinking long and hard, why not be comfortable while doing it? It was, after all, Miles who took the final shot in would be a three-point loss; his team had been up by 27 at one point in the second half and his range was a main ingredient. "It went exactly as planned," said Miles of his failed buzzer-beating three-pointer. "I envisioned it four times before it happened. The exact spot I'd catch the ball, one or two dribbles, the spot I was going to shoot it. It felt good. I thought I hit it. Inside back rim…" Miles drifting off was nothing short of requisite. Every player in the Cavaliers' locker room following the loss spoke in tones which reflected how defeated they were internally. Luke Walton spoke of how important this win would have been — not just being a win over the Goliath Miami Heat, but one which could have provided a true "David" moment what with the injury-ridden Cavaliers toppling the giant in the throws of their juggernaut run through the rest of the National Basketball Association. Daniel Gibson spoke solemnly, saying that there were no excuses; the Cavaliers played the game the right way for the bulk of the action so to have no reward for their hard work "hurt." But where the Cavaliers have found themselves in this place many times this season 1 , Miles said that there was no common denominator with this game. It was different, if not bordering on bizzare. From the opening tip, which was delayed over half an hour due to a carbon dioxide-leaking Q Tube, to the way Miami's LeBron James stood alone, statuesque at midcourt while the Cavaliers were being introduced. From the way the Cavaliers — a motley crue of a starting five — built a roof-raising lead against the NBA's best to the way they let it slip away with a barrage of turnovers, sloppy shot attempts and on-heel defense. The missed late-game three-pointer from Wayne Ellington that led to a questionable-at-best out-of-bounds call that was reviewed and given to the Heat with only one point separating the two teams. From the way that there was a hard-lined dichotomy of fans; some booing James the second he touched the ball, others giving mini standing ovations each time he scored. Near the Heat bench, as James removed his warm-ups and tightened his shoes 2 , countless fans attempted to get James' attention by claiming their affinity to Akron. Then there was the fan, the man named James Blair who is now known as the guy who ran onto the floor during the middle of play, promptly ushered out by Heat and Quicken Loans Arena security, but not before his message rang loud and clear — a hand-made t-shirt with the words "We Miss You" draped across the front. Though he would go on to spend the evening in jail, Blair's actions have blown up the NBA world, adding fire to the narrative-fueled speculation surrounding James' 2014 free agency. Typically, when fans enter the field of play, they're ignored by the league and media partners. Blair, however, appears to be the exception especially since he was greeted by James with a pat on the head prior to his dismissal. And where James was quickly ushered off of the court two years ago, taken out of the arena through the back hallway of The Q, he greeted waiting fans following Wednesday night' game, signing autographs for dozens of children, leaving plenty of goodwill in his wake. Capping things off, Dan Gilbert used James' name in a tweet, the first such a move since July of 2010. Wednesday night's festivities undoubtedly leave plenty to ponder. Should Byron Scott have used timeouts more effectively? Should he have played center Tyler Zeller more even when the Heat had decided to utilize a small lineup in their comeback attempt? Should Chris Quinn have gotten any run at all with Shaun Livingston being forced to play 37 minutes? Does the Q Tube need additional repairs? Are Dan Gilbert and James mending fences? Miles stated that the team's collapse was not due to a lack of effort as some previous defeats have been. The fact that Scott entrusted in him to take the final shot, something previously earmarked for Kyrie Irving and Kyrie Irving alone, bodes well for the coach's confidence in the recently-turned 26-year old. But just as Miles had run that last-second three-point attempt through his head four or five times before he let it fly, he too will be left wondering what he could do better to help his team achieve that ultimate goal. Lost sleep, be damned. For now, the Cavs and Cavalier fans are left wondering what-if, but with all of the olive branches and bizzaro world occurances on this very evening, what, exactly, will be? – (Photo by David Liam Kyle/NBAE via Getty Images) ___________________________________ The Wine and Gold now lead the league in squandered 20-point leads this season, having now dropped three games despite considerable in-game advantages. Fairfax LeBron VIs nonetheless, throwing it back to his days in Cleveland…
Original Story:
http://www.waitingfornextyear.com/201...
THE BACKYARD
BEST OF MAXIM
RELATED ARTICLES
In the wake of losing shooting guard Dion Waiters to a knee injury, the Cleveland Cavaliers have signed veteran guard Chris Quinn for the remainder of the NBA season. The signing of Quinn marks the 28th Gatorade Call-Up (via NBDL) of the 2012-13 season. Per league and team policy, terms of the contract were not announced. Quinn will wear No. 20 for the Cavaliers and be active for...
With the memory of LeBron James' return to Quicken Loans Arena on Wednesday night (his fourth time as a visiting player) still fresh in the minds of Clevelanders — not to mention the Miami Heat's triumphant comeback against the Cavaliers and all the odd things that occurred during the game — the Cleveland Plain-Dealer conducted an online poll on the paper's website asking...
The start of the Miami Heat's game against the Cavaliers was delayed 35 minutes Wednesday night because of liquid dripping from the scoreboard onto the floor. The Cavaliers said the pool was caused by condensation from a carbon dioxide container in the scoreboard. Lebrun James and members of the Heat were in position near the midcourt line and ready for tip-off in Quicken Loans...
Juwan Howard had signed two 10-day contracts before signing for the remainder of the campaign.
It wasnt long ago many on the Miami Heat were seemingly counting the days until the April 20 start of the playoffs. Little did they know that come March, every game would feel like a playoff. The same team that amazingly has reeled off 24 straight wins had a number of lackluster efforts early in the season. They lost, egads, at Washington and Detroit. They fell twice to New York...
The Miami Heat are still 10 wins away from breaking the Los Angeles Lakers' NBA record of 33 consecutive regular season victories. That means they have a long way to go, but anything is possible with the way LeBron James and company have played lately. If the Heat can erase a 27-point deficit on the road to extend their streak to 24 games, what's another 10 victories? Many people...
It would have been poetic if the lowly Cleveland Cavaliers had been able to beat LeBron James and the Heat in Cleveland to stop Miami's winning streak at 23--would have been. At one time down by 27 points, the Heat overcame their largest deficit of the season to go on to win 98-95. For a time it looked like they were going to be able to do just that after a 23-3 run...
I mentioned Dion Waiters twice this week in my Bleacher Report articles. On Monday, I considered him for the All-Second Half team before dismissing Waiters and others who aren't playing meaningful games at the moment.  I also ranked Waiters 10th on Tuesday among all NBA players with college eligibility remaining. The only other members of the 2012 Draft Class I had slotted...
LeBron James has taken it to Boston's Jason Terry again. Miami's superstar said Wednesday that he ranks his monster dunk over Terry on Monday night as one of his best, and that it's one of his favorites because of his history with the talkative Celtics guard. James soared and grabbed a lob pass before smashing it over Terry, who was helpless to defend the shot or himself...
Tweet There have been quiet murmurs over the past year or so about LeBron James' impending free agency that is coming after next season. Obviously one possible destination being thrown around is James' first stop in the NBA, Cleveland. The idea was fueled by the fan that ran onto the floor wearing a "We Miss [...]
Previously on That NBA Lottery Pick, we featured a remixed clip of DeAndre Jordan's dunk on Brandon Knight using audio of WWE announcer Jim Ross freaking out.Now, LeBron James dunk over Jason Terry has received the Jim Ross treatment and it is hilarious:
NBA News

Delivered to your inbox

You'll also receive Yardbarker's daily Top 10, featuring the best sports stories from around the web. Customize your newsletter to get articles on your favorite sports and teams. And the best part? It's free!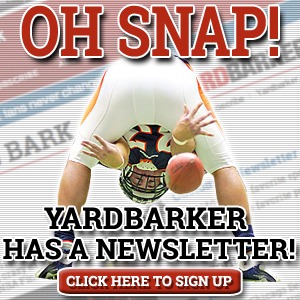 Latest Rumors
Best of Yardbarker

Today's Best Stuff

For Bloggers

Join the Yardbarker Network for more promotion, traffic, and money.

Company Info

Help

What is Yardbarker?

Yardbarker is the largest network of sports blogs and pro athlete blogs on the web. This site is the hub of the Yardbarker Network, where our editors and algorithms curate the best sports content from our network and beyond.