Found January 25, 2012 on Fox Sports Ohio:
PLAYERS:
LeBron James
,
Antawn Jamison
,
Kyrie Irving
,
Hakeem Olajuwon
,
Samardo Samuels
,
Tristan Thompson
,
Norris Cole
,
Carmelo Anthony
,
Amare Stoudemire
,
Tyson Chandler
,
Baron Davis
TEAMS:
Miami Heat
,
Cleveland Cavaliers
,
Houston Rockets
,
New York Knicks
Thoughts on the Cavaliers' 92-85 loss at Miami on Tuesday: "That's more like it." That's likely how Cavs fans felt after watching their discomforting defeats over the weekend then witnessing how Cleveland fought to the finish against LeBron James and the Heat. Perhaps what Cavs forward Antawn Jamison said at practice Monday is true: "Last year is last year." In other words, maybe fans can finally get over fretting whether there is another long and unbearable losing streak on the way. This Cavs team, it appears, is competitive and watchable. OK, I agree. The Cavs weren't exactly a sight to behold against the Heat. They committed 20 turnovers and are leaving themselves open to question about whether there are more than two guys on the team who can make a fundamental pass. Actually, a fundamental pass isn't the issue. It's the forced ones that often result in dumb mistakes. As rookie guard Kyrie Irving (17 points, four assists) said, "We have to make simple plays and cherish the basketball. Turnovers lose games for us." It's true. If the Cavs had just held on to the ball, they likely would have pulled the upset even if they didn't score another single point. All those turnovers lead to easy scoring opportunities for opponents. Of course, it's not like the Heat put on a ball-handling clinic themselves. Their biggest problem in this season of championship expectations also has been taking care of the ball. A more experienced team probably would have blown them out of the gym Tuesday. As for that LeBron guy, he wasn't his usual superstar self, finishing with 18 points on eight-for-21 shooting. He still looks uncomfortable and timid with his back to the basket despite spending much of the offseason on the low block and learning from former Houston Rockets great Hakeem Olajuwon. Speaking of LeBron, my favorite thing about this game was the feeling I got that Cavs fans are placing less of their focus on despising James and more on caring about their own team. That made this a basketball game that real fans could appreciate, as opposed to a pointless hate-fest. Samardo Samuels came off the bench and gave the Cavs physical play and energy, which was key since Cleveland was without rookie Tristan Thompson (ankle). Samuels made his first six shots and finished with 15 points and five rebounds. Without him, this wouldn't have been nearly as close. I thought for sure Irving was due for an off night. But while he took just four shots in the first half Tuesday for two points, he was outstanding in the final two quarters, with his crossover move on poor Heat rookie Norris Cole (Cleveland State) making the highlight reels. Irving's been fantastic in every game except maybe the two losses to Toronto. More importantly, Irving kept his team in the game, as he's so often able to do when all else seems lost. The kid just seems like a natural-born winner. Meanwhile, I wrote a few stories on Cole last season when he was with the Vikings, and I can tell you he's a polite and level-headed kid who appreciates playing in the NBA. The Cavs scouted him on a few occasions, and both GM Chris Grant and vice president of basketball operations David Griffin left impressed with the total package. So far, Cole has not disappointed. On a down note, Jamison just hasn't been himself lately, and the Cavs need him to return to form or the losses are likely to continue. Jamison is averaging 20.3 points in the Cavs' six wins, but just 12.6 per game in defeat. In the past three games, he's scored four, 10 and five points, and made just six of 24 shots. The Knicks are in town Wednesday night, and yes, they are one of the teams the Cavs could be battling for an actual playoff spot. That might sound weird, considering the Knicks have big names like Carmelo Anthony, Amare Stoudemire and Tyson Chandler on the roster. Don't be surprised if we see old friend (well, acquaintance) Baron Davis make his Knicks debut. If so, he'll probably get a standing O. Tipoff is 7 p.m. Also, I'll have some news and notes from around the league on the "Cavaliers Live" pregame show at 6:30 on FOX Sports Ohio. Follow Sam Amico on Twitter @SamAmicoFSO
Original Story:
http://www.foxsportsohio.com/01/25/12...
THE BACKYARD
BEST OF MAXIM
RELATED ARTICLES
Offensively, I have no clue of what we are doing. It's a lot of one-of-one basketball. We want to the ball to go from one side of the floor to the other and I can't recall one time tonight when we did that. And, these are things we were preaching before the game. Until we start playing as a team on both ends of the floor, we are going to continue to see these kinds of outcomes...
LeBron James had another solid night Tuesday night against his old team. James scored 18 points, five rebounds and five assists on 8-for-21 shooting in the Heat's 92-85 win. It was a relatively quiet night for James this season considering he is averaging 28.9 points per game, 6.8 rebounds per game and 7.1 assists per game. Just ridiculous stats, and he is the early leader for...
INDEPENDENCE, Ohio -- The Cavaliers have dropped three straight, one of which was their worst home loss in franchise history. That came Friday vs. Chicago, which was without injured point guard and reigning NBA MVP Derrick Rose. The Cavs werent much better in Atlanta the next night, getting walloped by a Hawks team that was without injured All-Star center Al Horford and veteran...
With the NFL's AFC/NFC Championship games going on Sunday, you might have missed this rather impressive dunk by Miami Heat star Lebron James on Bucks forward Mike Dunleavy as he drives baseline and posterizes him with a reverse windmill jam:
Yahoo.com reporter Kelly Dwyer says the LeBron James back in Cleveland stories are out of control.
Stop mocking Mike Utley, you ***********! On Tuesday night, chapter of 5 of LeBron vs. Cleveland took place down in Souf Beach. The Cavs played hard (but not smart), LeBron was terrible, and somehow Chris Bosh single-handedly beat the talented, but not good, Cavaliers. I don't ever like to see my boys lose to that ******** egomaniac, but I've gotten used to #6 continually shoveling...
LeBron James scored 32 points, including the game's last six from the free throw line, to lead the Miami Heat to a 101-98 win over the Detroit Pistons on Wednesday night. The Heat trailed 98-95 after a 3-pointer by Detroit's Jonas Jerebko, but James made two free throws to cut the deficit to one with 1:19 left. After Damien Wilkins fumbled the ball out of bounds for the...
LeBron James scored 32 points, including the game's last six from the free throw line, to lead the Miami Heat to a 101-98 win over the Detroit Pistons on Wednesday night.
The Cavaliers are coming off back-to-back embarrassing losses. They travel to Miami to face LeBron James and the Heat tonight. Following an 8-1 start to the year, the Heat have lost 4 out of their last 7 games. Get Twitter updates from Tom Reed and Mary Schmitt Boyer @PDCavsInsider. Tip-off is scheduled for 7:30 p.m.
The Cavaliers outscored the Knicks 46-36 in the second half to surge to an impressive home win last night.  Antawn Jamison led the way for the Cavs last night with 15 points, 5 rebounds, 3 assists and 1 steal.  Omri Casspi (13 points, 3 rebounds and 1 assist) and Anthony Parker (13 points, 3 rebounds, 3 assists and 1 steal) also pitched in for the Cavs.  But, it was Anderson Varejao'...
Chris Bosh scored 17 of his 35 points in the fourth quarter, LeBron James added 18 and the Miami Heat survived another shaky offensive night to beat the Cleveland Cavaliers 92-85 on Tuesday night.
CLEVELAND — Anderson Varejao had 16 rebounds, a powerful dunk down the stretch and outhustled New York's big men as the Cavaliers ended a four-game losing streak with a 91-81 win over the struggling Knicks, who lost for the seventh time in eight games Wednesday night. Antawn Jamison added 15...
NBA News

Delivered to your inbox

You'll also receive Yardbarker's daily Top 10, featuring the best sports stories from around the web. Customize your newsletter to get articles on your favorite sports and teams. And the best part? It's free!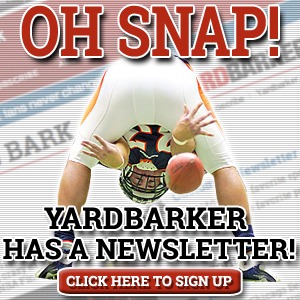 Latest Rumors
The Backyard

Today's Best Stuff

For Bloggers

Join the Yardbarker Network for more promotion, traffic, and money.

Company Info

Help

What is Yardbarker?

Yardbarker is the largest network of sports blogs and pro athlete blogs on the web. This site is the hub of the Yardbarker Network, where our editors and algorithms curate the best sports content from our network and beyond.