Found November 29, 2011 on Stepien Rules:
Underdog stories about Northeast Ohioans are my favorite ones.   Like when they said Earl Boykins was too small to play in the League right up until he played a dozen years in it. Or when Kelly Pavlik wasn't good enough to beat Jermaine Taylor up until he knocked him out. Or even back when record companies wouldn't sign a rap group from Cleveland named Bone Thugs N Harmony, who then outsold the Beatles.  Or when people said Drew Carey wasn't cool enough to hold Bob Barker's skinny microphone, and then he took over The Price Is Right.Okay maybe I made that one about Drew Carey up. He probably isn't as cool as Bob Barker.I'm not making anything up when I say that Cleveland's own Brian Kortovich can hoop with anybody though, and I hope his underdog story includes a chapter with his hometown Cavaliers this season. I'd like to see them extend BK an invite to training camp in a couple weeks, and see what he does with it from there.  Brian first came on the...
Original Story:
http://www.stepienrules.com/2011-arti...
THE BACKYARD
BEST OF MAXIM
RELATED ARTICLES
The National Basketball Association took the "11th hour" cliché to a whole new meaning this past weekend when a deadline deal to have basketball on Christmas Day leaked into the early hours of Saturday morning.  In principle, what we are left with is a season of NBA hoops, albeit a shortened one, that will include all of the bells and whistles of it's regular brethren including...
29-year old Anderson Varejao is going to be the starting center for the Cavaliers this year and they need him to stay healthy.  He played in 31 games (all starts) for the Cavs last year and he averaged 32.1 minutes, 9.1 points, 9.7 rebounds, 1.5 assists and 1.2 blocked shots per game.  He has now played in 419 games (103 starts) in his first 7 years with the Cavaliers and he is...
The last time the Cleveland Cavaliers drafted a player with the first overall pick that guy never really was all that vocal about encouraging NBA free agents to come join him here.  And no, I'm not talking about Brad Daugherty.  I'm not trying to drum up any negative feelings about any ex-Cavalier players either, I only mention for added perspective.  I swear.We're...
The Cavs are expected to use the amnesty provison on Baron Davis and the nearly $30 million he's owed over the next two seasons, which has both ESPN and the LA Times speculating that the Lakers might scoop the point guard off the waiver wire in 2012: "Davis dismissed talk of a homecoming to Los Angeles following an exhibition game to raise money for 'Kids in Sports' that...
"Why on Earth would we release our best player? Is our roster so star-studded to have that luxury? Do we have tons of young talent not being utilized? Boobie and Sessions are not the answers. They proved that last year. So who's going to show Irving the ropes? Davis has grown up a lot and is finally a true leader. I can't say that for any other player on the Cavs roster...
The NBA player charity game season is coming to an end fast, but Baron Davis still had his in Los Angeles on Sunday night. And there were a lot of great passes from Davis and James Harden, but it always seemed to be DeMar DeRozan on the receiving end. He is all over these highlights.…
The Cleveland Cavaliers appear to be in good shape at power forward for the 2011-12 season.  35-year old Antawn Jamison will be the starter, if the Cavs don't deal him.  Jamison played in 56 games (38 starts) for the Cavaliers last year and he averaged 32.9 minutes, 18.0 points, 6.7 rebounds and 1.7 assists per game.  He has now played in 920 games (793 starts) in his NBA career...
First overall draft pick Kyrie Irving is the Cavs' point guard of the future and, maybe, the present. Sessions, Baron Davis and Daniel Gibson bring different skills, but none are certain to begin the season in Cleveland. More Cavs links.
Shining a light on the heart-pounding spirit of high school sports, the Cleveland Cavaliers are proud to welcome 10 local junior varsity and varsity basketball teams to experience the thrill of competing on official NBA hardwood in a world-class facility as they host the very first 2012 Cavaliers High School Hoops Showcase at Quicken Loans Arena on Saturday, December 3!
Baron Davis and Tina Thompson's charity hoops event took place in Los Angeles yesterday, and DeMar DeRozan stole the show with his aerial theatrics. (H/T: Ball is Life)
By Sam Smith | 11.15.2011 | @SamSmithHoops Comcast SportsNet will show the third of 15 Chicago Bulls classic games on Tuesday at 7:30 p.m. Bulls broadcasters Neil Funk and Stacey King, along with Bulls.com writer Sam Smith, will provide pregame, postgame and between quarters commentary on each of the games, much of which is almost as entertaining as the games.
NBA News

Delivered to your inbox

You'll also receive Yardbarker's daily Top 10, featuring the best sports stories from around the web. Customize your newsletter to get articles on your favorite sports and teams. And the best part? It's free!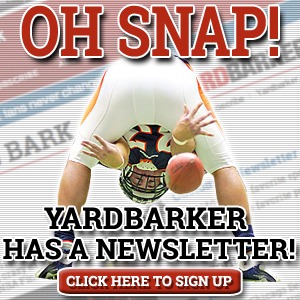 Latest Rumors
Best of Yardbarker

Today's Best Stuff

For Bloggers

Join the Yardbarker Network for more promotion, traffic, and money.

Company Info

Help

What is Yardbarker?

Yardbarker is the largest network of sports blogs and pro athlete blogs on the web. This site is the hub of the Yardbarker Network, where our editors and algorithms curate the best sports content from our network and beyond.